Elegy for a Dead World launches Kickstarter for final push
UPDATE: Campaign ends making 150 per cent of its goal.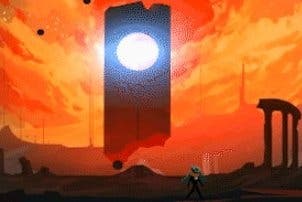 UPDATE 21/10/2014 5.26pm: The Elegy for a Dead World Kickstarter has ended at $72,339, which is pretty good considering its developer was only looking for $48K.
The campaign was so successful that it smashed every one of its stretch goals. This means there will be an offline non-Steam version available for people who prefer that sort of thing, while 1000 copies will be distributed to educators.
ORIGINAL STORY: 30/09/2014 10.38pm: Last year I covered Elegy for a Dead World, an experimental game that provides you with evocative sights and sounds then asks you to write about it and share your prose.
In my Elegy for a Dead World preview I described it as "part video game, part creative writing exercise and part sociological experiment." It's a fascinating concept, but developers Dejobaan Games (Drunken Robot Pornography) and Popcannibal (Girls Like Robots) need some additional funding to push it past the 11th hour of its dev cycle.
"Development started in October 2013 on what was initially a week-long experiment. It has since grown into a passion project that we've been self-funding. We're committed to finishing this project, but we need your help to give it the final push," the developer explained on its Kickstarter page.
"After nearly a year in development, Elegy is almost finished," it added, but there's still a few coats of polish it wants to apply before it releases its audacious art project into the wild. Mostly, it just needs to fund additional painting and animations, soundscapes, and writing prompts to further flesh out its worlds... or get you to flesh them out anyway.
Backers can spend $10 to receive a Steam key for the game on PC, Mac and Linux upon its early 2015 release. Or you can get in on the fun later this month by spending $25 and getting a beta code as soon as the Kickstarter ends on 21st October.
So far Elegy for a Dead World has only raised $4,222 of its $48K goal, but it just launched its crowdfunding campaign earlier today.
"Nobody's created a writing game quite like Elegy before," the developer said. "How do we engage with people to get them to write? Does the art convey enough to give writers something to run with? Is it even the kind of game people will want to play? In the 15 years during which we've been in business, we've had projects take much longer than expected, and have had to cancel others outright."
"Elegy" may be about a dead world, but let's hope the project itself comes to life.