Earth Defense Forces 4 announced
EDF! EDF!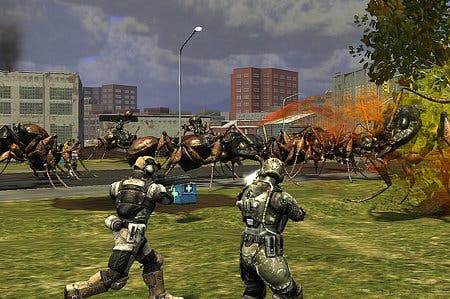 Update: D3 issued the following statement regarding a Western release:
"Unfortunately I have no additional information that I can share about EDF4. The game is being released by D3 Japan and they will be handling the launch of the title in Japan. If more information becomes available to me, I'll be sure to keep you posted."
Original story: The fourth game in the beloved budget bug-shooting Earth Defense Force series has been announced by developer D3.
Sadly, it's only been revealed for Japan via a teaser site.
Still, the last two games in the series - Earth Defense Force 2017 and Earth Defense Force: Insect Armageddon - both saw Western releases, so ostensibly this will too.
We have no idea what platforms it will be on or when it's expected, but we've contacted D3 for details and are waiting to hear back.
Kieron Gillen awarded Earth Defense Force 2017 a 9/10 upon its release in 2007, while Christian Donlan gave its sequel an 8/10 last year.
"If you're looking for a source of guilt-free insect murder over the next few weeks, this is the best show in town," he said in his Earth Defense Force: Insect Armageddon review.