EA outlines Kingdoms of Amalur: Reckoning House of Valor day-one DLC/Online Pass
Provides "a nearly endless variety of combat challenges".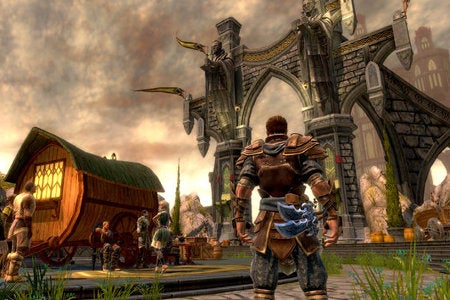 EA has outlined Kingdoms of Amalur: Reckoning's controversial day-one DLC, House of Valor.
Reckoning, out today in the US and on Friday in the UK, drew attention when it emerged EA's Online Pass unlocks single-player content.
The Online Pass, included in new copies of the open world fantasy RPG, unlocks the House of Valor faction quest, which includes seven individual single-player missions. In addition, it unlocks a Mass Effect 3-themed in-game item - the N7-inspired Shepard's Battle Armour.
If you have a second hand copy of the game, you have to pay for the Online Pass to unlock the content.
Now we know more about the content.
"The Grand Champion Tyr Magnus will challenge players to compete in the Valor Arena and overcome all obstacles to survive the barbaric tournament and ultimately seize control of the arena," reads the official blurb.
"As the player battles through the Valor Arena, they will meet new companions and rivals along the way.
"In addition, players can visit the Arena Battle Board to access a nearly endless variety of combat challenges. By completing bonus objectives in these challenges, like defeating all enemies without taking any damage, players can earn unique items and other rewards."
To get House of Valor, you need to redeem the one-time-use registration code that accompanies the new, full retail purchase of Reckoning. Buy the game second hand and you'll have to fork out for the Reckoning Online Pass, which costs 800 Microsoft Points or $9.99.
Curt Schilling, head of co-developer 38 Studios, has defended the move, saying the content is a reward to those who buy the game new.
Speaking today, Schilling promised fans "a lot more story-based and action-packed content in the near and long term".