EA evaluating FIFA Street features for FIFA 13
Street dribbling system, standing ball control in testing.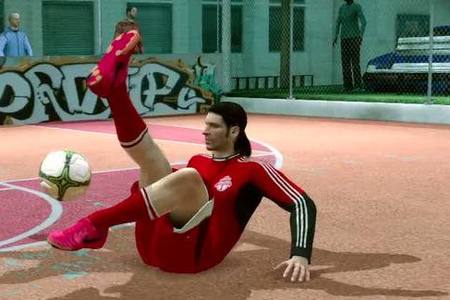 EA is evaluating whether to put some of FIFA Street's stand-out features into FIFA 13.
While a decision is yet to be made, if FIFA's makers do decide to include some of FIFA Street's mechanics, it could see new dribbling features and some elements of standing ball control added to this year's and future FIFA games.
FIFA Street, out next month, was built using the FIFA 12 engine at EA Canada - a first for the Street series. It ditches the cartoon visuals of previous entries for a more realistic look, while retaining the same focus on tricks and skills.
It introduces a number of new mechanics, including a new dribbling system that forces the attacking player to face the opposition's goal, and the ability to root your player to the spot using the left trigger in order to bait your opponent into making a move before you speed off towards goal.
FIFA Street creative director Gary Paterson, one of the chief architects of FIFA's quality surge in the late 2000s, told Eurogamer both the main FIFA team and the FIFA Street team work closely together, sharing ideas and technology.
"I worked very closely with Aaron McHardy, the lead gameplay designer on FIFA," he said. "He and I worked together on FIFA 9, 10 and 11, so obviously we've very close. We're in the same building. We're basically in the next room. We took a lot of FIFA 12 functionality. The engineers and designers were in close contact.
"Now, part of what Aaron and his team are doing now is analysing some of the stuff we've taken. When I was on FIFA we wanted to do something similar to the dribble system we have in Street, the one where you're always facing the goal.
"But it was always a challenge for us to do it, because there are so many animations involved in that system. Things like that they're evaluating now, whether there are parts of it they can take. Standing ball control, is there something there?
"It's a very intuitive and elegant mechanic but it's not something you see too often in real football. But maybe there are elements of it that can be shared and taken. It's something they're evaluating right now. I don't think any decisions have been made."
2012 is set to be a big year for FIFA, with at least three games due out.
FIFA on PlayStation Vita launches first, on 22nd February. Then it's the turn of FIFA Street on 16th March (or 10th March for EA Sports Season Ticket purchasers). A FIFA Street demo launches on 28th February.
And then, of course, FIFA 13 later in the year. EA is yet to formally announce FIFA 13, but Paterson said it will coincide with a revamp of EA Sports Football Club, the centralised platform for FIFA players to feed their gameplay across all titles into a persistent profile.
Paterson said: "When you level up your character (in FIFA Street) this will contribute points to EA Sports Football Club. EA Sports Football Club right now is the foundation, version 1.0 if you like. That's going to be developed further in the future and there will be more news about that in the coming months as FIFA 13 news emerges."
As for FIFA Street, a game Paterson has worked on for 14 months (two months longer than the creators of the regular FIFA games are afforded for each title), EA will decide whether to turn it into an annual series after the reboot launches.
"There have been no conversations I'm aware of around that as of yet," Paterson said. "Obviously we're going to have to wait and see how gamers respond to the product we put out. If it's a success it's going to be evaluated. It wouldn't be a decision I make, but if the game's successful I'm sure there will be conversations around how that would work."