Dying Light Spotlight Edition costs $10m
Includes speaking role in movie, acting lessons and more.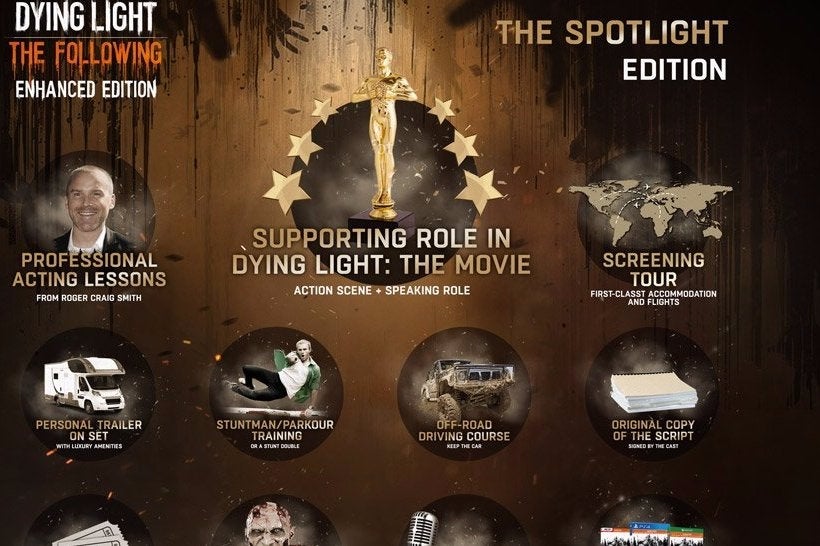 Dying Light Spotlight Edition is a one-of-a-kind package that's easily the most expensive video game bundle ever conceived at a whopping $10,000,000.
So what do you get for $9,999,940 above the retail price? Quite a few glamourous features such as: a speaking role in Dying Light: The Movie, professional acting lessons from Roger Craig Smith (Ezio in Assassin's Creed), stuntman parkour training (or a stunt double), an off-road driving course, a personal trailer on set, an original copy of the film script, an FX make-up session, a screening tour of the film (complete with first-class accommodations), 10 VIP tickets for opening night, the role of the voice of Kyle Crane in a special edition of Dying Light, and four copies of Dying Light: The Following - Enhanced Edition.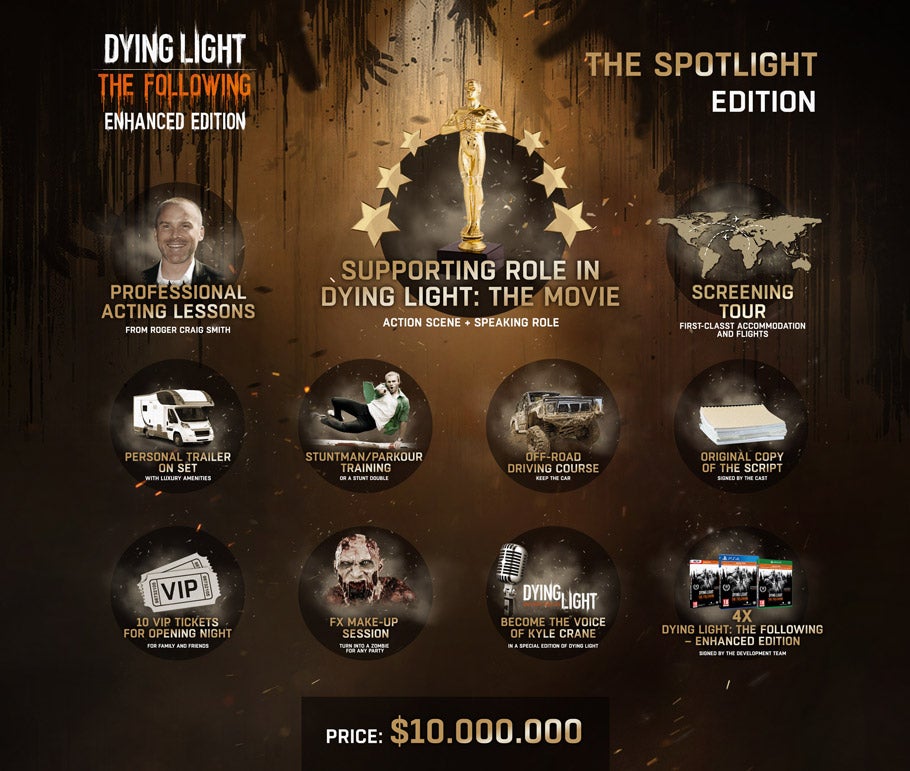 This isn't the first ridiculously expensive bundle of Dying Light as publisher Deep Silver previously bundled Techland's zombie game with a "zombie apocalypse-proofed house" for £250k in the Dying Light My Apocalypse Edition. As of writing this, no one has bought it.
Dying Light Spotlight Edition is a GAME-exclusive.
"Dying Light is one of the most exciting survival games around and what's more - it's Oscar season so what better time than now to head to the Hollywood hills!" said UK Retail MD at GAME, Charlotte Knight. "We know our community like to get in character and will have no doubt been inspired by the leading actors on the big screen - so this is a really exciting opportunity for any gamer wanting to hit the silver screen in style!"
So, any of you happen to have $10m lying around?