Dota 2 to receive Fallout 4's Mister Handy Announcer Pack
A free bonus for buying Fallout 4 on Steam.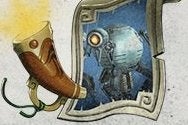 Dota 2 will receive a Fallout 4 crossover in the form of an Announcer Pack staring three-armed floating service bot Mr. Handy.
Purchasing Fallout 4 on Steam will give players access to the upcoming Announcer Pack, due mid-November.
Publisher Bethesda noted that this bonus is a "limited time offer," but no details are given regarding when it will expire.
Previous Dota 2 announcer packs have replaced the MOBA's default Mega-Kills announcer with Portal's GLaDOS, The Stanley Parable's narrator, and Rick and Morty.