Samsung Galaxy S4 review
A galaxy of difference? Digital Foundry investigates this year's biggest Android release.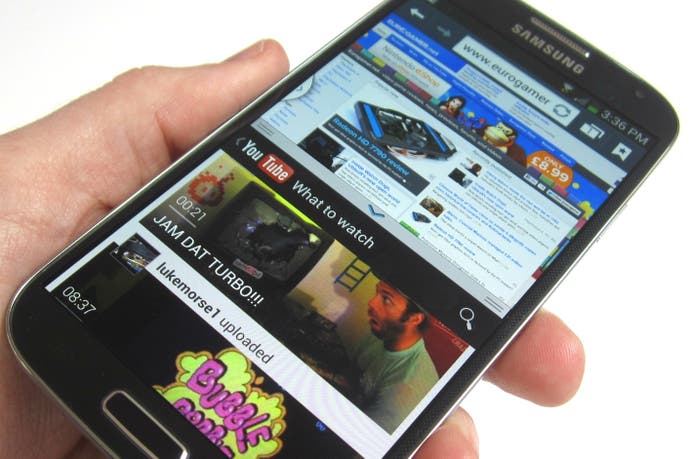 It says a lot about how far Samsung has come when the launch of its latest flagship smartphone attracts the same feverish levels of interest from tech-heads as the release of the next iPhone. The Korean manufacturer has taken Google's often-unfashionable Android operating system and given it the world-leading device it so badly needed to assert its dominance over iOS; tellingly, many consumers now get more excited about the next 'Galaxy' rather than the next 'Android'.
Last year, Samsung shipped twice as many smartphones as Apple, cementing its position as the company to beat - and therein lies the problem; when you're top of the pile, you're the one everybody is mercilessly gunning for. With the Galaxy S4, Samsung has perhaps given its rivals the best opportunity yet to bring it down a peg or two.
While the phone boasts amazing specs, a great camera and an almost peerless screen, it feels over-familiar, too keen to innovate for no good reason and bogged down unnecessarily by its irksome TouchWiz user interface. Of course, some of these faults could quite easily be directed at its predecessor, the Samsung Galaxy S3, and we happened to think that handset was pretty special. Does the S4 do enough to keep the likes of the HTC One and Sony Xperia Z at bay, or has the tide finally turned?
At first glance, you'd be forgiven for mistaking the Galaxy S4 for last year's model; the design changes made over the S3 are so subtle that they could go completely undetected to the casual observer. In terms of size and weight, the phone is an almost exact match for its direct ancestor, measuring 136.6 x 69.8 x 7.9mm and tipping the scales at 130 grams. Despite the similar dimensions, the S4's screen has been bolstered, expanding to a whopping five inches.
Around the edges of the device you'll spot a metallic band which lends a sense of class, but with this being Samsung it's fashioned from plastic rather than metal. While the S4 doesn't feel cheap, it's curiously lacking in pizzazz when placed alongside the metal-bodied HTC One. While rivals such as HTC, LG and Sony have put their full weight behind totally sealed units with non-removable batteries, Samsung remains adamant that users want to have access to their power cells. Popping off the phone's plastic back reveals a 2600mAh battery with NFC capability, as well as a MicroSD card slot which allows you to augment the phone's 16GB storage with cards of up to 64GB in capacity.
Samsung's phones are famous for sporting stunning screens, and the Galaxy S4 comes with a world-class display. The Super AMOLED panel employs a PenTile pixel arrangement, which in the past has resulted in a strange "speckled" effect, but this isn't an issue here thanks to the pin-sharp 1920x1080 pixel HD resolution. Colours are bright, and thanks to the fact that black pixels are truly black - they switch off completely - the screen boasts natural, convincing areas of darkness. Those deactivated pixels also offer a theoretical power saving too. It may have the same resolution as the HTC One and Xperia Z, but this is unquestionably the best display on any smartphone.
Much has been made of the fact that the European version of the Galaxy S4 has a quad-core Snapdragon 600 chipset, while the "international" edition boasts Samsung's Exynos 5 Octa-core chip. In reality, the difference between the two is less dramatic than you might imagine. Despite the eight-core marketing spiel, the Exynos 5 is only capable of running four cores at any given time. Using ARM's big.LITTLE architecture, a quartet of energy-efficient Cortex-A7 cores are included for low-level tasks, while another four super-fast Cortex-A15s are on-hand to cover more demanding work. Those more powerful cores only switch on when they're needed, disabling the weaker cores in the process. Benchmark tests show that the Exynos 5 has an edge over the Snapdragon 600, but it's not enough to make you're thinking you're being genuinely shortchanged with the "inferior" model.
"The benchmarks demonstrate a straight two-way fight between the HTC One and the S4, though the Galaxy's extra horsepower over the HTC offering isn't exactly overwhelming."
| | Galaxy S4 | Nexus 4 | HTC One | HTC One X | Galaxy S2 | Galaxy S3 |
| --- | --- | --- | --- | --- | --- | --- |
| Quadrant Standard | 12346 | 4906 | 12488 | 4870 | 3920 | 5127 |
| AnTuTu Benchmark | 23578 | 10580 | 24374 | 11065 | 10270 | 11950 |
| Geekbench | 3109 | 2263 | 2816 | 1455 | 1133 | 1716 |
| GLBenchmark Egypt On-Screen/ Off-Screen | 41fps 41fps | 39fps 31fps | 31fps 34fps | 22fps 14fps | 11fps 11fps | 16fps 16fps |
| GLBenchmark T-Rex On-Screen/ Off-Screen | 15fps 15fps | 19fps 12fps | 13fps 15fps | 5fps 8fps | 3fps 5fps | 4fps 6fps |
| 3D Mark Ice Storm 720p/ 1080p | 10454 6730 | 11019 6400 | 10054 6297 | 5878 3350 | 1702 1212 | 3225 2321 |
Featuring a Krait 300 CPU which is clocked at 1.9 GHz, Qualcomm's Snapdragon 600 certainly can't be accused of being slow. Generally responsiveness is excellent, although there are moments when the handset pauses for no good reason - usually when attempting to navigate around one of Samsung's own applications, hinting at some lacking QA on the part of the Korean giant. The debate regarding manufacturer-installed UI skins continues to rage in the world of Android, and Samsung's TouchWiz is one of the primary culprits cited by those who desire a completely unsullied, "stock" experience. Its childish, cartoon-like design is off-putting for some, but its biggest crime is going overboard with gimmicks.
Using features such as Smart Screen and Air Gestures, Samsung has attempted to revolutionise the way in which we interact with our phones. Using its front-facing camera, the S4 detects when you're looking at the screen and pauses video whenever you look away. Air Gestures are as foolish as they sound; by waving your hand in front of a proximity sensor above the screen, you can scroll through web pages or even wake your phone when it's idling on a desk.
Such functions are impressive the first time you use them, but their real-world usefulness is debatable. More effort is required to scroll a web page with an exaggerated wave of the arm than a simple swipe of the finger, and the much-hyped Smart Screen options fail to work convincingly due to a wide range of issues - the most pressing of which is that even in broad daylight, the phone's camera doesn't seem to be able to "read" your eyes as well as it should. All of these gimmicks are sure to be abandoned and deactivated within hours of owning the phone.
"In the gaming arena, the S4 looked demonstrably smoother than the HTC One on the most demanding 3D game we tested - Real Racing 3."
Not all of Samsung's ideas fall on stony ground, however. Multi-window - seen on the Galaxy Note range - allows you to run two applications in tandem, while video picture-in-picture means you can watch a film and browse your emails simultaneously. These are genuinely useful functions which make you wonder how you ever lived without them.
Thanks to the S4's robust processing power and appealing screen, it provides the perfect way to enjoy Android's growing selection of games. Real Racing 3 runs noticeably smoother than it did on the HTC One, and other 3D titles - such as Dead Trigger and Dungeon Hunter 4 look just as striking. The on-screen benchmarks (which render the tests in device native resolution) in the table above show that frame-rates exceed the HTC One, and even the Nexus 4 - which has a much lower resolution display.
Samsung has taken great care in enhancing the S4's photographic prowess - not only does the sensor jump to 13-megapixels over the S3's 8-megapixels, there's also a surplus of shooting modes and post-production features which make your images even more visually appealing. You can stitch together shots to create a single image which charts the movement of an object - be it person, animal or vehicle - and cook up animated images which can be shared as .gif files. Even without these additions, the S4's camera captures some stunning shots, with good colour reproduction. It also shoots video at 1080p - as does practically every top-line Android phone from the past twelve months - but the quality of the footage here is noticeably superior.
"While the HTC One impressed with its low-light performance, the Galaxy S4 produced generally sharper shots with excellent colour reproduction."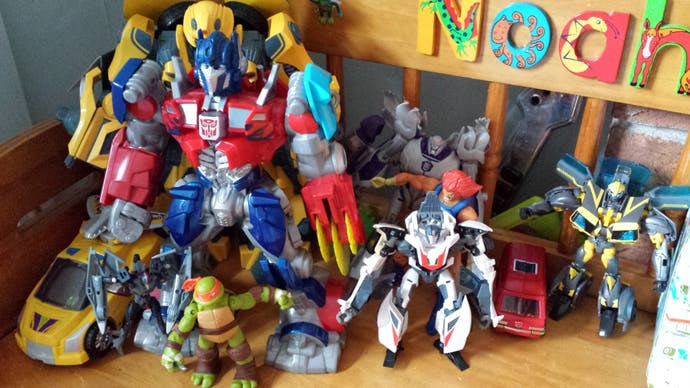 With a massive screen and 1.9 GHz CPU, you might assume that the Galaxy S4 guzzles power like nobody's business, but it actually performs in very much the same fashion as rival Android phones. You'll get a day of solid use before you have to charge it up - par for the course with modern handsets - and in our HD video test, the S4 managed around seven hours of continuous playback before it gave up the ghost. Naturally, it's impossible to give a solid figure as everyone's daily activities vary, but if you're moving on from an S3 or any other recent smartphone, you won't find any nasty shocks when it comes to staying power.
Samsung Galaxy S4: the Digital Foundry verdict
The Galaxy S4 is a remarkable piece of technology, offering power, functionality and a solid platform for mobile gaming. Although it misses out on the much-hyped Exynos 5 "octo-core" chipset, the replacement Snapdragon 600 is almost as adept. The 5-inch Super AMOLED screen is also a revelation, offering an incredibly sharp picture with striking colour and contrast.
As impressive as it is, we can't help but feel that Samsung has played it too safe when it comes to the design. The S4 is just a little too similar to the S3 in our opinion, which is an odd move when you consider how cosmetically different the first three Galaxy handsets were. There's also reason to be dissatisfied with the materials used in its construction; surely it wouldn't kill Samsung to at least experiment with a bit of metal detailing in one of its flagship devices?
Aesthetic concerns aside, TouchWiz causes a few headaches, thanks mainly to its raft of ultimately needless features and its often obtuse menu system - it's almost as if Samsung is trying as hard as possible to distance itself from the core Android experience - and we sincerely hope the Korean firm follows in the footsteps of HTC, which recently overhauled its Sense UI with the HTC One.
The S4 doesn't make the same kind of splash as its forerunner then; the genuinely new features it showcases are too gimmicky to be of any real use, leaving the phone with a selection of technological advancements that are impressive but not quite as mind-blowing as they would have been twelve months ago. The best Android money can buy? Possibly, but the competition is definitely within striking distance.
Thanks to Vodafone for providing the handset used in this review.