Grab a new GPU for cheap with this AsRock Intel Arc A770 deal from Tech Next Day
AMD and Nvidia finally have some competition.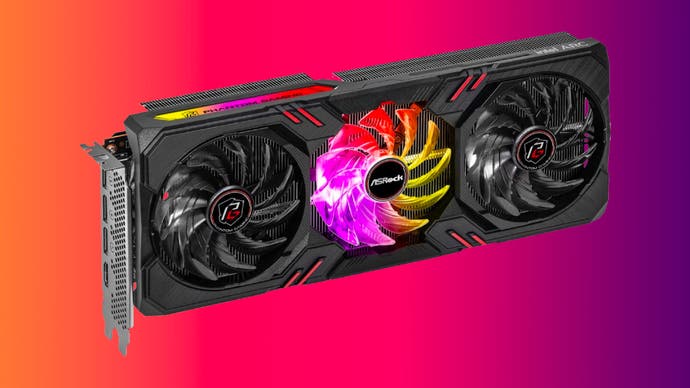 Intel's Arc A770 GPUs were a pleasant surprise when they launched, nailing better than RTX 3060 levels of performance with some unique features - but retail availability wasn't always a given. Today though, I've got a steal of a deal from Tech Next Day on this Intel Arc A770 8GB card from AsRock, which can be yours for £272 with code TND-10. For context, the next cheapest price is £300 at Overclockers, so this is nearly a 10 percent savings.
In our Arc A770 review of Intel's own Limited Edition 16GB model, we noted that it proved to be an excellent performer at 1080p, with performance levels that put it between an RTX 3060 and RTX 3060 Ti, meaning Intel's budget oriented GPU is certainly in good company. What's more, it also pulled out a significant lead in RT titles over AMD's own affordable choice, the RX 6600 XT.
Although having 8GB of VRAM can be a bit limiting when you're testing at maximum settings for a review, in the real world you can normally turn down texture quality without losing much in the way of visuals. In terms of raw frame rates, the A770 attained ~128fps at 1080p in the likes of Shadow Of The Tomb Raider (tied with 3060), 204fps in Doom Eternal (vs 168fps for 3060) and 165fps in Hitman 3 (vs 149fps for 3060). Intel's drivers have improved significantly since release too, so you may find even better results in your own testing.
The A770 isn't just a solid performer for gaming, but also for content creation, too. This is through its support for AVI encoding, which is only found on AMD and Nvidia's (considerably more expensive) latest generation graphics cards. The advantage of the AVI codec is that it offers much higher quality outputs at the same bitrate as others, which is a surefire advantage for video production and consumption. You also get DisplayPort 2.0, something not even included on Nvidia's RTX 4090.
In looking at this AsRock card specifically, it's an especially good looking card with a triple-fan cooler and black shroud helping it to look especially mean, alongside a smattering of colour on the card's frame. If you're someone wanting to grab a GPU that's not going to draw too much attention to itself in your rig, this could be the one for you.
Before I go, it's important to note there is a bit of a major caveat with the Arc A770. If you have a PC that doesn't support Resizable BAR, then you'll be hit with a pretty significant performance penalty, meaning that the A770 is a good buy only for more modern systems. You may wish to look for Nvidia and AMD's alternatives if you're slotting this card into older systems and upgrading their graphics.
With that caveat in mind however, the fact is that this AsRock Intel Arc A770 for £272 from Tech Next Day is an especially solid GPU that brings with it some noteworthy performance in a variety of titles at 1080p. You can push things higher, and the A770 will perform decently well at 1440p, too. For the money though, it's a good GPU that will work well in a mid-range modern system.