Grab 32GB of solid Corsair Vengeance RGB RS DDR4 RAM for £79 from Amazon
A great combo of speed and value for money.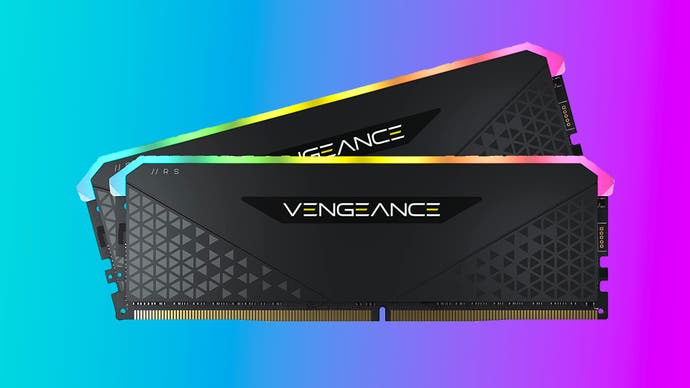 It's gotten to the point where DDR4 RAM has gotten really affordable to the point where you can grab 32GB of 3200MT/s DDR4 RGB-enabled RAM for just £79 - where previously you'd be paying well over £100 for the same stuff. With that in mind, may I present to you the subject of this article, the Corsair Vengeance RGB RS RAM kit.
This is a 3200MT/s CL16 dual-channel kit, which is the current DDR4 sweet spot in terms of price to performance. Slower RAM - eg older 2133MT/s or 2400MT/s kits that were popular from 2014 onwards - tends to incur a noticeable performance penalty and costs the same amount of money. Meanwhile, faster RAM does provide extra performance in some CPU-limited tasks, like high-refresh rate 1080p gaming, but you get diminishing returns from about 3600MT/s onwards. Therefore, 3200MT/s makes a lot of sense, whether you're upgrading an older PC with slower RAM or building a new system from scratch.
This Vengeance RGB RS kit is a 32GB kit too, which provides you with a good amount of headroom to use for more intensive tasks such as video or photo editing workloads, where you'll be able to feel the benefits of 32GB over 16GB. It's also a formidable amount of RAM to use for gaming too, even if the benefits aren't as noticeable as with intense workloads. You could certainly go for a 16GB kit instead if you're only going to be gaming (£45), but given the relatively modest premium for the larger capacity, 32GB makes sense.
It's also especially nice to have RGB at this price, which gives this Corsair Vengeance RGB RS kit a little bit more pizzazz than comparably priced kits, and means if you want to add a splash of colour to your PC, then this should be a pretty good choice. What's more, with support for Corsair's handy iCUE software, you can also configure the lighting here if you want some component-based customisation.
If you do need some more RAM to upgrade your system with, or you're building a new one and want to get a solid bang for the buck option, you certainly won't go wrong if you pick up this Corsair Vengeance 32GB kit!