Eve Spectrum review: the best HDMI 2.1 gaming monitor?
Two months with a crowd-designed 4K 144Hz display.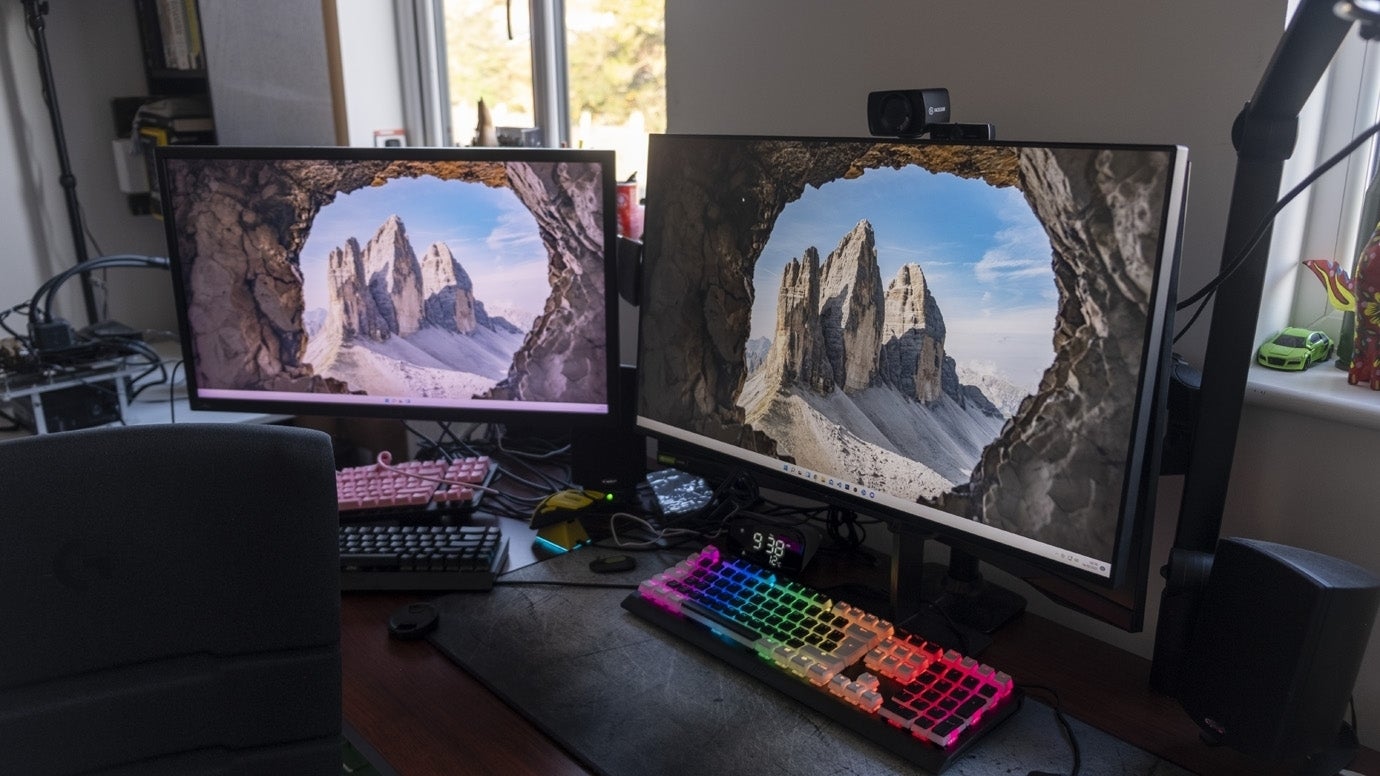 Update (4/8/22): We've updated this review with the current prices of the Spectrum and an aside on the company's business practices. Original article continues...
A genuinely competitive 4K 144Hz monitor with unique features at a fair price. That was the promise of the Spectrum, a unique 'crowd-designed' project that is also the company's first ever monitor. Against steep odds, Dough has delivered the goods. While a few rough edges remain, the Spectrum is a surprisingly competent package, capable of standing against rivals from long-established competitors.
As we mentioned in our first impressions piece nine months ago, the design of this monitor is superb. Rather than imitating the RGB-soaked, metal-and-plastic amalgamations of standard 'gaming' monitors, the monitor's designers have opted for a simpler look. With a skinny stand and little ornamentation, the Spectrum could come off as cheap, but the robust materials, monochrome colour scheme and industrial design elevate the monitor to the level of a pre-Cook Apple product.
It's functional too - the stand is steady with options for rotation and height adjustment, the minimal bezels melt away in use and a centrally-located joystick makes it easy to tweak monitor settings. While the company's community of prospective buyers chose well between the aesthetics they were offered, the firm's designers also deserve kudos for bringing sometimes conflicting feedback into a cohesive and effective design. The company also opted to sell its stand separately, bringing the price down for those that plan on VESA mounting the display anyway - but that means you'll need to budget an extra $99 if you want a 'complete' monitor.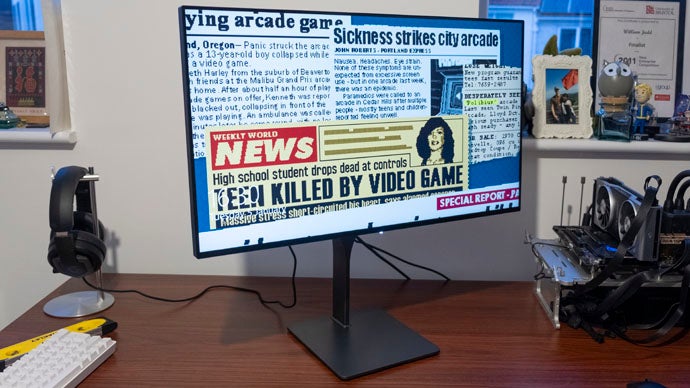 The Spectrum is available in three different models: 1440p 165Hz ($649, preorder), 1440p 280Hz ($949) and 4K 144Hz ($949). We're covering the 4K 144Hz model here, also known as 'ES07D03', which appears to use the same 27-inch LG Fast IPS panel as the LG 27GN950 and 27GP950. We found this modern panel offers an excellent picture overall, with motion handling akin to a TN panel monitor alongside the typical wide viewing angles and gorgeous colour reproduction as a traditional IPS monitor. HDR is supported, with a DisplayHDR 600 certification and a peak brightness of around 750 nits. This is good enough to provide a convincing HDR experience, although the monitor's edge-lit 16-zone local dimming implementation isn't quite good enough to compete with the likes of Mini LED backlit LCD or OLED panels, with noticeable blooming around bright objects on black backgrounds. Also, as this is an IPS panel, contrast is good at around 900:1, but blacks appear somewhat grey. If contrast is important to you, then a VA or OLED panel is a better bet - but each has its own tradeoffs, particularly for desktop use!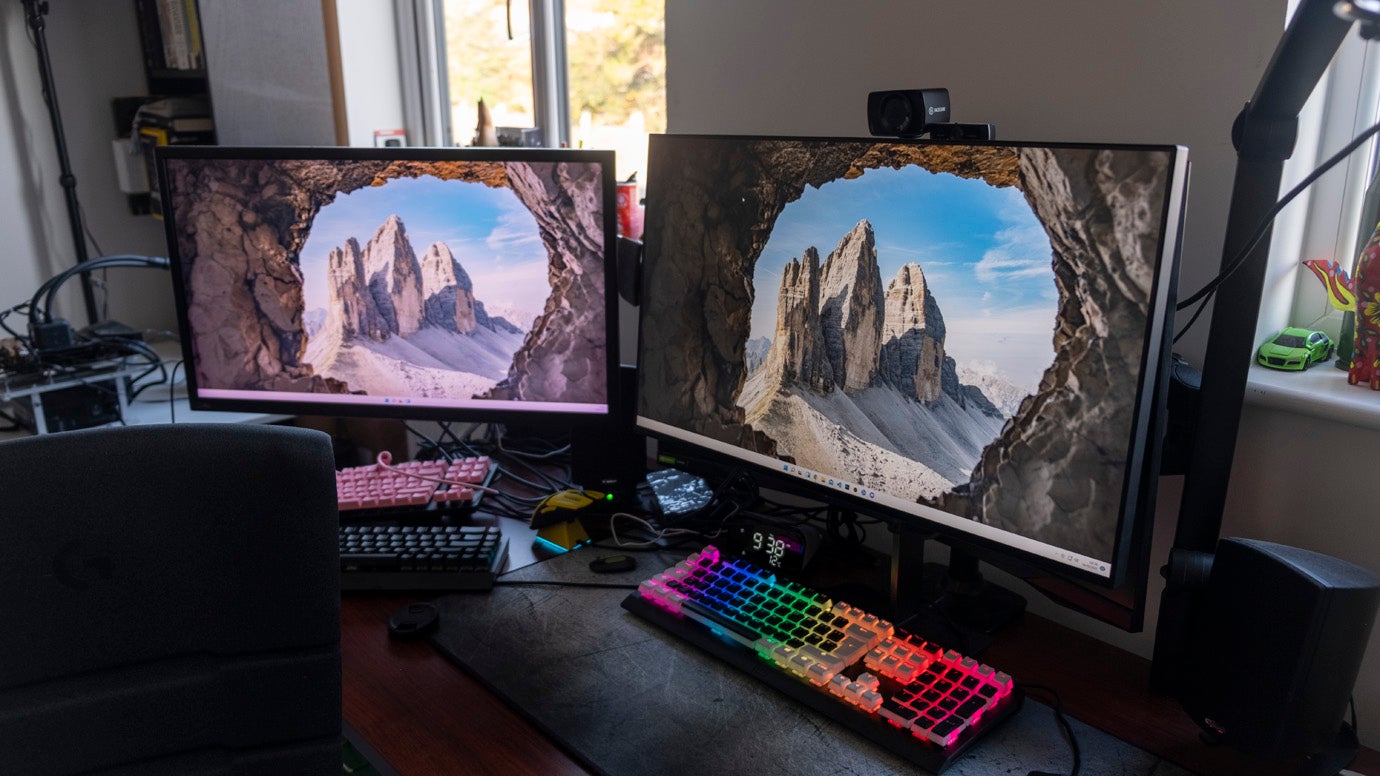 This 4K 144Hz model also has two HDMI 2.1 48Gbps ports, allowing the monitor to connect to both next-gen games consoles (PS5 and Xbox Series X) at up to 4K 120Hz with variable refresh rate support. PCs with RTX 30-series or AMD RX 6000-series graphics cards can also use the HDMI 2.1 connection but are equally happy using DisplayPort 1.4, with this slightly older standard achieving the full 4K 144Hz refresh rate using visually lossless Display Stream Compression or DSC. The monitor is G-Sync and FreeSync compatible, and the monitor worked well with both AMD and Nvidia graphics cards in our testing. Similarly, 4K 120Hz gaming on both games consoles worked as expected, with variable refresh rate support for Xbox and PS5.
Dough also had outside help when it came to crafting and tuning the monitor's panel, turning to the expert enthusiasts at Blur Busters to help tweak the monitor's pixel response times and other motion handling factors. The overdrive setting includes three presets, plus a 'user' option which allows you to tune the strength of the effect precisely to your preferences. This prevents the common occurrence of one mode being too slow, but the next mode being too fast and resulting in a lot of overshoot. Black frame insertion is supported, but can't be enabled with G-Sync or Freesync engaged - unlike some monitors from Asus and Gigabyte. This feature lowers the monitor's brightness, but helps eliminate motion blur by interleaving a frame of perfect black between each frame of video. Usefully, the strength of the effect is configurable, rather than being a simple on/off toggle, with three presets plus a user mode that allows you to make your own trade-off between motion clarity and brightness. These controls, alongside the Blur Busters collaboration, results in a monitor that offers competitive motion handling out of the box, while also allowing users more fine-grained control than we'd normally expect. All in all, the Spectrum surpasses many similarly-specced 4K 144Hz monitors from industry titans like Asus and Acer. That's a mean feat for a company building its first monitor - just ask Corsair or Razer how tough this can be.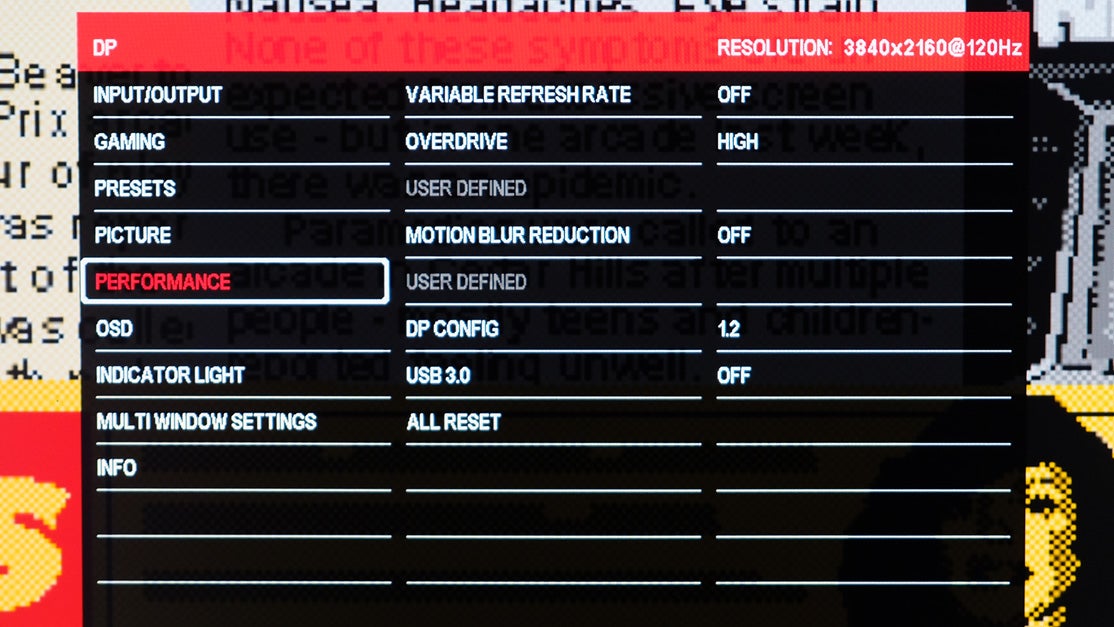 While performance is competitive, the Spectrum really sets itself apart with its feature set. The two biggest draws here are the pixel perfect scaling mode and its passthrough USB-C charging, both of which are niche use cases that nonetheless can make a big difference to the small percentage of users that will make use of them. The exact pixel scaling mode is ideal for playing older 2D games, where a 2x or 4x scale from the original sub-HD resolution maintains a crisp and readable look instead of the smeary appearance you often see with non-power-of-two scaling factors. I tested this out with FTL, a gorgeous-looking game that unfortunately tends to look a bit crap scaled up to a 4K display and was impressed by the sharpness of the image. Changing from a standard 'stretch' scaling mode to the 'pixel' scaling mode was a night-and-day difference, and I'm sure it would act just the same on retro consoles and the like too - although I shamefully don't have any nearby to test with.
Weirdly, you can't change scaling modes with 'low latency' mode enabled, as it is by default, so be sure to disable this before trying the different modes - and note that this in turn disables adaptive sync. Other OSD ('on screen display') features include a crosshair overlay for cheating in shooters and a frames-per-second readout. There are no black equaliser settings or genre-specific settings presets, but you can change from DCI P3 or clamped sRGB; in most cases the latter will result in a more accurate picture for SDR content. The OSD does look a little rough and ready, but Dough's promised visual rework is at least visibly in progress.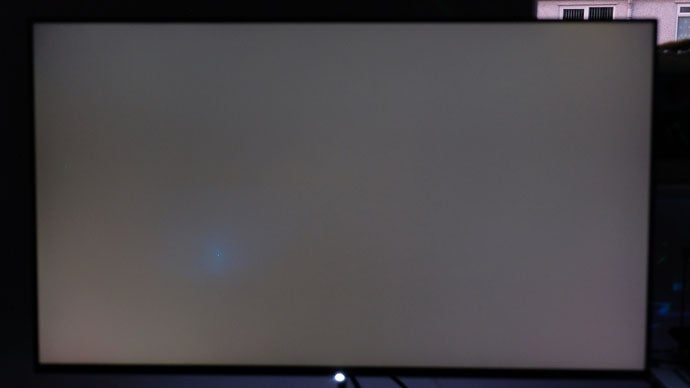 The monitor comes factory calibrated, and our testing with a i1Display Pro colourimeter bore out Dough's claims of excellent colour accuracy (average Delta E values <1.5, where less than two is typically indistinguishable to the human eye). Furthermore, the monitor hits 100 percent sRGB coverage and 98 percent DCI P3 coverage. You could easily use this monitor for colour-sensitive work like editing photos, although mastering HDR video might be a step too far.
The USB-C implementation is impressive. The monitor can provide 100W of charging plus up to 4K 60Hz video through a USB-C connection, providing a clean single-cable solution to connect low or mid-range laptops (high-end gaming models will draw more power than the monitor can provide when under heavy load, so it's less useful if you'll spend a lot of time gaming or rendering out video compared to lighter tasks like web browsing or watching video). There's also a USB-B port for older machines that don't have USB-C, with either connection method giving you access to the monitor's two USB-A ports and one USB-C port. These USB connections also allow the monitor's firmware to be upgraded, a process you'll want to perform to ensure you have the latest features and the best performance - the firmware remains very much a work in progress.
So with all these things considered, how does the Spectrum stack up? I think personally, the Spectrum surpassed my expectations, and its unique features make it a strong if not unparalleled choice amongst the growing cadre of HDMI 2.1 4K 144Hz monitors. If you're in the market for a single screen that can do it all - PS5 or Series X gaming at up to 4K 120Hz, retro gaming on older systems with pixel-perfect upscaling and one-cable connections for modern laptops - well, the Spectrum is an awesome choice. If your interests are more pedestrian - say, just 4K 144Hz PC gaming - then you might prefer a model from a more mainstream monitor brand that offers similar performance, a cleaner OSD and fewer post-launch support worries. Regardless, the Spectrum is one of the best HDMI 2.1 monitors we've tested and even one of the best screens we've had in our Digital Foundry HQ full stop. It's an impressive result for a company's first monitor, but the newly-renamed Dough needs to improve its sales and support to earn a full-blooded recommendation.
The Spectrum is currently available via Dough's store, with wider retail availability to follow.
Will you support the Digital Foundry team?
Digital Foundry specialises in technical analysis of gaming hardware and software, using state-of-the-art capture systems and bespoke software to show you how well games and hardware run, visualising precisely what they're capable of. In order to show you what 4K gaming actually looks like we needed to build our own platform to supply high quality 4K video for offline viewing. So we did.
Our videos are multi-gigabyte files and we've chosen a high quality provider to ensure fast downloads. However, that bandwidth isn't free and so we charge a small monthly subscription fee of £4.50. We think it's a small price to pay for unlimited access to top-tier quality encodes of our content. Thank you.
Support Digital Foundry