Two of our favourite gaming monitors are more than £50 off today
Choose between the LG 27GL83A and the Alienware AW2521HF.
Two of the best gaming monitors are discounted in the UK today: Dell's Alienware AW2521HF, a great 240Hz monitor for FPS and the LG 27GL83A, a 1440p 144Hz monitor that's a fantastic all-rounder. Other gaming monitor deals we've posted have disappeared quickly, so do take a look if you're looking to upgrade!
Let's do the Alienware AW2521HF first. This is a 24-inch 1080p monitor with a buttery-smooth refresh rate of 240Hz. It's also one of the first 240Hz monitors to use an IPS panel, meaning you get the wide viewing angles and great colour accuracy that IPS is known for - something you won't get with the older TN-panel 240Hz monitors (which tend to look a bit suspect outside of the esports games they were designed for). If you like to play fast-paced competitive games, like CSGO, Valorant and Call of Duty Warzone, but you still want your monitor to look good when you're browsing the web or watching Netflix, this is an awesome choice.
The AW2521HF is currently discounted by £100 in Dell's UK sales, and you can take a further 8 per cent off using the discount code DIGITALFOUNDRY8. That brings the price down to £303, which is roughly £50 cheaper than you'll find it on Amazon!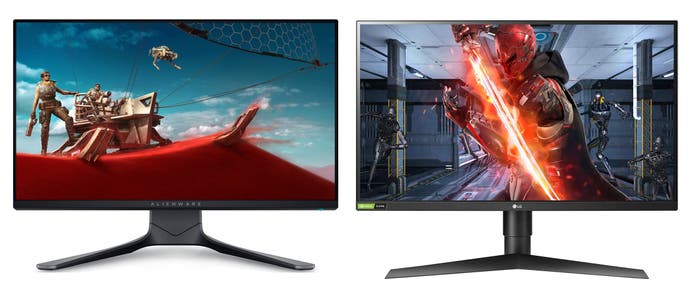 Update (9PM): The 27GL83A has now sold out, so we recommend either buying the 27GL850 at Amazon or buying from Overclockers when it's back in stock there. Original article continues.
The LG 27GL83A is a monitor we haven't featured too often before, but it's actually a very slight variation on our current #1 gaming monitor recommendation, the LG 27GL850. Both monitors use precisely the same hyper-advanced IPS panel, which has a rare 1ms GtG response time, eliminating the traditional weakness of IPS panels in displaying fast motion. The only appreciable difference between the two models is that the 27GL850 has two USB ports, whereas the 27GL83A doesn't.
Given that the 27GL850 is normally much more expensive - and is currently out of stock everywhere we've looked in the UK! - then the 27GL83A is a really smart choice to save some money and still end up with a great 1440p 144Hz screen that's ideal for a wide range of genres. Faster games can make use of that higher refresh rate, slower games benefit from the sharper and colour-accurate image, and the monitor is both FreeSync and G-Sync Compatible to smooth out uneven frame-rates if you need it.
The 27GL83A is currently £387 on Amazon, compared to £440 before, which is a good 12 per cent off. Any price under £400 is a steal, so if you're looking for a strong all-around monitor for PC gaming then this is by far my top recommendation.
That's all we have time for now! Do let us know if you spot any deals worth shouting about, and let us know what you think of these ones. And in the meantime, do take a look at our full range of gaming monitor recommendations.