First HDMI 2.1 gaming monitor for PC and next-gen consoles announced
Update: the Spectrum has been seen in the flesh for the first time.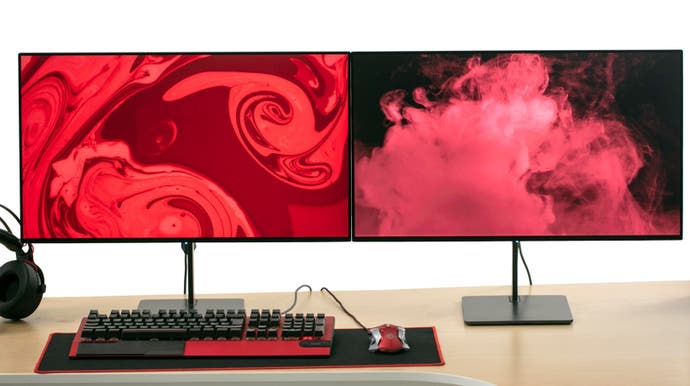 We've updated this article with new photos and videos of the Eve Spectrum that have just been released as of August 20th, 2020. Take a look.
"What's the best HDMI 2.1 monitor?" It's a question that I've received with increasing regularity over the past few weeks as next-generation consoles draw closer to release, and it's one that I've had no answer for - there simply aren't any monitors on the market that support the higher refresh rates and other gaming features offered by HDMI 2.1*. Apart from our best gaming TV pick, there aren't even that many TVs that support the new standard either! Today though, I can finally offer a recommendation, as Eve has just announced that its crowd-developed Spectrum gaming monitor will be one of the first to come with HDMI 2.1.
We've covered the Spectrum a couple of times since it was announced last October, but if you missed those articles, no hard feelings! To briefly recap, the Spectrum is a crowd-developed monitor, meaning its design and features were voted on by a community of interested enthusiasts. That's lead to the inclusion of unusual features for a 27-inch gaming monitor, like 100W USB-C pass-through charging and integer-ratio upscaling. The hardware inside is fascinating too, with Eve using the same Nano IPS panel technology that we loved in our current 'best gaming monitor' pick, the LG GL850, with improvements to important metrics like brightness, contrast, refresh rate and local dimming. The monitor is also set to be G-Sync compatible, so VRR is an option on a range of platforms. That could add up to an impressive gaming monitor, and HDMI 2.1 support only sweetens the deal.
Right now, the Spectrum is on pre-sale in three configurations: 2560x1440 at 144Hz ($389), 2560x1440 at 240Hz ($529) and 3840x2160 at 144Hz ($629). It's these latter two models that will support HDMI 2.1, with two of the future-proof ports each - so you could potentially have an Xbox Series X and a PS5 connected simultaneously.
The 4K 144Hz Spectrum model makes the most sense for next-gen, as it aligns most closely with the 4K 120Hz combination offered by many high-end TVs, but the 1440p 240Hz model could also come in handy if console game developers choose to support arbitrary resolutions and refresh rates. Of course, both AMD and Nvidia are expected to include HDMI 2.1 on their rumoured next-gen graphics cards as well, so you ought to be well covered for PC gaming too. (Of course, the monitor also includes DisplayPort 1.4, so you'll also be able to access these higher refresh rates and resolutions on current-gen cards.)
The remainder of the Eve Spectrum announcement is a little less exciting, but it's worth covering if you're interested in the monitor. First, the design has changed slightly, with the 1440p 240Hz and 4K 144Hz models gaining a much slimmer bottom bezel that looks a bit more modern - and should better suit vertical multi-monitor setups.
The order in which the monitors will be delivered is also changing, with the least popular model (the entry-level 1440p 144Hz one) slipping to the first quarter of next year, making the 1440p 240Hz and 4K 144Hz models the first to arrive in the last quarter of 2020. That should jive well with the next-gen consoles, both of which are set to appear in a similar time frame, but delays for both the Spectrum and the consoles are of course still possible given the ongoing human malware situation.
What do you think of the Spectrum? We're cautiously optimistic. The spec sheet looks good, but delivering a solid gaming monitor is certainly a challenge we don't see attempted by smaller companies very often, especially when there's so much bleeding-edge tech involved. Still, watching the continued development of this monitor has been fascinating, and we look forward to testing the Spectrum once it hits retail. Until then, stay tuned!
---
Update: August 20th
The Eve Spectrum is getting closer to reality, with a flood of new photos and videos being released today in the "Forging Ahead" update.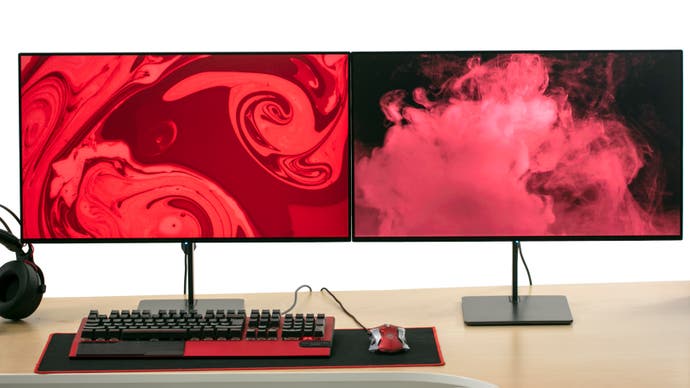 While the monitor hasn't changed substantially since we've seen it last, the box on the back of the monitor that contains the advanced scaler capable of HDMI 2.1 connections has grown in size to ensure it is adequately cooled. More importantly, we have the first real-life photos of an early model, showing the monitor turned on and working.
You can see the Spectrum being assembled above, and how it looks in motion below.
It's an encouraging sign, given that Eve is a smaller company and developing a working, high-end monitor is a lot trickier than slapping your name on a mouse pad or CPU cooler.
The firm says that the first measurements of the monitor will be published soon, with models going out for certification after that and the first few review samples sometime later. As soon as we have a unit in hand, we'll start sharing some early impressions of what remains a very promising monitor for fans of next-gen consoles or graphics.