This crowd-designed display aims to beat our best gaming monitor
The new Eve Spectrum has more contrast, 165Hz overclocking and USB-C.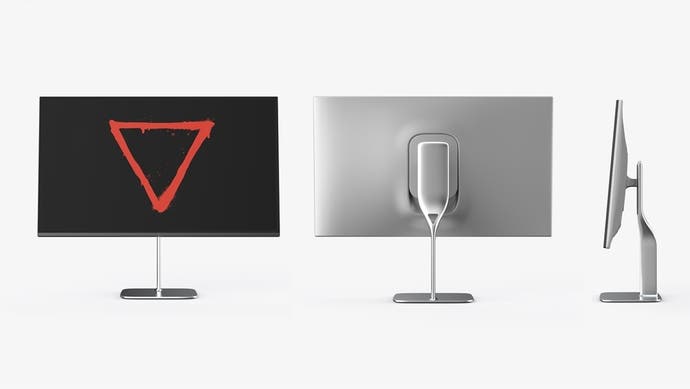 How do you design a gaming monitor? If you're one of the big gaming brands on the market, you rely on an internal team of designers, engineers and marketeers to devise a winning combination of specs and features wrapped up in the right marketing lingo. Finnish tech startup Eve is doing things differently with their Spectrum gaming monitor, relying on the wisdom of a few thousand tech enthusiasts in its community to decide nearly every aspect of the final creation. Now, after six months of deliberations on the feature set, design and specifications, the major decisions have been made and this crowd-designed gaming monitor looks exciting.
One of the most important decisions for anyone designing a gaming monitor is choosing the panel that lies at the heart of the system, a task Eve community members accomplished back in April. They opted for the same 2560x1440 144Hz Nano IPS panel which debuted in the LG 27GL850, our current pick for the best gaming monitor on the market.
The draw of this particular panel is that it has lower pixel response times than earlier IPS models, so fast-moving objects (like enemies in a multiplayer shooter) will appear clearly without smearing or overshoot artefacts. That's a big technological accomplishment that makes this panel a canny choice for gaming, while still offering the wide viewing angles and excellent colour accuracy IPS panels are known for. Of course, LG's monitor is already on the market and the likes of Acer, Lenovo and ViewSonic have already announced their own monitors using the same tech, so how will the Spectrum set itself apart?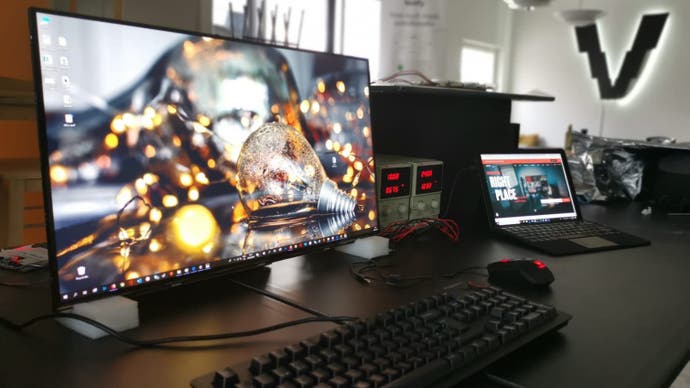 The first way is through technical improvements, with Eve community members opting for slightly improved specifications over LG's model despite an increase in cost. The backlight has been upgraded from 350 nits to a brighter 400-nit model, while the mediocre 750:1 contrast ratio of the LG monitor will be improved to 1000:1 by using a different polariser treatment.
The monitor will also mimic the effects of Asus' Extreme Low Motion Blur Sync (ELMB-Sync) technology, which allow backlight strobing to reduce motion blur while adaptive sync is active - something that wasn't possible before this year. Other promised features include eight-zone local dimming, a DisplayHDR 400 certification, overclocking to 165Hz and a lower adaptive sync floor of 30Hz. If the Spectrum is competitive on price, these added specs and features could be a good reason to go with the little-known company over more established players.
The Spectrum should also distinguish itself through its design. Most recently, the Eve community offered feedback on five design themes, which range from unusually textured monitors in familiar shapes to more overtly elegant or blocky designs. Some even include additional features, like a wireless charger built into the base of the stand.
Here's the current design front-runner, Blade, which opts for a modern industrial design: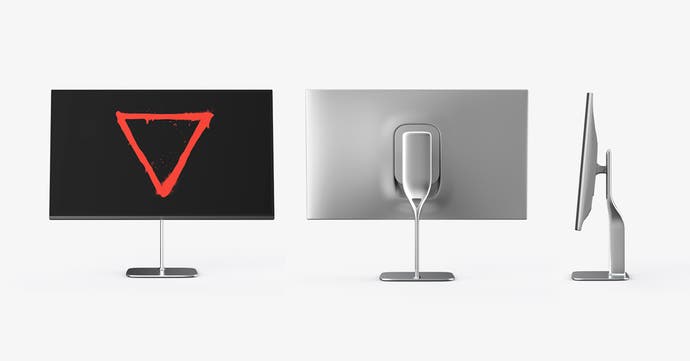 The ultimate design may use elements from several of the five proposed designs. Here are the four more designs considered by the Eve community with their important features:
While some features are still in flux, others were nailed down early on. One big one is USB-C Power Delivery connectivity, which means modern laptops can be connected to the monitor and charged using a single cable. This was a hotly requested feature amongst the community, and hence, an essential inclusion for the Eve Spectrum.
An advanced design and expanded feature set could make the Spectrum a pricey proposition, and there's no been no word yet on what the monitor will cost. The final look and feature set won't be decided until October 18th, with the first working prototypes scheduled to be produced in November. That will give the team only a few months to get the monitors produced in time for the second quarter 2020 release date.
Thankfully, the small team at Eve does have a reasonable track record for shipping out a product that lives up to the original description. The Eve V was their take on a two-in-one PC, a la Microsoft's Surface Pro, and the device received plaudits from several technology publications on the strength of its hardware design, features and value - despite arriving months after the original ship date.
Sadly though, some Eve V backers were left unsatisfied with the experience. Some posters on the /r/evev subreddit reported not receiving their units or requested refunds years after they were first ordered or having their support requests turn into months-long ordeals. Fulfilling a large number of orders and providing ongoing support is not a trivial task for a small new company, but the number and frequency of these complaints is disappointing nonetheless.
We asked Eve CEO Konstantinos Karatsevidis to comment on these complaints, and he suggested things will look very different this time around:
"It's quite a complex situation. To put it shortly we have changed our business model completely. Previously we used to license our design, product and brand to resellers around the world... which backfired on us. You can read the full explanation here... our operations are [now] backed by a well-known supply chain company PCH International that essentially boosts the scale and capacity of our small team in Finland to those of major tech players by providing fulfillment, sourcing, inventory management and other services. We are [also] using not using third party sellers this time around... we will take care of shipping product as well. We have also taken measures to take care of these unfortunate [Eve V] customers."
It will be intriguing to see how competitive the Spectrum monitor will be when it debuts next year. At present, 1ms 1440p 144Hz IPS screens are both technologically advanced and somewhat affordable, but a lot can change in the next eight months. Still, if the Spectrum arrives on time and at a reasonable price, it could still find favour amongst the tech enthusiast community that designed it. We'll be watching this one closely.