RTX 2070 vs GTX 1080: Which should you buy?
Benchmark performance, value and feature comparison included.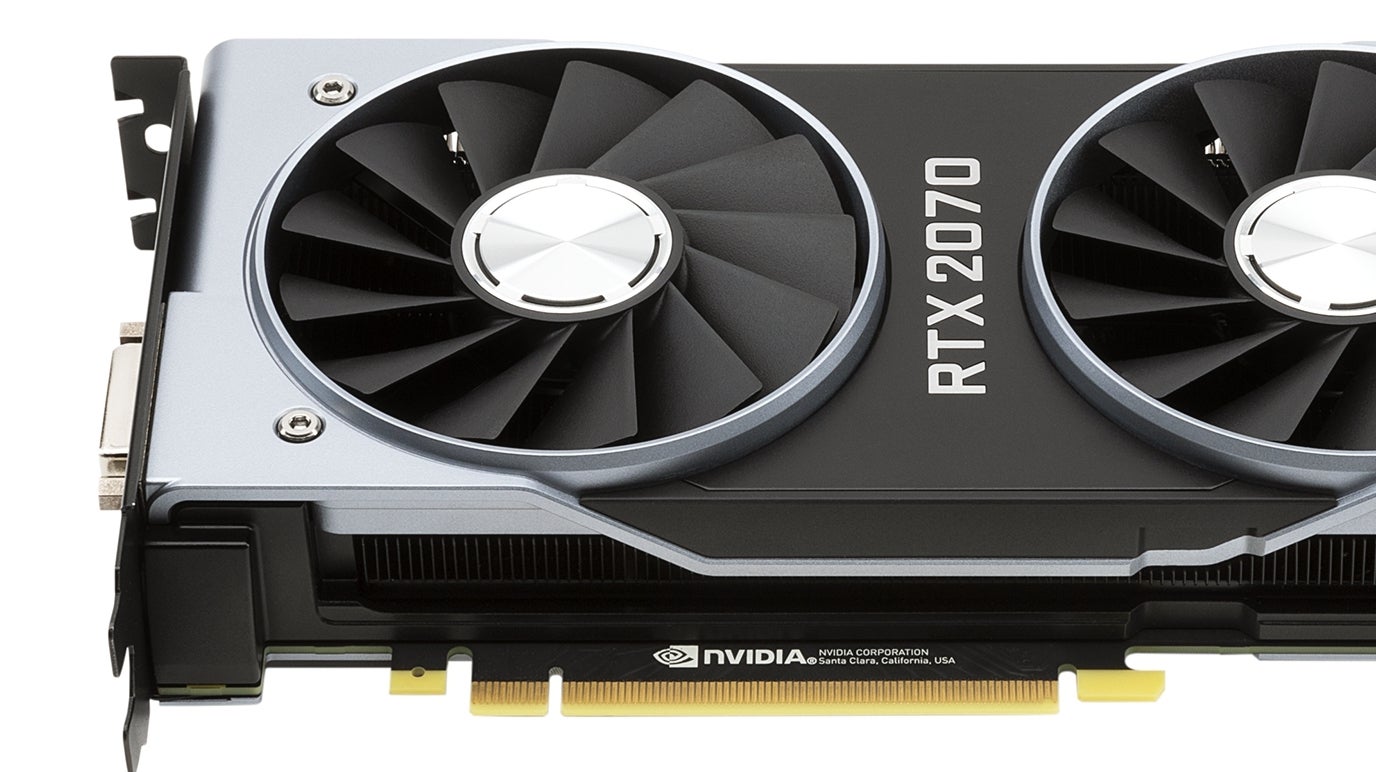 The GeForce RTX 2070 is a tantalising prospect: all of the cool ray tracing and deep learning technology that debuted with the RTX 2080 and 2080 Ti in a much more affordable package. However, the outgoing GTX 1080 should offer similar performance at a lower price - so which card is the better buy for most people? That's what we'll aim to answer here, as we examine exactly how these two graphics cards compare in terms of in-game performance, features, pricing and availability.
First up, we'll take a closer look at the features that define the RTX 20-series cards: the capacity for real-time ray tracing, deep learning super sampling (DLSS) and more. Are these game-changers that'll become the RTX series' greatest strength, or fad technologies that only serve to drive up the cost of GPUs? It's a complex topic and the answers aren't all that clear yet, but we can give you a good indication of what to expect once these features start to be supported in real games. We'll also briefly discuss the smaller features that you might not have heard about, including improvements for content creators and VR fans that could make the RTX 2070 a must-have upgrade.
After that, we'll cover the topic that absolutely everyone will care about: real performance in traditional games. We've tested the RTX 2070 and GTX 1080 exhaustively, so we can show you exactly how these cards compare in a wide range of modern games at different resolutions.
Pricing and availability is another key concern for anyone looking to buy a new graphics card, so we'll conclude by showing you where to find the RTX 2070 and GTX 1080 for the best prices and giving our judgement on which card is the better buy. Of course, we'd be remiss to not also mention our full GeForce RTX 2070 review, which tackles all of the topics we'll cover here in greater detail. For now though, let's get into the comparison!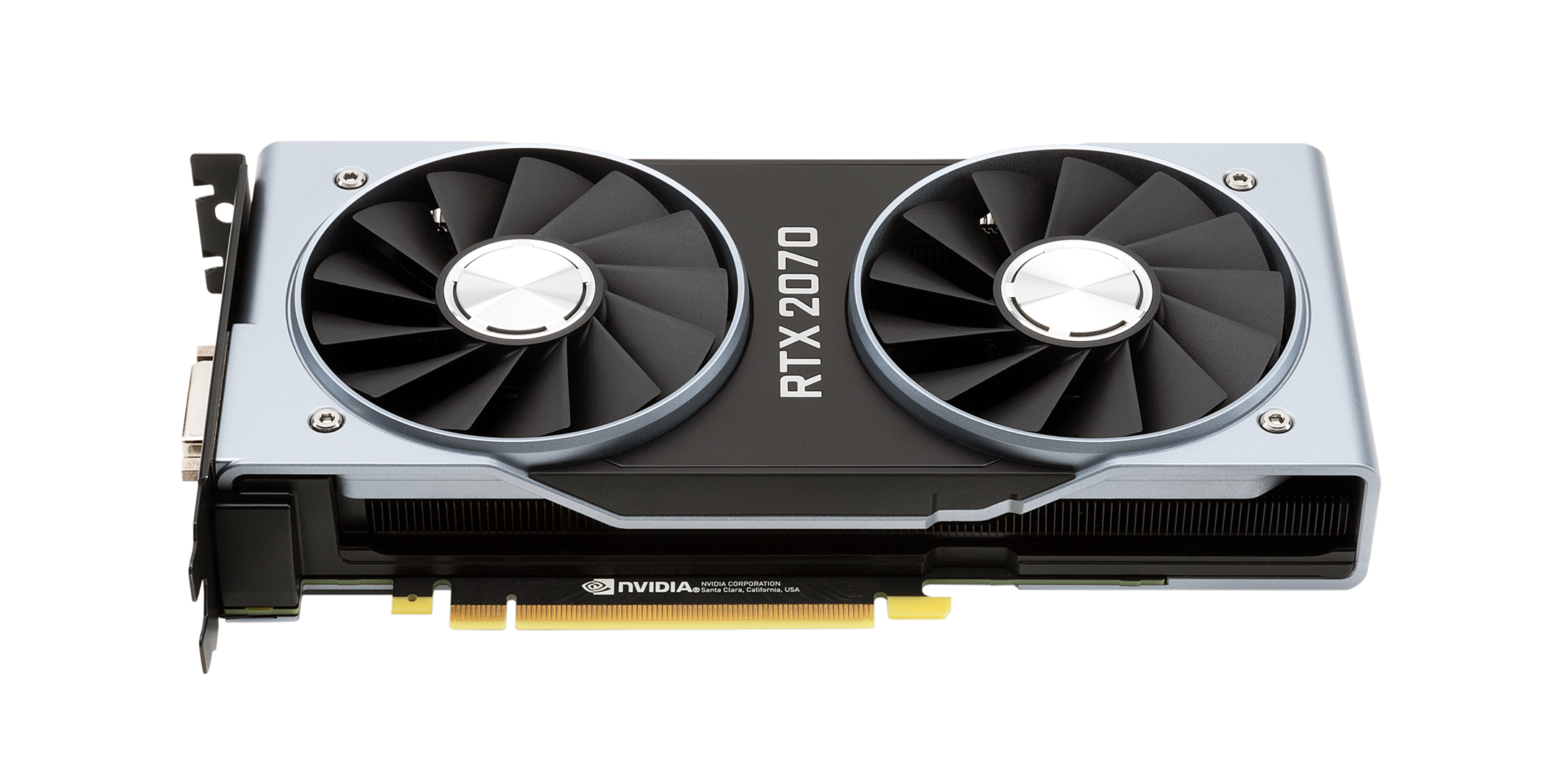 RTX 2070 vs GTX 1080: feature comparison
Deep learning super-sampling (DLSS)
While real-time ray tracing gives the RTX series its name, deep learning super sampling (DLSS) could well be the more important addition. DLSS has the potential to boost frame-rates substantially in games that support it, allowing RTX cards to out-muscle their GTX competitors or to offset the performance cost of real-time ray tracing. We've produced an in-depth review of DLSS if you want to learn more, but the short version is that it works by rendering a low-resolution image which is then upscaled to your monitor's resolution. This is achieved by a deep learning algorithm, which has been trained on extremely high resolution images of the game that's being played. That allows the graphics card to deliver a final image that looks similar to one produced with traditional anti-aliasing while using half of the shading power. The practical upshot of all this is that frame-rates can go way up. In fact, in the first shipping DLSS title, Final Fantasy 15, frame-rates are boosted by a massive 40 per cent by switching from traditional TAA to DLSS. That's incredible, particularly for the mid-range RTX 2070.
Final Fantasy 15 Demo: TAA vs DLSS
Real-time ray tracing
Ray tracing refers to simulating light as it bounces realistically around a scene. This approach has historically been way too intensive to happen in real-time, but the specialised hardware of the RTX cards finally makes this a reality. While enabling real-time ray tracing in games like Battlefield 5 still has a heavy performance penalty, especially on the low-end RTX 2070, it provides for more realistic-looking lights and shadows and could even allow for some unique gameplay possibilities. If RT is well-supported by developers and the performance penalty is mitigated through DLSS, it could well become an essential feature - but at this stage, it's still too early to tell how fast the real-time ray tracing future will arrive.
Turing architecture: new rendering features
As well as RTX and DLSS, Nvidia's 20-series graphics cards include some other interesting additions. For example, new shading models like mesh shading have been included, which essentially allow the GPU to take closer control over level of detail settings, significantly freeing up CPU and GPU resources without sacrificing visual fidelity. Variable rate shading is another clever addition which reduces processing on scene elements that aren't likely to be focused on by the player. That tactic can add roughly 15 to 20 per cent to frame-rates, at least based on a Wolfenstein 2 demo we've seen, allowing another avenue for canny game developers to optimise for the new RTX cards.
The RTX 2070 also joins its 20-series fellows in offering a USB-C VirtualLink port, designed to support next-generation VR headsets to connect without using separate video and data cables. Future 8K displays will also be able to plug into your RTX 2070 through a single DisplayPort 1.4 cable at 60Hz, something that wasn't possible on GTX 10-series cards.
Streamers and game video creators might also be prompted to upgraded to the RTX 2070 through its inclusion of a more efficient NVENC encoder. The new version supports a wider range of video standards, allows for higher resolutions and doesn't sap your processor as much as the previous version. Combined together, these improvements mean that 4K streaming becomes a possibility without extremely expensive hardware - as long as you've got a fast internet connection!
RTX 2070 vs GTX 1080: performance benchmarks
While the RTX 2070 and the GTX 1080 will take centre stage in our performance comparison, it makes sense to include some greater context as well. This comes in the form of two higher-end Nvidia graphics card from this generation and the last, the RTX 2080 and the GTX 1080 Ti. We've also included the AMD Vega 64, Team Red's fastest graphics card at the moment. Our testing was performed at 1440p and 4K to best show the difference between these two cards, as 1080p testing is often too CPU-limited.
To give you a better idea of the raw performance of these cards, you can see some of the relevant stats in the table below. Note that Founders Edition figures are given first, with their reference equivalents in parentheses, as the RTX FE cards we tested come factory overclocked.
RTX 2080
RTX 2070
GTX 1080 Ti
GTX 1080
Vega 64
GPU cores
2944
2304
3584
2560
4096
Giga Rays/sec
8
6
1.21
1?
?
RTX-OPS
60T (57T)
45T (42T)
12T
8T
?
VRAM
8GB GDDR6
8GB GDDR6
11GB GDDR5X
8GB GDDR5X
8GB HBM2
Memory Bus
256-bit
256-bit
352-bit
256-bit
2048-bit
Mem. Bandwidth
448GB/s
448GB/s
484GB/s
352GB/s
439GB/s
Base Clock
1515MHz
1410MHz
1480MHz
1607MHz
1200MHz
Boost Clock
1800MHz
(1710MHz)
1710MHz
(1620MHz)
1582MHz
1733MHz
1536MHz
TDP
225W (215W)
185W (170W)
250W
180W
295W
Our testing results are shown using our Digital Foundry benchmarking system - as long as you're viewing the desktop version of this page, anyway. A YouTube video shows the scene that we tested each card on, with live frame-rate and frame time data embedded below. Use the controls to the right of the video to add or remove cards and resolutions, and find quick summaries for the whole run in the chart below. Remember to see the different figures in this chart, you'll need to mouse over the results. You can also click on the chart to toggle between absolute figures and percentages. Now, let's go into the results proper!
Assassin's Creed Odyssey
The RTX 2070 and GTX 1080 - a battle for the ages! Fittingly, our first test is also a historic one, as we take to the lush fields of Greece to figure out which card renders this complex scene the fastest. Hit play on the video below, and you'll see the RTX 2070 in green and the GTX 1080 in red. The RTX 2070 is the first victor here, with the new card managing 56fps at 1440p and 35fps at 4K. Compared to the GTX 1080, that's a lead of around 12 per cent at each resolution.
AC Odyssey: Ultra High, TAA
Assassin's Creed Unity
Next up is a prior Assassin's Creed title, the 2014 release Unity. Performance is smooth for both cards throughout, with the 2070 averaging around 73fps and the 1080 at 68fps. These are the 1440p results, but 4K is a similar situation - we're looking at the 2070 at 37fps and the 1080 at 35fps; again a difference of around five per cent. Both cards produce nicely playable 1440p frame-rates at this punishing ultra high preset, while at 4K you're looking at a console-quality 30+ frames per second with little to separate the two cards. Generally, we'd recommend swapping to high settings at 4K on either of these two cards.
Assassin's Creed Unity: Ultra High, FXAA
Battlefield 1
2016 title Battlefield 1 is another challenging test for graphics cards. This one doesn't have an in-game cutscene that we use as a benchmark, so we've opted for a repeatable stretch of gameplay that sees us driving a British tank through French no man's land. The GTX 1080 dips low here, dropping to a little over 60fps at 1440p, while the 2070 has a much more consistent performance with the worst one per cent of frame-rates still scoring 88fps. In terms of the overall averages at 1440p, there's also a difference - the 2070 manages 114fps, while the 1080 only manages 102fps - a difference of about 10 per cent. The gap narrows at 4K, where the 2070 rounds up to 62fps on average while the 1080 comes in at 61fps. No matter which resolution you're running, you should expect a smooth experience - and gamers at 1080p or 1440p could achieve 144Hz or even higher refresh rates with a strong CPU and some settings tweakery.
Battlefield 1: Ultra, TAA
Crysis 3
Released back in 2013, Crysis 3 is the oldest benchmark in our test - but it remains a stern challenge for even modern graphics cards. The GTX 1080 performs comparatively better in this older game, with only a two fps difference at 1440p and 4K. Both cards are more than playable at 1440p, but the 4K results fall some way short of the 60fps ideal.
Crysis 3: Very High, SMAA T2X
Far Cry 5
Far Cry 5's chillaxing benchmark mode is where we arrive next. The RTX 2070 acquits itself well here, scoring over 90fps at 1440p and dropping to a still-manageable 46fps at 4K. The lead to the GTX 1080 is relatively narrow at both resolutions: 7.5 per cent at 1440p and five per cent at 2160p. The closest competitor to the RTX 2070 is actually the Vega 64, which comes less than a frame behind at 4K.
Ghost Recon Wildlands
2017 release Ghost Recon Wildlands is the most challenging benchmark we look at, but the mid-range RTX 2070 card still manages to head off the GTX 1080 - in part, thanks to its factory overclock. On average, the 2070 manages 51fps at 1440p and 32fps at 4K, both of which are around five per cent ahead of the higher-tier last-gen card. That 4K result isn't ideal, but it's worth keeping in mind that even the mighty RTX 2080 Ti scores only 47fps in this test. We'd recommend switching to the high quality preset for a much more playable experience than the ultra preset tested here.
Ghost Recon Wildlands: Ultra, TAA
Rise of the Tomb Raider
2016 title Rise of the Tomb Raider comes with a nice tri-partite benchmark that tests performance in three different scenes - although the actual game is altogether more challenging than the benchmark would suggest. The GTX 1080 and RTX 2070 are are on a very equal pegging here, with the RTX 2070 scoring 95fps and the GTX 1080 94fps at 1440p. It's a similar story at 4K at 50fps and 49fps, respectively.
Rise of the Tomb Raider: Very High, SMAA
Shadow of the Tomb Raider
2018 release Shadow of the Tomb Raider didn't face universal praise from critics on launch, but it certainly includes a more realistic benchmark that better matches actual in-game performance. Shadow of the Tomb Raider is also one of the games that Nvidia claim will support RTX and DLSS in the future, although neither have yet appeared in the month or two since launch. The RTX 2070 does better here than in the last game, with scores 10 per cent ahead of the GTX 1080 at 1440p and 4K. If you're looking for the actual average frame-rates, that's 72fps for the 2070 at 1440p and 38fps at 4K; the GTX 1080 delivers 65fps at 1440p and 34fps at 4K.
Shadow of the Tomb Raider: Highest, TAA
The Witcher 3
The Witcher 3 is our second-to-last game benchmark, and it's one of the most illuminating too. The RTX 2070 outguns the GTX 1080 here by a substantial 15 per cent margin at 1440p, although this shrinks slightly to 13 per cent at 4K. The 2070's 95fps means that a high refresh rate 1440p monitor could be well utilised here, although at 4K the 51fps average means that you'd still be a few settings tweaks from hitting a stable 60fps.
Witcher 3: Ultra, Post-AA, No Hairworks
Wolfenstein 2: The New Colossus
In this id Tech 6 engine test, the RTX 2070 outperforms the GTX 1080 by around 17 per cent at 4K, with average frame-rates of 63fps and 53fps, respectively. Considering that we're at 4K using the uber graphics preset, I'd argue that's a pretty respectable result for the mid-range RTX card - even taking into account id's excellent performance optimisation. The gap is higher at 1440p, where it's around 21 per cent with both cards above 90fps.
Wolfenstein 2 Vulkan: Uber, TSSAA 8X
Throughout these benchmarks, we've seen the RTX 2070 outperform the GTX 1080 by a decent margin, usually in the region of five to fifteen percent - and in most tests, somewhere in the middle of that range. That means that if the two cards are available at a similar price, the RTX 2070 is the obvious favourite - even though aftermarket and overclocked GTX 1080 cards could narrow the gap in performance somewhat. However, this is just one piece of the puzzle - and everything else suggests that picking up an RTX card makes more sense than a last-generation GTX alternative.
Firstly, the RTX 2070 has just arrived, so its drivers may not be as mature as the GTX 1080. We could well see a little bit of extra performance squeezed from this card as its drivers continue to be developed. Secondly, DLSS support could mean double-digit frame-rate boosts in supported games on the RTX 2070 compared to traditional anti-aliasing - and that would widen the performance gap between these two cards considerably. Finally, more modern engines seem to like the RTX cards better, and now that the RTX 2070 is actually on the market, you can count on game developers taking advantage of its new shader models and other architectural improvements to further improve performance.
While all of these factors aren't guaranteed to be impactful on their own, combined they suggest that RTX cards are likely to only become more performant in the future - so paying a little extra for an RTX 2070 over a GTX 1080 should make sense. The only question is this - how much is that promise of extra performance worth to you?
RTX 2070 vs GTX 1080: price and availability
With that, let's take a look at pricing and availability. At the moment, the RTX 2070 is widely available online in most territories, but the GTX 1080 is experiencing unit shortages that are pushing up prices significantly.
Taking a quick look at Amazon in the US and UK, the cheapest RTX 2070 cards are available for around £430/$480, while new GTX 1080 cards are dearer from around £516/$540. It's a similar situation at other retailers, too, with the GTX 1080 usually costing at least 50 domestic currency units more than its RTX replacement.
Of course, it's also possible to buy used, open box or refurbished cards - and here, you could be able to find a GTX 1080 for at least £100/$100 off new prices and availability is improved too. That could be handy if you're working to a strict budget, but you'll have to weigh the pros and cons yourself of going with used hardware.
At the current prices, the RTX 2070 is the obvious choice, and even if the two cards are available at nearly the same price, the newer RTX model is still a sensible pick as you get anywhere from 5 to 15 per cent more raw performance than the GTX 1080. Factor in the promise of real-time ray tracing, DLSS, single-cable VR and so on, and the RTX 2070 is a no-brainer.
If you're still undecided between the RTX 2070 and the GTX 1080, we encourage you to check out our full GeForce RTX 2070 review for more information.
Which GPUs are worth buying? We've made our picks for the best graphics cards available, updated with the latest graphics cards as they're released. As well as an overall performance champ, we name the best value graphics card and best cheap graphics card to guide your next upgrade.