Diablo 2 turns 20
Here's why it was great.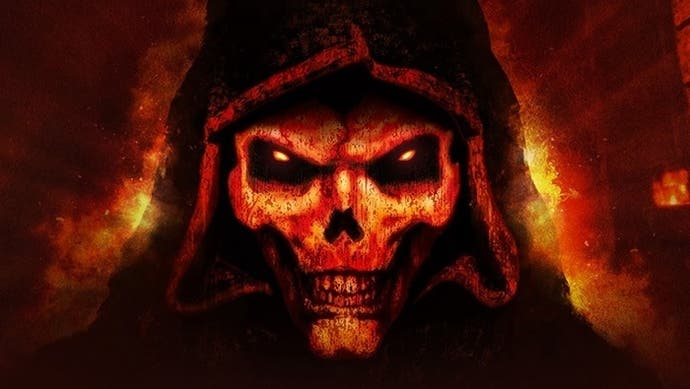 Diablo 2 is 20 years old today.
Blizzard's action role-playing game launched on PC on 29th June 2000, and quickly shifted millions of copies. It set a record for the fastest-selling computer game ever sold, with more than 1m units in the first two weeks.
Diablo 2 improved upon its popular predecessor in many significant ways, and is considered one of, if not the greatest action-role-playing game of all time. It was developed by Blizzard North, the Bay Area division of Blizzard, whose headquarters was - and still is - based in Irvine, southern California. (Blizzard North closed in 2005 amid the troubled development of its take on Diablo 3.)
Diablo 2 was notable for its varied environments, characters, and its involved item and class systems. As part of Eurogamer's 20th anniversary series of articles published in 2019, David Goldfarb, founder of The Outsiders, wrote wonderfully about Diablo 2:
"The game I keep coming back to most often is Diablo 2. Other things pop up, but that one has a hold on me. Loot, skill trees, distinct character builds. Simple enough, deep enough, zen enough. Many, many games try to reproduce that magic. I still don't think any have gotten close. Not Diablo 3, not Borderlands, not Path of Exile. There was an economy of scale with Diablo 2, with its systems and items that just felt right. Character development was very First Edition D&D, or pre-Souls, or just hard. Patches made it a bit more forgiving, but I liked that you had to sink a bunch of time into it. Mostly it was fun. Kill stuff, find cooler stuff, wear it, repeat. Would love to get lost in an HD remake again, Blizzard."
Diablo 2 director David Brevik took to Twitter to reminisce:
On June 29th, 2000 we released Diablo II. What an honor it is to be a part of that incredibly talented team. Never did I imagine the game would be so beloved and frequently played 20 years later. It's truely something special. Happy 20th Anniversary Diablo II!! 🎉🎈🎂 pic.twitter.com/5yYUbEOlky

— David Brevik (@davidbrevik) June 29, 2020
Diablo 2's 20 year anniversary comes at a time when Blizzard is heavily-rumoured to be working on a remaster, although Blizzard has said there are no plans for any kind of Diablo-related announcement in June.
So, here's to Diablo 2, and the Paladin always being the right choice of class.