Devil May Cry 5's third playable character is V
Also, Nero can use the Mega Buster from Mega Man.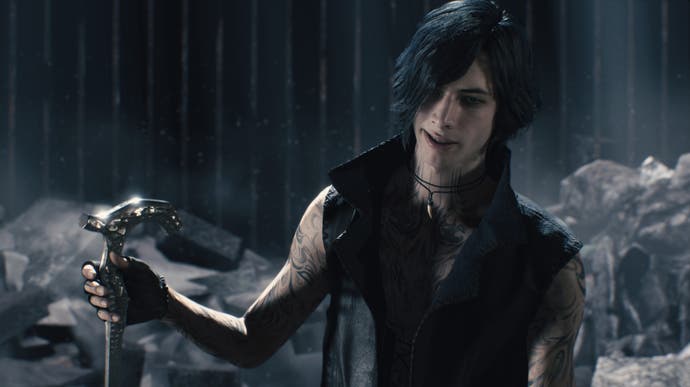 Capcom has revealed the third playable character for Devil May Cry 5: V.
V is shown briefly in the game's Tokyo Game Show trailer, below. He's described as a "mysterious" and "peculiar" demon hunter, and in the trailer is shown walking with a cane and reading from a book titled V.
As shown before, Dante uses a new motorcycle weapon called Cavaliere. You can mount the bike mid-battle and use it for attacks, which is pretty cool.
Dante uses weapons Rebellion, and Ebony and Ivory, as you'd expect, but he's also got access to a shotgun called Coyote-A and a gauntlets and greaves combo called Balrog in two potential stances: Blow Mode and Kick Mode.
Capcom also shared a screenshot of Dante using Sparda, which fans will be familiar with: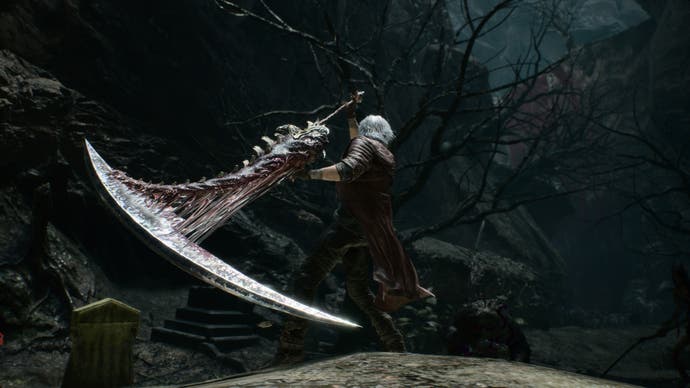 The other playable character in Devil May Cry 5 is Nero, Dante's nephew and rival. Nero can use a raft of different arms in the game, called Devil Breakers. One of these is the Mega Buster from Mega Man, but to get it you have to get the Devil May Cry 5 Deluxe Edition. The video below shows it off in action, and it looks like some of the encounters in the game shift perspective to 2D when you use it, which is a nice twist:
Devil May Cry 5 comes out 8th March 2019 on PC, PlayStation 4 and Xbox One.