Deus Ex: The Fall is an iPhone and iPad game out soon
New story, new lead character, same universe.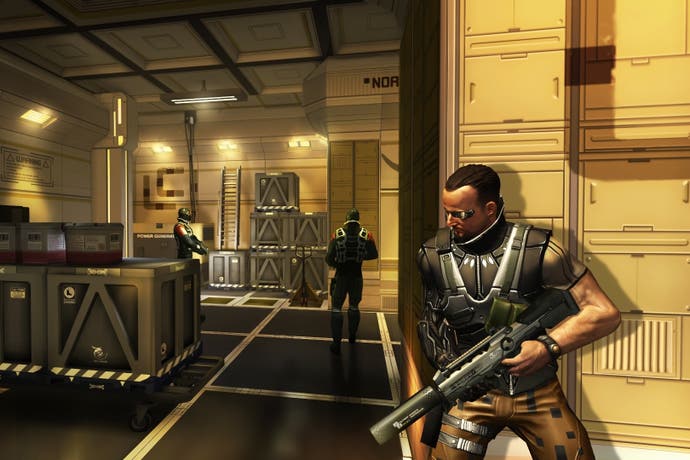 Deus Ex: The Fall is an iPhone and iPad game due out soon. It costs £4.99 / €5.99 / $6.99.
It plays similarly to Deus Ex: Human Revolution, except with touch controls and a new character: the augmented former British SAS mercenary Ben Saxon.
Like Human Revolution, The Fall is set in 2027. Saxon was betrayed by his former employer The Tyrants and is out to discover what happened to him. It's a story that follows on directly from Icarus Effect, the Deus Ex novel by James Swallow.
Expect a mix of old and new augmentations. Smart Vision, which lets you see through walls, returns, as does the punch through a wall move.
A really excited Jean-François Dugas, Eidos Montreal executive game director, said: "We're really excited to continue the Deus Ex series on mobile and start a new journey.
"The team has done an incredible job creating a whole new story and controls for intuitive touch-screen gameplay, whilst staying true to the Deus Ex universe. Players can expect exploration, action, hacking, stealth, social enhancers, player choice and consequence - the full Deus Ex experience."
Antony Douglas, general manager of co-developer Square Enix Mobile, added: "Smart devices are central to Square Enix's platform strategy and we approach it with the same attention as our boxed and digital releases. Deus Ex: The Fall is going to be testament to our commitment in delivering high quality entertainment on mobile and tablet devices."
Check out how it plays in the video below.