Eidos confirms Deus Ex Universe
Next gen title will also spawn smartphone games, books, comics and more.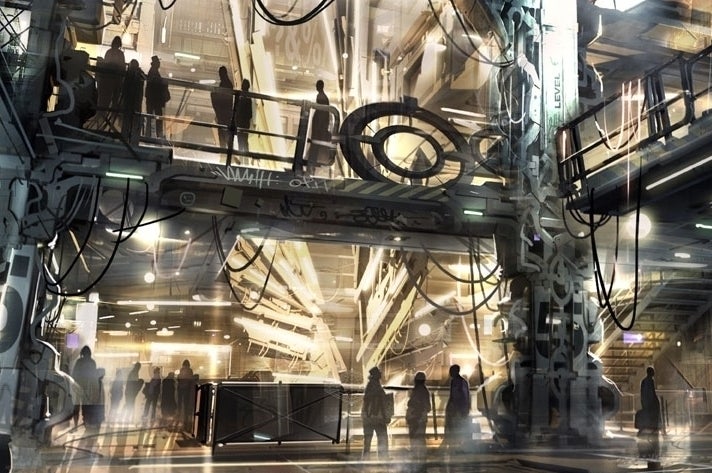 Eidos Montreal has confirmed that it will bring the Deus Ex series to next generation consoles, with the formal announcement of Deus Ex: Universe. This isn't a single game but rather "an ongoing, expanding and connected game world built across a generation of core games".
The news came in a blog post by David Anfossi, head of the Eidos Montreal studio. "It's a commitment on our part to deliver meaningful content that expands the franchise on a regular basis and to deliver a deep conspiracy that will span several connected Deus Ex games, creating a more immersive and richer experience than ever before," Anfossi said. "Deus Ex: Universe will include PC and console games, but also additional Deus Ex games and experiences available in other media such as tablets, smartphones, books, graphic novels, etc..."
The post reveals that production is already underway on the next gen Deus Ex game that will kick it all off. A single piece of concept art accompanied the post, showing how trans-human segregation has impacted the world. "It represents a 'ghetto-city' voluntarily built in order to separate the classes," says Anfossi. "The people in this segregated class have reshaped their environment, nostalgic for their ideal of Cyber Renaissance. This dark and dystopian vision sets the tone for things to come in Deus Ex."

The update also offers a confirmed release date for the Deus Ex: Human Revolution Director's Cut edition. That will launch in Europe on October 25th for Xbox 360, PlayStation 3 and Wii U. It introduces a whole host of second screen features, using the Wii U gamepad, the PlayStation Vita or the SmartGlass app.