Destiny 2, Tetris Effect Connected, and EA Play lead a busy month for Xbox Game Pass
Plus Planet Coaster, Halo 4, and more.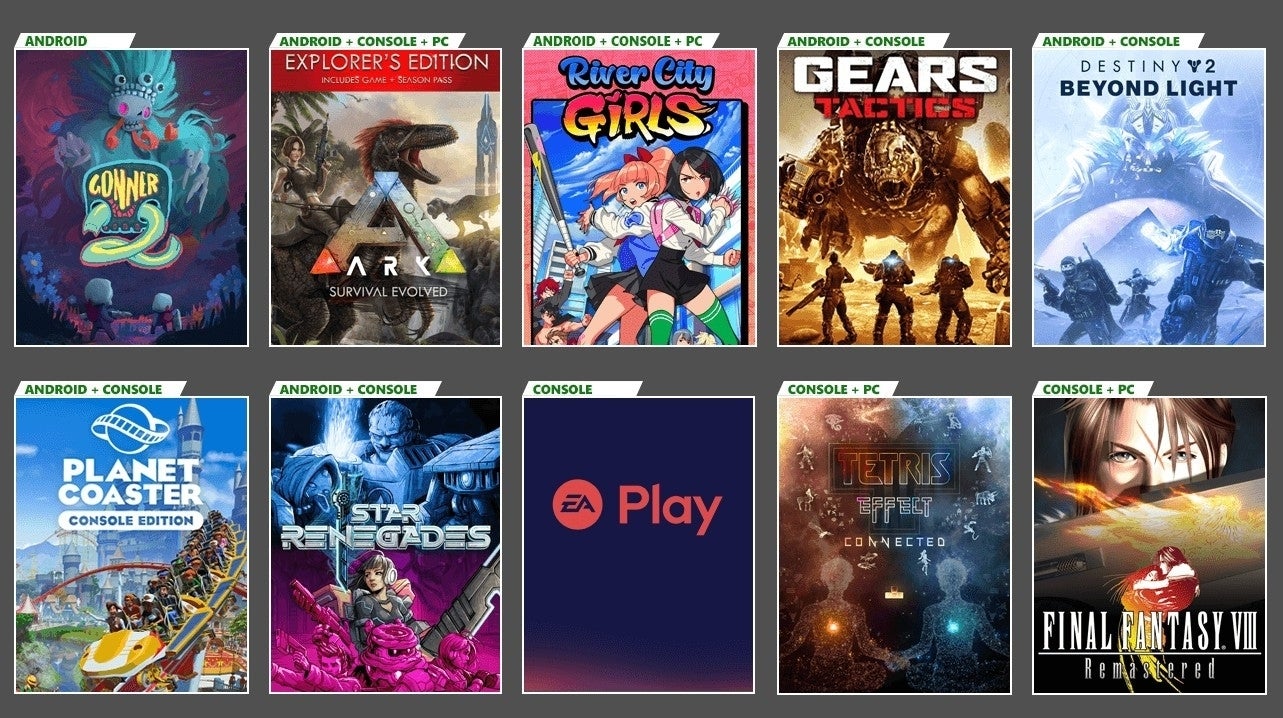 Xbox Series X/S might be in sniffing distance, but that doesn't mean Microsoft is neglecting Xbox Game Pass this month, with subscribers now confirmed to be getting the likes of Destiny 2, Halo 4, and Tetris Effect Connected in November, depending on their platform of choice.
Gears of War's turn-based strategy spin-off Gears Tactics is available on Games Pass for console and Android today, and tomorrow, 10th November, is particularly busy.
Not only does Xbox Series X/S finally burst forth into the wild, Destiny 2: Beyond Light and theme park sim Planet Coaster: Console Edition join Game Pass for Android and console, while Tetris Effect: Connected, a multiplayer expansion of Eurogamer's 2018 game of the year, brings its masterful sound and light show to console and PC.
Tomorrow, 10th November, also marks the debut of EA Play on Xbox Game Pass Ultimate; it'll initially be available for console players, but PC subscribers can get in on the action a little later, from 15th December. Microsoft notes a small selection of EA titles will be playable on Android devices via cloud gaming from tomorrow - Dragon Age: Inquisition, Madden NFL 20, Mass Effect: Andromeda, Mirror's Edge Catalyst, Plants vs. Zombies Garden Warfare 2, The Sims 4, and Unravel 2 - with more being added over time.
Xbox Game Pass continues to expand on 12th November with Final Fantasy 8 Remastered (console and PC) procedurally-generated rogue-like platformer Gonner2 (Android), and Streets of Rogue (PC), which its developer describes as "Nuclear Throne meets Deus Ex".
Halo 4 completes the Master Chief Collection on PC two days later, on 17th November, and Ark: Survival Evolved: Explorer's Edition - which includes its Scorched Earth, Aberration, and Extinction expansion packs - comes to Android, console, and PC on the same day.
Then finally, wrapping things up for the month on 19th November, are sci-fi strategy RPG Star Renegades on Android and console, and retro-inspired beat-'em-up River City Girls, which will be available on Android, console, and PC. And in summary:
9th November
Gears Tactics (Android and console)
10th November
Destiny 2: Beyond Light (Android and console)
Planet Coaster: Console Edition (Android and console)
Tetris Effect: Connected (console & PC)
12th November
Final Fantasy 8 Remastered (console & PC)
Gonner2 (Android)
Streets of Rogue (PC)
17th November
Ark: Survival Evolved: Explorer's Edition (Android, console, and PC)
Halo MCC: Halo 4 (PC)
19th November
River City Girls (Android, console, and PC)
Star Renegades (Android and console