Deep sea survival adventure Subnautica launches this month after three years in Early Access
Oh buoy.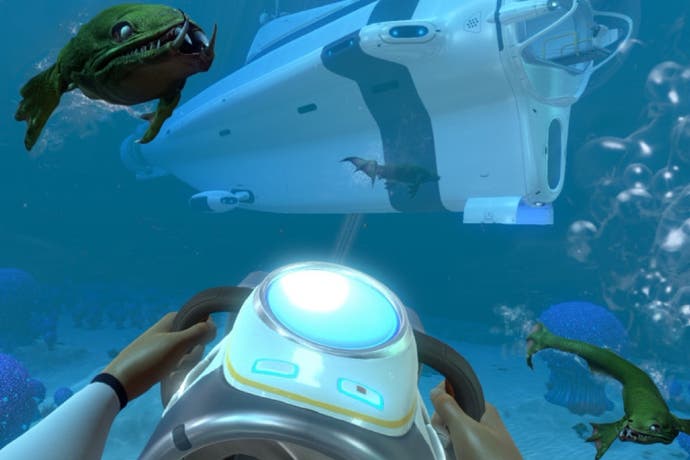 Developer Unknown Worlds has confirmed that its deep sea survival game Subnautica will finally leave Steam Early Access this month on January 23rd.
Subnautica first launched in Steam Early Access nearly three years ago, back in 2014, and SteamSpy estimates that it's already been bought by over 1,850,000 people.
Its success shouldn't really be much of a surprise though; even in unfinished form, Subnautica's tightly structured blend of base building, exploration, and survival beneath the waves of a mysterious, alien ocean planet is wonderfully engaging - and the constant procession of development updates, introducing the likes of farming, underwater mech suits, and deeper narrative elements, has only made it more so.
It's also bloody terrifying, and one of the most harrowing, suffocating horror experiences I think I've ever had in a game, especially in VR. Granted, you might have an easier time of it if you don't find the ocean to be an immediately horrifying proposition. Mostly I just sit very still in my submarine, squinting through the inky, alien depths, hoping I don't attract the attention of 60-foot sea things with tentacles and claws.
To mark Subnautica's 1.0 release on January 23rd, Unknown Worlds is hosting a celebratory livestream from the Monterey Bay Aquarium in California. It sounds like a pleasantly lighthearted affair, featuring the premiere of Subnautica's new cinematic trailer, interviews with the developers, the pushing of The Big Red Launch Button, and real-life sea creatures.
If you fancy dipping your toes in, you can catch the stream over on Twitch or Youtube from 2.15am, January 24th in the UK, or 6.15pm PST, January 23rd in the US.