Dark and Darker developer denies stolen code allegations following police raid
Ironmace claims "nothing was found".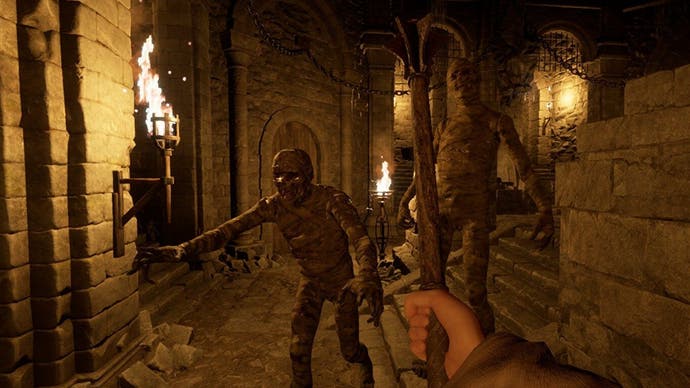 Ironmace, the Korean developer behind upcoming mediaeval looter Dark and Darker, has had its office searched after allegations the studio created its game with stolen code.
These accusations were made by Nexon, another Korean developer and one which several Ironmace employees used to work for.
Reportedly, certain members of Ironmace's team were "disciplinarily fired from Nexon", with Nexon claiming they are now "making games using materials and assets they worked on during their time at Nexon" (via This Is Game/Google Translate).
As a result of these accusations, Ironmace confirmed a police search happened. However, the developer has told its community (via Discord) not to "worry too much about what [they] hear regarding Nexon". The developer stated the search was a "quick process" and that "nothing was found" (thanks, NME).
It continued: "Most of what you will see on the internet is not accurate. There will be no delay in development, and there is nothing to worry about."
This search is the latest in what has been an ongoing dispute between Ironmace and Nexon.
Back in August 2021, a former Nexon employee was allegedly reported for leaking company data and assets while they were working from home during the Covid-19 pandemic (thanks, Korea Joongang Daily).
This employee - known as Leader A - was heading up development of a project dubbed "P3". However, after allegedly being caught leaking "thousands" of the project's file, Leader A was fired from Nexon.
The case was turned over to the Suwon District Prosecutors' Office in August 2022. Then, last December, the Prosecutor's Office demanded police "investigate further to dig up more evidence".
Nexon's legal team reportedly told employees it had "verified that Leader A, the then-chief of the P3 project team, had leaked thousands of files including the source codes and builds, mostly related to project development, to an outside server they owned".
It went on: "We also found that Leader A had suggested to teammates of the P3 project that they quit the company and work together on a game similar to P3, citing outside investment sources and more."
This brings us back to Ironmace and Dark and Darker.
According to Korea Joongang Daily, half of the 20-person P3 team quit Nexon and joined Ironmace. This included the developer allegedly caught - and subsequently fired for - leaking the P3 files. There have since been claims that P3 was used as a prototype for Dark and Darker.
According to Nexon, Dark and Darker has "striking similarities with the concept for P3 in major gameplay, rules and arts, which could not have been made independently".
Said Nexon: "Had 'P3' been developed normally inhouse, it would have been presented to users under the name Mint Rocket... The project couldn't see the light of day due to unethical actions from former colleagues, despite the passion shared at P3."
The statement said the company "will take firm measures not only against Leader A but anyone else or any other company related to the data leak".
The case was done in August 2022, but as Dark and Darker hosted more tests, NEXON requested deeper investigation.

Report covered by YTN, the first 24-hour Korean news channel and one of the biggest in the country: https://t.co/DCZpGZ7tD5

YouTube link: https://t.co/qr7j6Kwtl0

— PlayerIGN (@PlayerIGN) February 20, 2023
As you would expect, Ironmace has denied any wrongdoing.
In a post on the game's Discord server (via PC Gamer), a developer known as Terance stated: "ABSOLUTELY NO stolen assets or code were used to make our game."
They went on to affirm Dark and Darker's code was "built from scratch" and "most of [its] assets are purchased from the Unreal marketplace". The rest have been built "inhouse".
"This has already been audited by an outside agency," Terence continued before stating: "as far as we know you cannot copyright a game genre."