Crash Bandicoot endless runner promises "100+ hours gameplay"
Springs into 2021.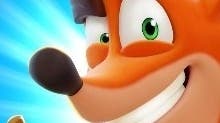 Crash Bandicoot: On the Run, Activision's upcoming mobile endless runner, launches spring 2021.
Activision announced the release window today via the game's official Twitter account, accompanied by another look at it in action and a promise of "100+ hours gameplay".
50 bosses will be featured across 12 lands, Activision added. And, as previously-announced, there's a grey Bandicoot player skin to be had if you pre-register your interest via the mobile store of your choice.
Crash Bandicoot: On the Run was first spotted via a Facebook advert back in February, before it soft-launched in select regions in April. Activision officially named the game and announced it for general release in July, though we've been left waiting to hear exactly when it would turn up ever since.
According to its listing on Google Play, the game is an endless runner with base-building elements allowing players to craft weapons and serums. It reportedly has some wait-halting timer mechanics embedded into the building framework, however, which perhaps isn't surprising given it's a free-to-play title.