Activision's Crash Bandicoot mobile auto-runner has soft-launched across select regions
Following its leak earlier this year.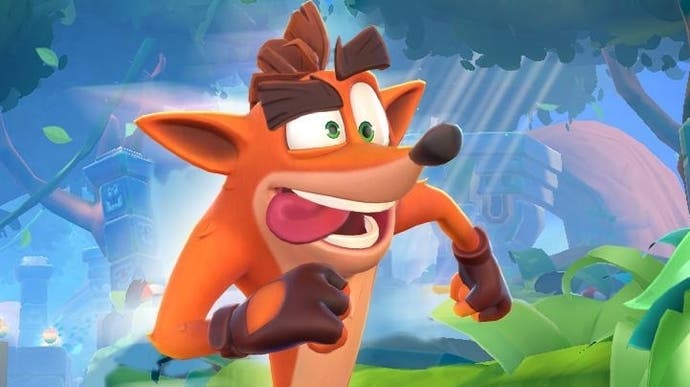 Crash Bandicoot Mobile, Activision's imaginatively titled Crash Bandicoot mobile game, has soft-launched for Android devices via Google Play across select regions.
Word of a new Crash Bandicoot game for mobile first reached our ears (eyes?) in February this year, when its existence was leaked through the medium of Facebook ads.
Promotional material appeared to suggest the King-developed experience would offer a Temple-Run-style auto-runner spin on Crash's not entirely dissimilar classic platform action - something that, thanks to Crash Bandicoot Mobile's soft-launch and the subsequent footage appearing online, we now know to be true.
This time around, Crash and Coco team up to take on Dr. Neo Cortex's mutagen henchmen across the multiverse, and the into-the-screen platform action is accompanied by a base-building element, enabling players to create weapons and serums to assist in the adventure.
Entirely unsurprisingly, given Crash Bandicoot Mobile's free-to-play status, Activision has reportedly already injected play halting wait timers into the basic building framework. There's no information on associated micro-transactions during soft-launch, though, so we'll just need to wait for the full release to see how egregious these might ultimately be.
Currently, Crash Bandicoot Mobile is available for players in Malaysia to download, but Activision hasn't yet formally announced a full list of regions involved in the soft-launch. As such, it might be worth firing up Google Play in your area if you fancy giving it a go. February's leak also suggested the game is bound for iOS devices at some point too.
Luckily for those Crash Bandicoot fans not entirely sold on this whole mobile idea, there's mounting evidence to suggest Activision might well also be developing a fully fledged new entry in the beloved series. We'll just need to wait until the publisher is ready to reveal more.