Concept art sheds new light on canned BioShock film
Riveting.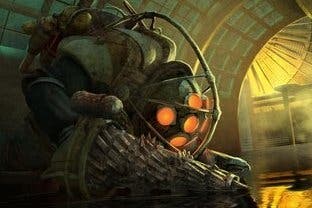 BioShock fans have been given another glimpse of the series' cancelled film adaptation, courtesy of new production art.
Concept designer Kasra Farahani released an album of his designs for the movie, development on which was halted while still in pre-production.
The images show new areas of the leaking, rusting Rapture - such as this tunnel, where glowing blue pipes of Eve appear to be plugged directly into Little Sisters.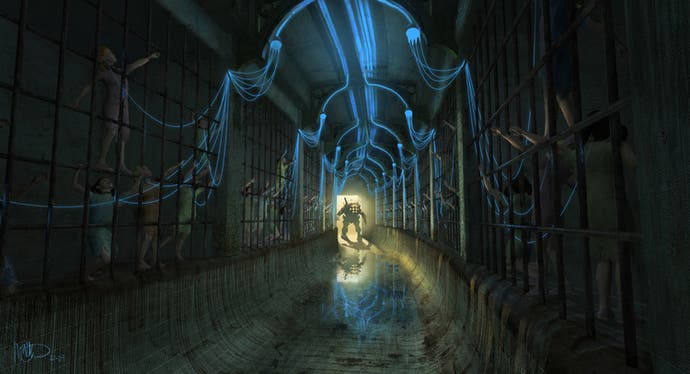 In another picture, the same type of Eve pipe appears to be flowing from (or into?) an adult, who stands next to a huge turbine.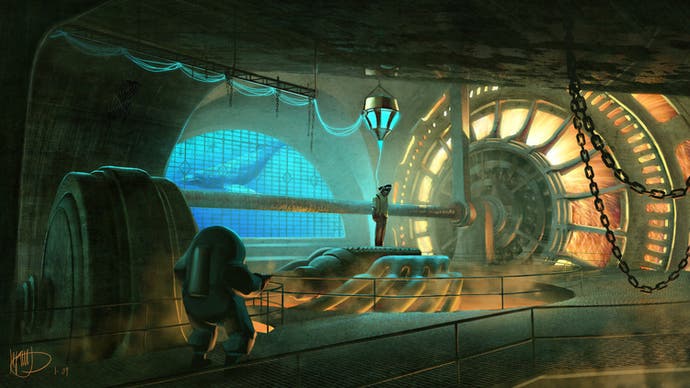 This location is named by Farahani as a power station, although it is unclear whether this area was in the film's script or of the artist's own creation.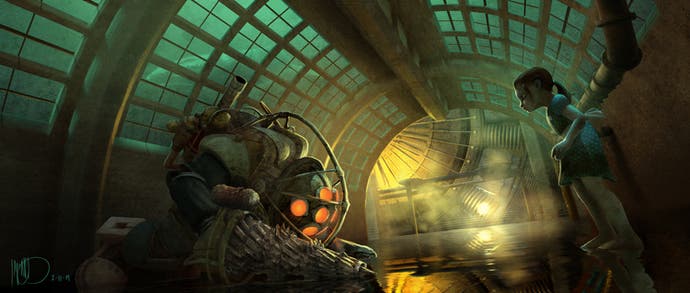 Farahani previously worked as an art director for Thor and Star Trek: Into Darkness, and as a concept artist for Avatar.
This isn't the first time that we've seen production art from the BioShock film. Last year, fellow concept artist Jim Martin released an album of his own designs, including views of Rapture's exterior and a Big Daddy workshop.
Sadly the time has passed for the movie to ever see light of day. BioShock creator Ken Levine personally pulled the project's plug after several attempts at finalising a movie deal - first with Pirates of the Caribbean movie Gore Verbinski, then with 28 Weeks Later helmer Juan Carlos Fresnadillo.
"There was a deal in place, and it was in production at Universal - Gore Verbinski was directing it," he said. "My theory is that Gore wanted to make a hard R film - which is like a 17/18 plus, where you can have blood and naked girls. Well, I don't think he wanted naked girls. But he wanted a lot of blood.
"Then Watchmen came out, and it didn't do well for whatever reason. The studio then got cold feet about making an R rated $200 million film, and they said what if it was a $80 million film - and Gore didn't want to make a $80 million film.
"They brought another director in, and I didn't really see the match there - and 2K's one of these companies that puts a lot of creative trust in people. So they said if you want to kill it, kill it. And I killed it."