Company of Heroes 3 gets first "major" update, known as Operation Sapphire Jackal
Day of the...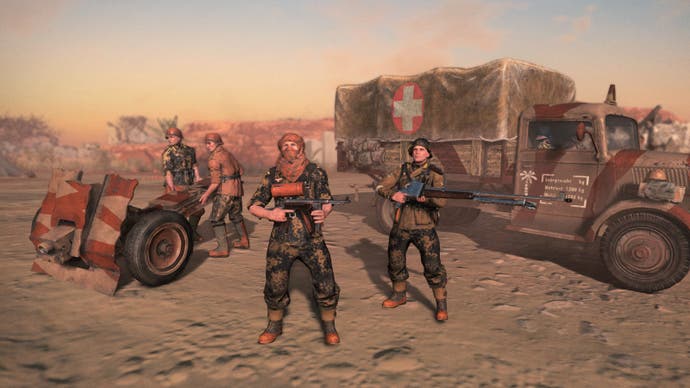 Company of Heroes 3's first "major" update is out today, 28th March.
Known as Operation Sapphire Jackal, this update comes with a hefty number of bug fixes, along with an array of quality of life enhancements and the like.
It also introduces challenges, which will give players the chance to complete both daily and weekly in-game objectives. These will earn players merit that can be used to unlock a variety of cosmetics.
The random daily challenges will be refreshed at 5pm PT (so, 1am the next day for us in Blighty). Meanwhile, the weekly challenges will be available each Saturday from 5pm PT (as before, for those in the UK, this will be 1am on Sunday morning).
A range of cosmetic options will also be available in the store thanks to this update, meaning players can customise their armies in both multiplayer and singleplayer.
Lastly, I mentioned various fixes and other changes, and there are plenty of them. Here are some of the highlights, as shared by developer Relic:
A small update to the Unique Player Colour option. Allies will now be cool colours and enemies will be warm colours
Fixed several icons and portraits with the correct Company of Heroes 3 assets
All new voiceover for Gurkha Infantry
Audio adjustments for map pings
Added an option to enable Exclusive Control Groups. With this option, squads only occupy one control group at a time, like in previous CoH games
Fixed the Recently Played With list
Adjusted territory layout on (8) Mignano Gap and made minor adjustments to Strategic and Victory Point locations on (6) Gazala Landing Ground
Fixed several issues where bridges did not correctly have cover
Bloom was removed and we fixed blur or "haze" on the maps
Meanwhile, here are the main gameplay changes, again courtesy of Relic:
Pathfinders have had their utility and early power toned down
The M13/40 has also seen some reductions in power
Loiters have been toned down to be less oppressive
Vehicles commanded to face in a different direction will turn properly instead of driving in circles
Many tooltips and descriptions have been updated to better reflect the abilities, units, veterancy, and upgrades for greater clarity and information to the player
Relic has promised this update is just the first of many updates planned for "the months and years ahead". You can read Relic's full mission briefing for Operation Sapphire Jackal here.