Codemasters confirms F1 console, mobile, online plans
Plus a family-orientated game to reach "new audiences".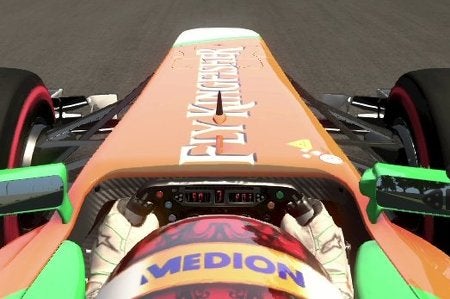 F1 2011 publisher Codemasters has announced an expanded range of F1 games for consoles, PCs and mobile devices.
Codemasters revealed a new, currently-unannounced F1 title for "a younger/family audience" was in development for release this winter.
That's in addition to the main F1 series of games, development of which will continue at F1 2011 studio Codemasters Birmingham.
There's also F1 Online: The Game, a free-to-play online management and racing title. You can sign up to the closed beta now.
Even Bernie Ecclestone-Cakes is excited. "Codemasters has created some of the best and most successful Formula One games to date," the F1 boss said. "We and the teams work closely with them and look forward to creating more award winning games together in the future."
F1 2011 launched last September for PC, PlayStation 3 and Xbox 360. 3DS and PlayStation Vita versions followed.