Steering Wheel Group Review
The wheel deal.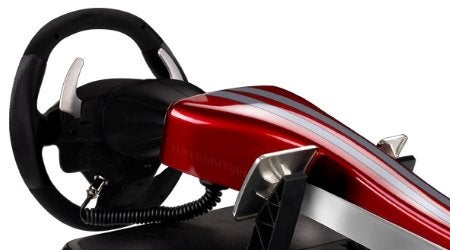 Console driving games are increasingly complex beasts, with each new generation adding further to the depth of simulation. It's a complexity that can't really be done justice with an analogue stick and a couple of triggers, and unlocking the full potential of a Gran Turismo 5 or a Forza 4 requires a dedicated - and often expensive - set-up.
Trouble is, there's a maze of plastic, leather and metal to negotiate when trying to choose a wheel that's right for you, a situation further muddied in the wake of Forza and Gran Turismo's release as several new contenders have hit the market. Here, we round up the newest additions to the steering wheel club, taking in everything from Microsoft's entry-level Wireless Speed Wheel to the deluxe Thrustmaster T500 RS.
Force Feedback Wheels 101
Here's what you need to know about force feedback wheels. Today's examples can offer sublime levels of feedback and, even without resorting to hydraulic rigs to shake your gaming seat in a semblance of g-forces that the simracing PC crowd can tap into (not to mention some truly high-end wheel/pedal/gear set-ups), can do a remarkable job of conveying the nuances of driving a car on the limit. Certainly, they're the only way to fully exploit the handling dynamics on offer from the Forzas and Gran Turismos of our favoured medium.
The proportion of players using them is tiny, though, and typically only the most popular/official models get fully supported in games. Even getting the 'out of the box' default settings right can be tricky, because different wheel manufacturers have very different ways of doing things when it comes to their product's API. It's not unusual to hear developers moan about having to fix or work around problems caused by coding inconsistencies.
And that's just for the standard implementation. Once you factor in high-end or particular features such as rev counters, clutches, multipositional dials, standalone gearshifts, force feedback brake pedals and the like, you can see where the complexity sets in.
Anything that requires as specific and potentially time consuming implementation as wheel/pedal sets do eats up development budget and it's not unusual for developers to instead spend that time focusing on features that will get played by all, rather than aim to officially support a lengthy list of wheels for the dedicated few. Life's harsh.
One way to get around some of this is for the game to regard non-supported wheels as a generic model (or, more likely, as another wheel altogether) and potentially offer in-game calibration options to fine-tune the experience. Sometimes it works, sometimes it doesn't, but wheels that offer proprietary set-up options (such as Fanatec's range) can do much to improve matters when compatibility is lacking.
If you're serious about driving games and have never experienced a decent wheel/pedal set-up, know that when properly implemented it takes the experience to a level a joypad will never reach. Ever.
But the best advice before parting with money is to evaluate the support extent of the wheel you're considering in relation to the games (and system) you're likely to be playing.
Microsoft Wireless Speed Wheel
Obviously there's little point pitting this against the other wheels in this group, so let's not even try. And let's not powerslide around the fact this represents some kind of substitute for a force feedback system - it really doesn't.
What it does do, however, is deliver a decently produced, surprisingly responsive (relatively speaking) and comfortable peripheral. At least until your shoulders start complaining about the 360g you're holding. (Top tip: lock your elbows into your body - it'll restrict your movement, yes, but also reduce muscle fatigue and give you better precision.)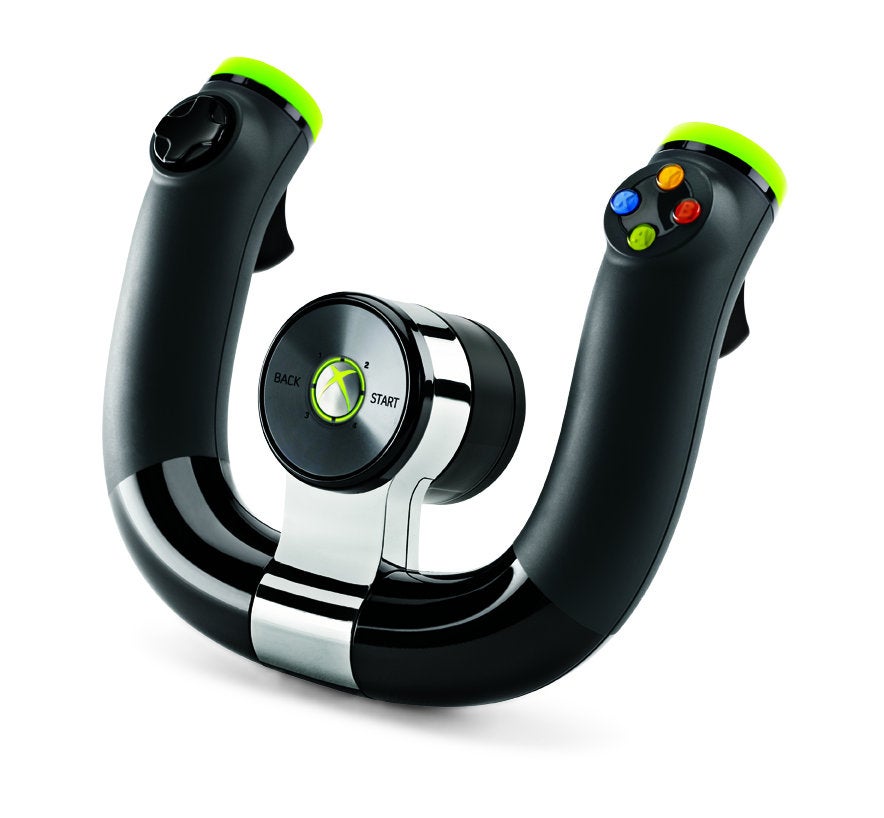 "It's a novelty item likely to appeal to the type of player who will never consider a wheel/pedal set-up and is more concerned with fun than finesse."
Confusingly, the LB and RB inputs are missing and the green light rings are a little too Star Wars for the 21st century but otherwise the miniaturised buttons behave as you'd expect them to. Worth mentioning are the L and R triggers, which deliver roughly twice the travel of their joypad equivalent and emerge as the Speed Wheel's best feature.
Sadly, in every other respect the standard 360 controller remains a better bet because the Speed Wheel suffers from crippling vagueness - not necessarily in responsiveness, but communication. Give it enough time and, provided your arms are still up to the task, you can enjoy moments of genuine reward as you put in a quick lap (albeit one that's still up to four seconds off a joypad-controlled attempt). But you do this without ever feeling truly connected to the on-track action.
This is neither a compromise solution for the serious Forza fan or a viable alternative for the arcade racer enthusiast. It's a novelty item likely to appeal to the type of player who will never consider a wheel/pedal set-up and is more concerned with fun than finesse. Someone who's looking for a flawed yet more intuitive way of interacting with their driving games than with the oh-so-familiar standard controller, presumably. And who is also willing to risk RSI for the chance to tone up segments of their upper body.
Fanatec Forza Motorsport CSR + CSR Elite pedals + CSR Shifter Set
PC, PS3, Xbox 360
€250 + €150 + €60
Microsoft discontinuing its Wireless Wheel could have had a positive outcome - other than not subjecting anyone else to those odious pedals - in that it's likely to have driven some players to discover Fanatec, a German higher-end peripheral manufacturer that enjoys a strong reputation within simracing circles but is most notable on consoles for being the only one producing multiplatform wheels.
Its latest, the CSR, may proudly display its official Forza wheel credentials but will communicate quite happily with a PS3 and PC (via USB and following a simple button combination sequence). Truth told, the CSR isn't particularly different from the Fanatec GT2 it succeeds. There's a striking aluminium central plate suggesting a race car inspired styling, a more intuitive positioning of buttons, and an excellent and now micro-switched, fully metal paddle shift system (reassurance for those not prepared to purchase the optional - and hearteningly functional - CSR Shifter Set featuring sequential and six-speed H-pattern units). The compact casing is identical in shape (though now sports a gloss finish and larger air vent grills), yet still resorts to the comparatively weak clamp bracket system that forces the CSR to be hard mounted on a dedicated rig for full functionality.
Inside, things are also very familiar. By Fanatec's own admission the internals are practically identical to the GT2, with only the motors tuned to handle the lighter - though still 30cm - wheel rim.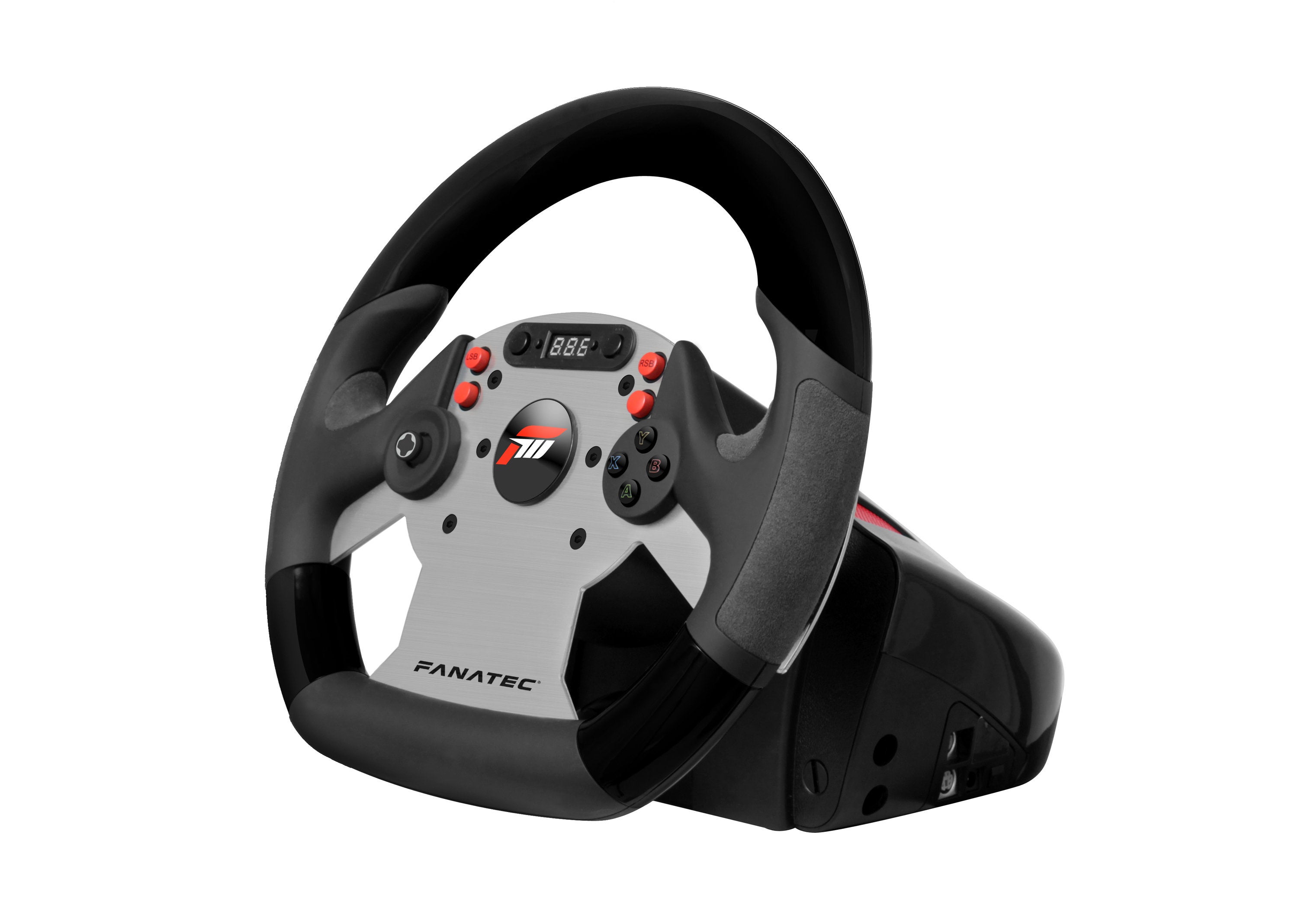 That lighter rim partly explains the unit's 2.8 kilograms versus the GT2's 3.4kg, but it's during in-game operation that the difference becomes most obvious. There's no questioning the strength and delicacy of the force feedback, which is as brilliantly brawny, communicative, and smooth as GT2's, but in play this feels like a significantly faster wheel - one that approximates the immediacy of joypad control without ever compromising the accuracy of directional input that only a steering wheel can provide. On Forza 4, and other fully supported titles, it absolutely shines.
"The finest Xbox 360 force feedback option available to date, and certainly the only logical solution for the multiplatform driving game fanatic with a single wheel budget."
With a non-supported game, such as Gran Turismo 5, the effect is less stellar. There's a noticeable 'generic wheel' characteristic, though tuning in-game options and the wheel's realtime settings (force feedback, degrees of rotation (90-900), deadzone, spring/dampers, vibration, drift mode, and more via the in-build display - an excellent Fanatec touch) can improve things. Even on default, though, the slight loss in precision doesn't drastically affect the quality and smoothness of the quiet belt-driven feedback.
The CSR Elite pedals, meanwhile, are a suitably sturdy fusion of aluminium and plastic base. It's not the aesthetic mini-masterpiece that is Fanatec's class-leading ClubSport set and at 4.3kg it loses a little something to its cousin's 5.1kg, but that doesn't stop it offering the same comprehensive horizontal, vertical, pedal throw, and resistance adjustments, as well as some impressively accurate performance. The brake pedal offers up exceptional resistance and, more importantly, also resorts to load cell-based response - meaning that it's the force of braking, rather than the position of the pedal, that matters - and in-play, with the sensitivity tweaked to your preference, the result is as precise and as realistic as you could hope for.
I came away still preferring the ClubSport unit, mind - it could be my familiarity with it or the fact that the CSR's plastic base flexes a little under the furious force of my quartz-esque quadriceps, but Fanatec's premium brake system feels a touch more substantial, while its more compact dimensions suit me better when mounted on the Playseat. The CSR Elite pedals do protect their electronics more robustly (everything is a little exposed in the ClubSport), though, and owners will no doubt point out the fact they can use the €50 they saved to purchase the optional CSR Pedal Inversion Kit for that true GT car feel. But in terms of responsiveness there is very little to tell them apart.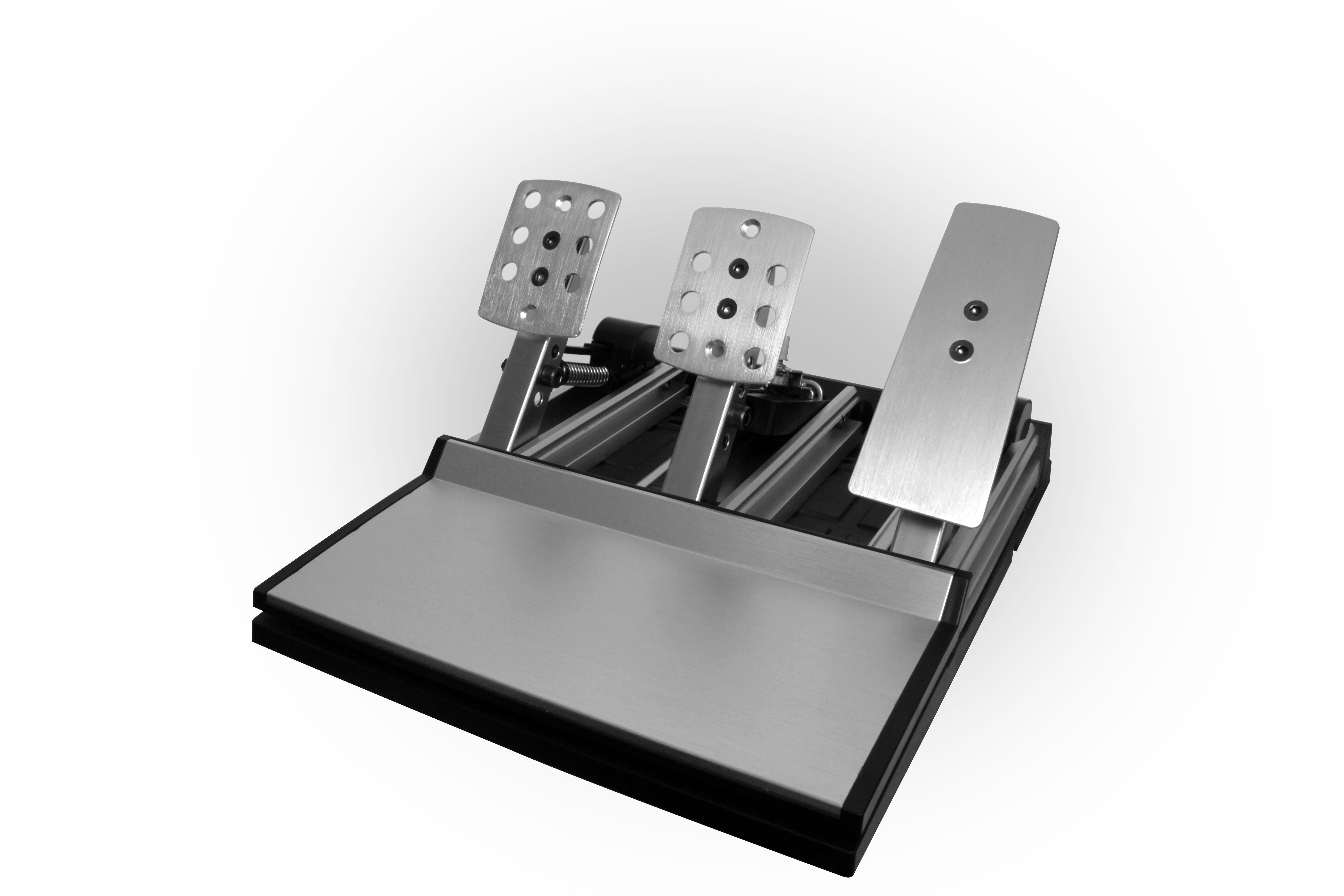 As for GT2 owners wondering if it's time to list on eBay and invest in a CSR wheel instead, the answer is just as nebulous. The CSR is lighter and quicker in play - not unlike Logitech's superbly responsive G25 - though that does accentuate the moments when the force feedback kicks in. It's not overly jarring, but these do occur in a more progressive manner on the heavier-going GT2.
And while the CSR's rubber/alcantara handgrip design proves inarguably more ergonomic, the use of gloss plastic in the top and bottom areas of the steering wheel, as well as other minor elements such as the precariously loose thumbstick 'D-pad', give it a considerably cheaper feel than the GT2's Porsche alcantara-clad licensed finish - which is disappointing when the two wheels boast identical price points.
One isn't ultimately better than the other, however. They're just different. What they have in common is that with a little time taken to set them up carefully they represent the finest Xbox 360 force feedback option available to date, and certainly the only logical solution for the multiplatform driving game fanatic with a single wheel budget. If that's you, don't take that lack of options as a negative - it's a lot of cash but, thankfully, it's definitely money very well spent.
Thrustmaster Ferrari Wireless GT Cockpit 430 Scuderia Edition
The box for the Ferrari-licensed GT Cockpit may be enormous by peripheral standards, but the all-in-one pedal and wheel set-up that emerges from it is pleasingly compact and user friendly. Four AA batteries and a detachable USB dongle ensure wireless PS3 connectivity, and the steering wheel detaches while the unit folds flat when not in use.
When you do set it up, having clipped the Ferrari 430 replica wheel in place and adjusted the 'cockpit' element easily to your seating position and size in a matter of seconds, the unit's 9.4kg ensure everything feels reasonably solid while in play.
"You won't be extracting the finer points from GT5's dynamics, sure, but for less demanding handling models it's an acceptable - if found at a considerably more realistic price - solution for the casual driving game fan."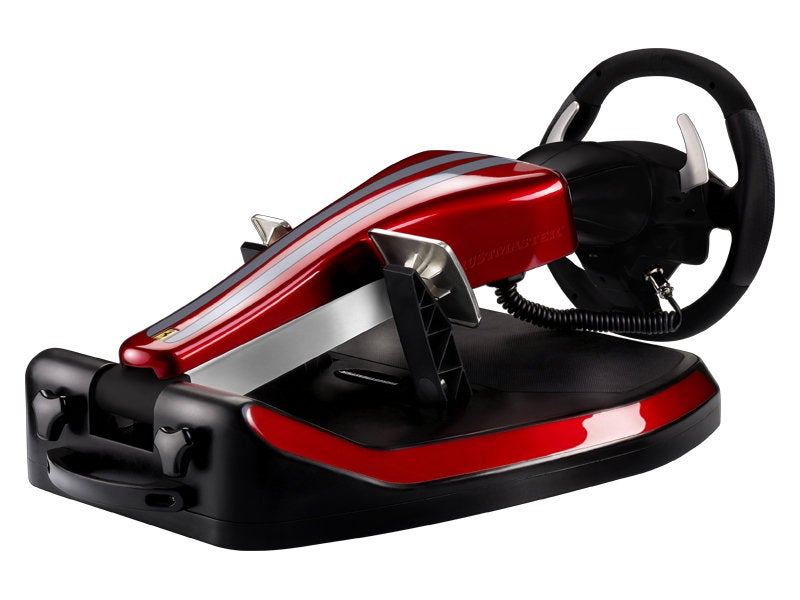 The 28cm wheel itself is a little too angular for long-term comfort and is covered with a suspiciously sticky rubber compound - I kept wondering if one of my jam-fingered children had sneaked into the games room - while the 'Engine start' button doubles as a mostly inefficient D-pad. A more pleasant encounter is the inclusion of the 'Manettino', a five-position dial found on the wheel of the real 430 which here enables in-game setting changes.
Performance-wise, though, things are pretty much as expected. Despite the price point you don't get force feedback - the 180-degree rotation is sprung - and the pedals offer little in the way of resistance. Yet that doesn't mean you shouldn't expect some degree of accuracy with regards to performance.
You won't be extracting the finer points from GT5's dynamics, sure, but for less demanding handling models it's an acceptable - if found at a considerably more realistic price - solution for the casual driving game fan looking for a more physically involving experience than a joypad can deliver. And all without the mess of dangling wires, the need to sacrifice a large proportion of the living room, or having to endure the incessant, drunken condemnation by your better half at every dinner party you ever host from thereon in.
As with the Speed Wheel, this isn't the way you'll post your fastest lap times - but if that's not your priority you'll most likely have just as much fun trying.
Thrustmaster T500 RS
Anyone who witnessed the unveiling of the 1989 Lancia Delta HF Integrale will tell you that, sometimes, you can know how well something is going to perform before you've even seen it in action. Prising the USB-based PS3/PC compatible T500 RS out of its packaging offers one of those rare revelatory moments. Aside from the ridiculous weight (5.6kg for the wheel, 7.1kg for the pedals), it's unusual to hold a peripheral that feels as solidly put together.
It's not just the weight, though, because in most respects the official GT5 wheel is a bit of a colossus. The steering turns at such a rate and with such purpose during the calibration phase that the NHS could use it as a brutally effective amputation device (Thrustmaster actually provides a warning label that it requests you hang on the rim when not in use). And it wouldn't be surprising to find South American tribes praising the massive pedal set, complete with its imposing arch (used for inverting the pedals for those preferring a more touring car-like set-up), as the God of Metal. It's an amenable creature, too, with height, spacing, tilt, throw and resistance adjustments easily converted.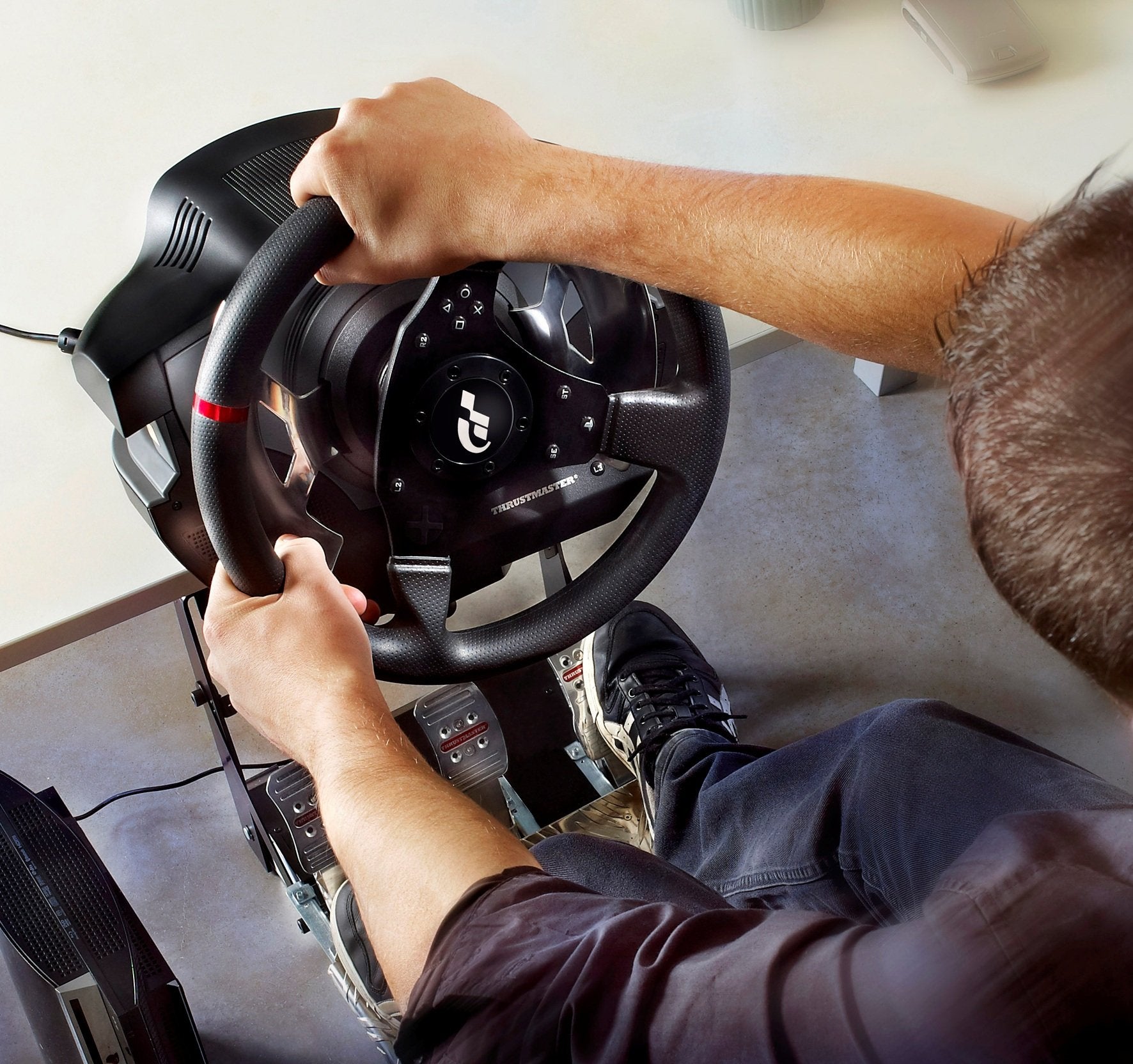 The wheel unit, meanwhile, is hardly Chihuahua-sized. It's not the prettiest of things - it looks like a discarded prop from Battlestar Galactica - but the hardy plastic casing comes with the best mounting system of the lot: a claw-like clamp (as used on Thrustmaster's F430 wheel) that will comfortably swallow any surface up to 7cm thick (the Logitech and Fanatec run out of bite at around 3cm). It's remarkably capable, too - although the unit offers two bolt holes for hard mounting (compared with four on the CSR), I set it up on the Playseat plate using only the clamp and there it remained without a hint of movement throughout the test.
Bolted to the front of the commanding casing is one of the finest steering wheels I've come across. (The system is modular, enabling other controller components to be installed as and when they turn up - at the time of writing, a Ferrari replica F1 wheel is just about to launch in the UK.) You might expect leather at this price, G25/G27-like, but what you get is premium, very tactile rubber wrapped around a 1080-degree capable 30cm rim that although thinner than CSR's equivalent delivers a lesson in ergonomics. Where the rubber runs out, metal takes over, and complementing the stylish finish is a set of understated but sturdy and responsive buttons - even the Slim Fast loving D-pad is a pleasure to use.
"Gran Turismo 5 devotees waving a blank cheque while looking for the ultimate experience will find nothing finer - the T500 RS is an exceptional piece of hardware."
And then there's the performance. The size suggests the level of force feedback is going to be considerable, but to give you some idea it's worth noting the (substantial) power brick states an amperage output rate of 6.67A. That compares with 2.5A for the CSR and 0.75A for the Driving Force GT. What does that actually mean in practice? Well, murder a kerb Massa-style or run wide onto a rumble strip and the entire Playseat rig shudders. (And on PC the effect is reportedly stronger still.)
But it's not just about brute strength. On GT5, the T500's consistent and comprehensive feedback offers remarkable precision, effortlessly conveying the full characteristics of the vehicle's dynamics as they translate every nuance of the road surface. The resistance is purposeful - by far the most decisive example on console to date - yet subtle enough to carefully communicate the differences in car and track types.
It's also commendably quiet in operation. In fact, until the internals warm up there's not even the noise of fans to contend with, and when these do kick in you're only likely to notice them if you're running atypically low game volume levels - they were still the loudest on test by some margin, though the tone proved less aggravating than the CSR's higher pitched whine.
If the T500 wheel is sublime, the pedals are less so. Clearly, in context, for a potentiometer-based unit this pedal set performs superbly - and the 'Realistic Brake' mod, which increases resistance from 7-10kg to 14-16kg, will please those who want true race car-like stiffness from their anchors - but there's unquestionable better feel from the CSR Elite brake.
While we're on the negatives, whereas the wheel itself sits beautifully in the hand, the placement of buttons means only those with longer thumbs will be able to reach them comfortably. More importantly, the decision to set the metal paddle shifters on the casing rather than the wheel, meaning they remain static in play, is an awkwardness I couldn't get used to.
Like the rest of the T500 there's no question over the quality of their construction or performance, and they are unusually oversized which partly counters the issue, but it's something some players are likely to not be able to get over. (Thankfully, there is a sequential/H-patter gear stick available - though it's another £130.)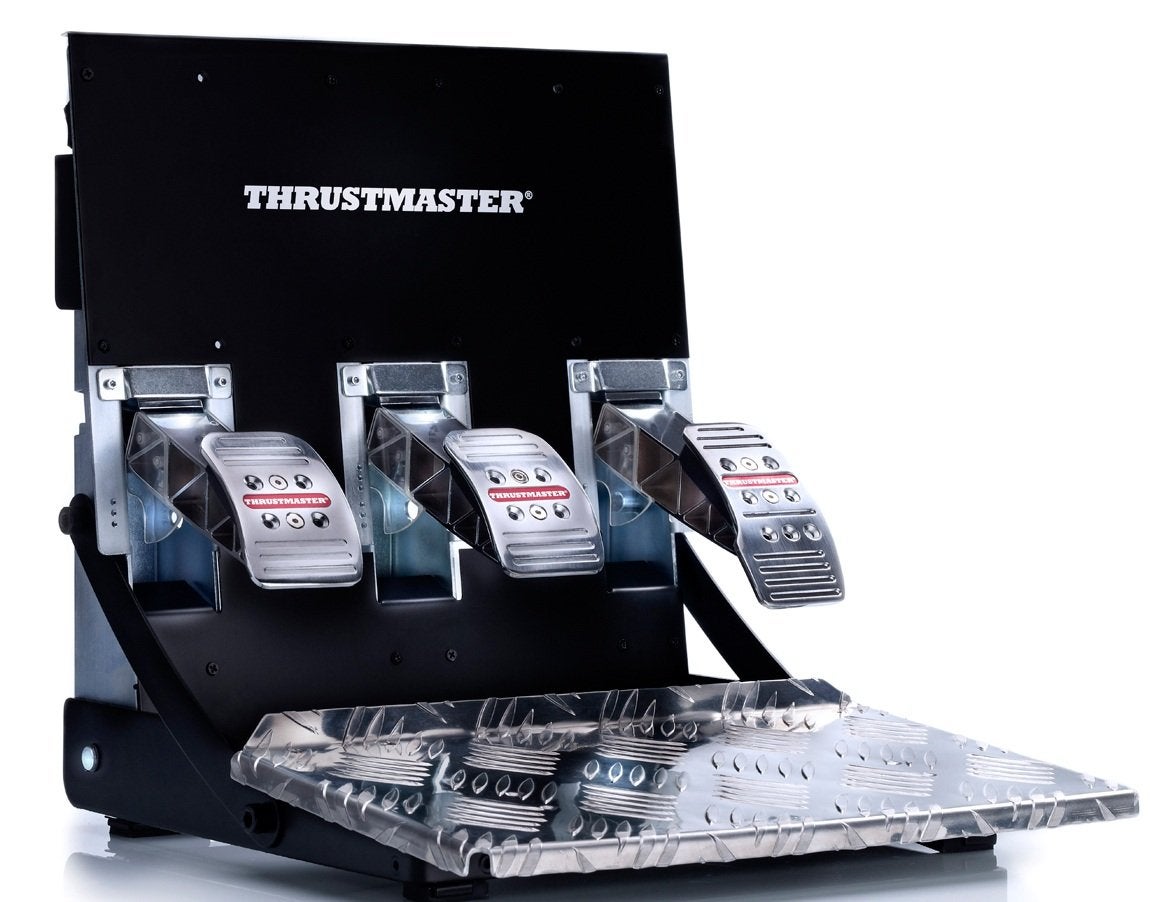 The final reservation is the limited support the T500 faces within the PlayStation 3 scene. The official GT5 status will clearly open doors and ensure that going forward no decent PS3 driving title will ignore the T500, but backwards compatibility is patchy, with no release prior to the T500's arrival I tried offering adequate support.
If you thought I was going to add price to my list of complaints, no cigar. That's not to say I don't think £450 isn't serious cash for a peripheral, but you normally get what you pay for and in this case you're actually getting more for your money. For comparison, once you've picked up the Fanatec CSR and a set of ClubSport pedals you won't be far off the £450 SRP-strict retailers will be looking to charge your credit card for the T500 (and actually over that figure if you shop around online).
And mighty as the CSR can be on officially supported titles - it is exquisite on Forza 4 - it comes decidedly second best in a GT5 head-to-head. That may seem unfair but I'd wager that even on a level playing field, while conveniently ignoring the CSR's magnificent multiplatform ability, the T500 will still outperform Fanatec's offering when it comes to control and feedback precision - so the point I'm making is that, for roughly the same money, you get a wheel that nothing else on console can match. (At least currently - the tables may well change when Fanatec rolls out its forthcoming CSR Elite Wheel.)
Recommending this to PS3 owners isn't the no-brainer that the CSR represents for 360 (and crossplatform) players, though. For those on a budget or who divide their time more evenly amongst the other PS3 driving games, they face the temptation of Logitech's G27, which at £249 SRP is a supreme offering - and one that benefits from considerably more widespread official support. But Gran Turismo 5 devotees waving a blank cheque while looking for the ultimate experience will find nothing finer - the T500 RS is an exceptional piece of hardware.
Will you support the Digital Foundry team?
Digital Foundry specialises in technical analysis of gaming hardware and software, using state-of-the-art capture systems and bespoke software to show you how well games and hardware run, visualising precisely what they're capable of. In order to show you what 4K gaming actually looks like we needed to build our own platform to supply high quality 4K video for offline viewing. So we did.
Our videos are multi-gigabyte files and we've chosen a high quality provider to ensure fast downloads. However, that bandwidth isn't free and so we charge a small monthly subscription fee of £4.50. We think it's a small price to pay for unlimited access to top-tier quality encodes of our content. Thank you.
Support Digital Foundry