Codemasters announces F1 Race Stars
Cute official racer coming this November.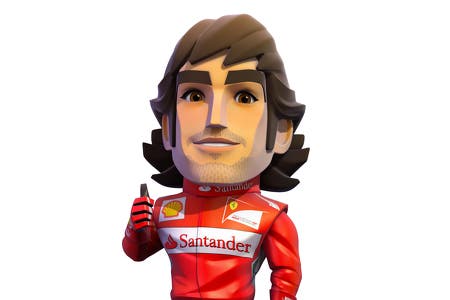 Codemasters has unveiled its family-friendly official F1 racer, and announced that the game's coming to Xbox 360, PS3 and PC this November.
Called F1 Race Stars, the game is being developer by Codemasters' Birmingham studio - the same outfit that develops Codemasters' mainline F1 series.
Since acquiring the F1 license in 2008, Codemasters has produced a series of serious-minded games across various formats. They've gone on to receive critical and commercial success, and the first HD installment F1 2010 went on to win a BAFTA last year.
F1 Race Stars is a more light-hearted take on the sport, rendering the grid in cartoon style and promising a Mario Kart-esque experience that's bolstered by power-ups.
Tracks will have some foundation on their real-life counterparts but will spin off in outlandish directions: Spa's Eau Rouge corner, for example, gives way to a loop-the-loop section, while players can leap across Monaco's famous swimming pool.
All the drivers have been given the cartoon treatment, and F1 Race Stars supports four player splitscreen as well as 12 players online.
It's also really, really cute. We're currently enquiring whether Codemasters will be producing tie-in merchandise so we can have a Fernando Alonso plushie we can love and hold and call our own.