CD Projekt details gritty Gwent: Homecoming upgrade in new video
Aards on the table.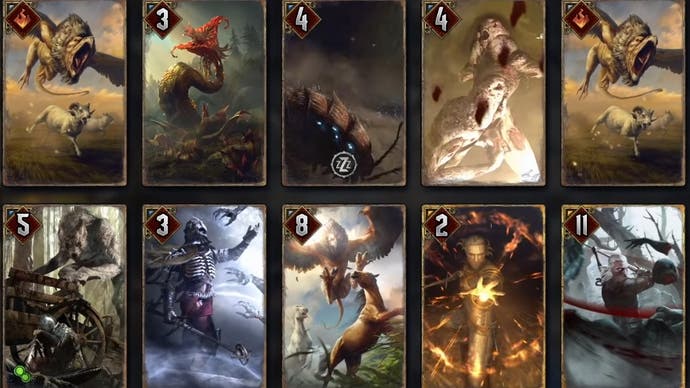 It's been a busy few weeks for CD Projekt. Alongside finally revealing some intense gameplay for Cyberpunk 2077, the developer has also been busy sharing news about its card game Gwent.
A new video, shown at the fourth Gwent Challengers tournament, shows the game will receive a number of major changes in its Gwent: Homecoming overhaul. Most of the improvements seem to be focused on the visuals, but there are also some noteworthy changes to the gameplay.
The developers presenting the video, Pawel Burza and Michal Dobrowolski, state the overhaul is about bringing a darker, grittier aesthetic to the game to give it a more "Witcher 3 feel". As part of this, there are a number of new boards based on factions from the Witcher series, including Skellige, the Northern Realms and Nilfgaard. The video only gives players a peek at one - but it's (quite literally) a monster.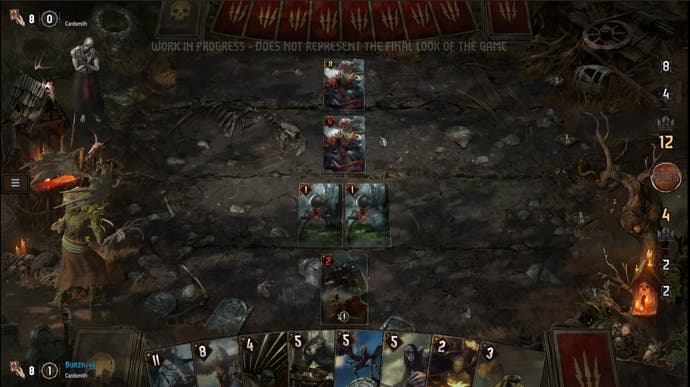 The redesign seems to be about giving the card game the look and feel of a battle. Leaders now have 3D models, allowing the Unseen Elder and the Woodland Spirit to fully square off against each other on the board. The angle from which the board is viewed has also changed, bringing a greater sense of depth and perspective.
Meanwhile, there have been some serious changes to the card design. The edges look a little, well, preloved - while silver cards have been removed entirely. According to Dobrowolski, this is due to the addition of the new provisions system, which means all decks will now have 30 cards.
The mulligan screen has also been given something of a revamp - rejected cards will now stack at the side instead of being instantly re-shuffled into the deck. Possibly the biggest gameplay change, however, is the removal of one of the rows of cards. Instead of three rows, there will now be two, split into melee and ranged. Players can play cards from either row - but some abilities can only be used when a card is on a specific row.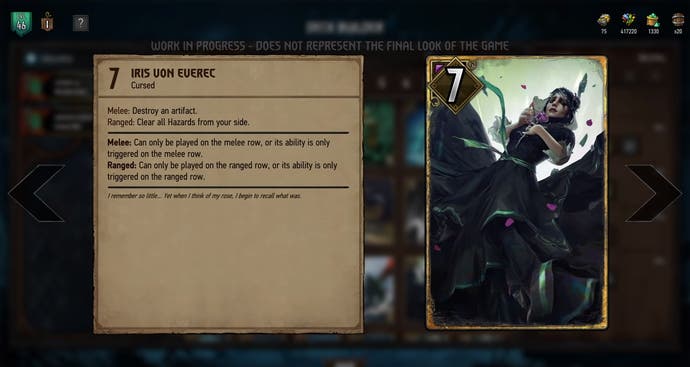 When the upgrade was first announced, CD Projekt said it wanted to "reignite [players] passion for [their] beloved CCG". So far, it seems to be playing its cards right: the video is going down well with fans, and players are due to receive yet more Gwent content when Thronebreaker releases as a 30-hour standalone RPG. All that remains is for CD Projekt to announce exactly quen these will come out.