Cave Story+ on Switch getting "classic graphics" option in August
Making it the true definitive version.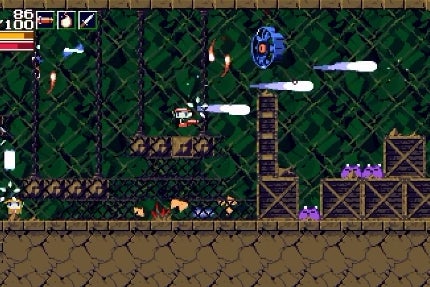 Earlier this year porting company and publisher Nicalis announced that it would be bringing the definitive version of Daisuke "Pixel" Amaya's cult classic platformer Cave Story to Nintendo Switch. This recent edition launched last month in North America with some new features like extra stages, new items, and a planned local co-op mode to be added later this summer. However, some diehard Cave Story fans, like our friends over at USgamer, considered this Switch release to be a step back from the PC version of Cave Story+ that allowed players to switch between the game's updated graphics and its original "classic" aesthetic.
"Cave Story+ on the Switch isn't the best version of the game," USgamer's Caty McCarthy claimed. "Without the ability to toggle between art, Cave Story+ for the Switch almost feels like Cave Story-, and not the definitive version it was touted as."
Well worry no longer, as Nicalis is patching the option for ye olde graphics in! As stated on the publisher's Twitter, this feature will arrive in a free update this August.
"Submission to Nintendo takes a little time to get approved!" Nicalis tweeted. "August is technically three weeks away!"
With the option for Cave Story's vintage aesthetic in effect, this should tip the scales in Nintendo's favour, making the Switch release truly the game's definitive version. After all, it will offer extra content, portability, co-op, and the retro look for those concerned about authenticity. That's the whole package!
Cave Story+ hasn't officially made its way to European Switches yet, though one could import the title from across the pond given the console's region-free status. But if you want the nifty European retail release, which comes with a full-colour instruction manual, Nicalis has plans to bring that over this autumn.