Capcom shows off more new features from Monster Hunter World's Iceborne expansion
And details its E3 livestreams.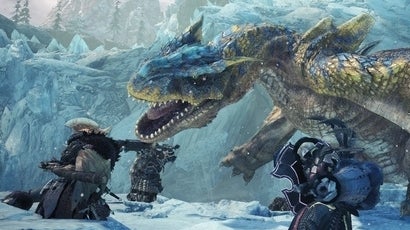 Monster Hunter World's major expansion, Iceborne, is heading to Xbox One, PS4, and PC later this year. And in the run-up to release (and a more thorough unveiling at E3 next week), Capcom has unleashed a host of new videos, showcasing more of Iceborne's new features.
First in the tottering pile is a brand-new story trailer, mixing ample cutscene jabbering with some welcome moments of new gameplay. Despite being almost four minutes long, it's not the most revelatory of videos, but there are a couple of notable inclusions - such as a first look at the updated Tigrex, a classic series monster set to make its World debut in Iceborne. Nice and all, but WHERE ARE THE LAGOMBI, CAPCOM??
Next up is a brisk look at one of Iceborne's major new features: the Clutch Claw, used to grabble onto monsters in one fluid motion - no launching off high ledges required.
The Clutch Claw also works in conjunction Monster Hunter World's roster of heavy, light, and technical weapons to open up new combo moves - which, when combined with Iceborne's other combat enhancements, dramatically increase the options available out on the battlefield. I'd try and summarise the following for you, but, as someone who hasn't used anything but the Long Sword for almost a decade now, most of it's beyond my comprehension.
Rounding off this latest Iceborne update, Capcom has announced a number of Monster Hunter World Twitch livestreams set to run throughout next week's E3. There's an Iceborne Developer Showcase with Ryozo Tsujimoto & Kaname Fujioka scheduled for 3pm in the UK (11am PDT) on Tuesday, 11th June, and an Iceborne demo with "special guests" at 9pm (1pm PDT) on Wednesday, 12th June. Additionally, a selection of Iceborne demo sessions, hosted by VampyBitMe, will run at the following times:
Tuesday, 11th June - 8:30pm in UK (12:30pm PDT)
Tuesday, 11th June - 11:30pm in UK (3:30pm PDT)
Wednesday, 12th June - 6pm in UK (10am PDT)
Thursday, 13th June - 6pm in UK (10am PDT)
Thursday, 13th June - 9pm in UK (1pm PDT)
Monster Hunter World's Iceborne expansion launches on Xbox One and PlayStation 4 on 6th September. A PC release will follow at a later date.