Call of Duty: Modern Warfare is a whopping 175GB on PC
UPDATE: Activision explains why.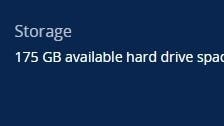 UPDATE 10/10/19: Activision has updated its official system requirements for Call of Duty: Modern Warfare on PC, offering an explanation as to why the shooter is listed as needing a staggering 175GB of hard-drive space.
According to the publisher, that 175GB is not so much a requirement as a recommendation. Activision suggests that players keep that amount of space free in order to download Modern Warfare's post-launch content. The initial download on launch day, it assures, will be smaller, although it offers no indication of precisely how much smaller it might be.
Perhaps this means that Red Dead Redemption 2's PC release will now claim the record of largest launch day install, after all. As announced yesterday, it'll weigh in at a whopping 150GB.
---
ORIGINAL STORY 9/10/19: Call of Duty: Modern Warfare weighs in at 175GB on PC.
The official listing for the PC version on Battle.net details the huge storage requirement for Infinity Ward's soft reboot. For both minimum and recommended specifications, you'll need an eye-watering 175GB of available hard drive space.
While Call of Duty games have in recent years ended up with a three-figure install size (there's a lot of DLC!), this is by a significant amount the biggest launch storage requirement we've seen from a game in Activision's shooter series.
Does Modern Warfare hold the world record for the biggest storage space requirement for a video game at launch? We think so. In 2018 we covered Final Fantasy 15 on PC, which was 148GB. The Rockstar launcher currently states Red Dead Redemption 2 on PC requires 150GB of HDD space. Modern Warfare tops both.

There's no word yet on the size of the console versions of Call of Duty: Modern Warfare. But based on the fact Spec Ops Survival mode is exclusive to the PlayStation 4 version for a year, perhaps the Xbox One version will be smaller.
Anyway, here are the requirements of the PC version:
Minimum Requirements:
Operating System: Windows 7 64-bit (SP1) or Windows 10 64-bit
Processor: Intel Core i3-4340 or AMD FX-6300
Video: NVIDIA GeForce GTX 670 / NVIDIA GeForce GTX 1650 or AMD Radeon HD 7950 - DirectX 12.0 compatible system
Memory: 8GB RAM
Storage: 175GB available hard drive space
Internet: Broadband Internet connection
Recommended Specifications:
Operating System: Windows 10 64-bit latest update
Processor: Intel Core i5-2500K or AMD Ryzen R5 1600X Processor
Video: NVIDIA GeForce GTX 970 / NVIDIA GeForce GTX 1660 or AMD Radeon R9 390 / AMD Radeon RX 580 - DirectX 12.0 compatible system
Memory: 12GB RAM
Storage: 175GB available hard drive space
Internet: Broadband Internet connection