Burnout Revenge is now backward compatible on Xbox One
Check please.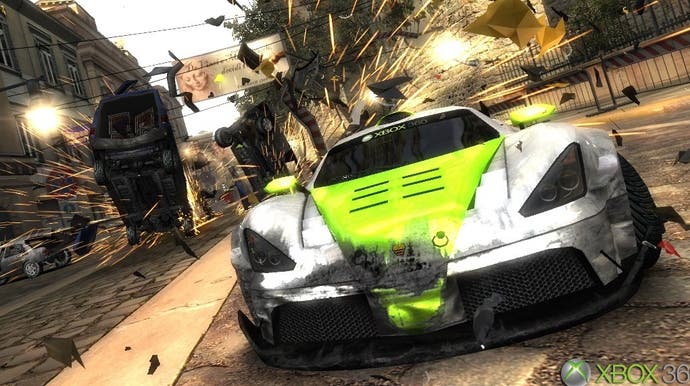 Criterion's blistering arcade racer Burnout Revenge is the latest game to be whipped into a suitable state for the modern age, courtesy of Microsoft's Xbox One backward-compatibility badgers.
Burnout Revenge, for those keeping notes at the back, released on Xbox and PS2 in 2005, and made the leap to Xbox 360 the following year. It was developer Criterion's fourth major Burnout title, and was perhaps most notable for its new Traffic Checking feature - which essentially encouraged you to rear-end vehicles in a never-ending explosion of glass and metal in order to best the clock and rack up those gloriously shiny medals.
"Like a steel-toe-capped boot applied to a child's toy car collection, you sweep all before you in a blizzard of metallic destructive insanity," said Kristan Reed in his 2005 Burnout Revenge review, "It's utterly ridiculous, but in a sense entirely in-keeping with the progression of the series so far. Burnout has, after all, succeeded because of its utter rampaging ridiculousness."
However, what Burnout Revenge gained in mayhem, 2005 Eurogamer reckoned, it lost in challenge: "The main problem with racing in Revenge is that boosting is now virtually a given. It's almost permanent [...] Boosting should be a treat, a reward, but in Revenge you're spoiled rotten. Criterion needed to keep the balance poised, but it wants to pander to the less skillful gamer to sell more. We can understand wanting to make it more accessible, but there really should have been a way to ramp up the difficulty level for us old hands."
"That's not to say it's not fun, because we had a blast", the 8/10 review concluded, "Revenge may be a dish best served cold, but in this case, taking the heat out of the game wasn't what we were hoping for." On the flipside, Eurogamer news don Tom Phillips reckons "Revenge > 3 > Paradise", so who knows what's real anymore.
As ever, your original Xbox 360 disc version of Burnout Revenge should work right away once you pop it into your Xbox One. And if you're in need of a copy in 2018, you can pick up a digital version on the Xbox Store for £9.99.