Bullfrog classic Syndicate free on EA Origin now
A chip off the old block.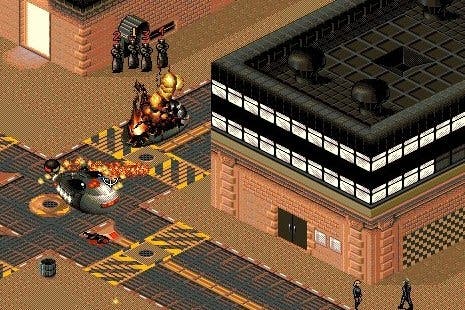 Classic 1990s Bullfrog game Syndicate is free on EA Origin now. It's "On the House", to use the giveaway lingo, as Theme Hospital - another Bullfrog classic - was a couple of weeks ago.
Once you claim the game it's yours to keep, a full version, forever. The deals don't last forever so be quick.
Syndicate is a near-future cyberpunk game in which your syndicate takes over the world, one four-person cyborg mission at a time. It's isometric with tactical battles in real-time.
It first came out on Amiga and PC in 1993, the year of Jurassic Park and Whitney Houston, whose rendition of Dolly Parton's I Will Always Love You broke windows and radios for weeks. Syndicate was later squashed to fit on SNES and Mega Drive consoles.
Swedish Chronicles of Riddick dev Starbreeze had a stab at resurrecting Syndicate in 2012, but as a first-person shooter. Decent, but forgetful.
More excitingly, recently, a spiritual successor to Syndicate called Satellite Reign launched in Early Access on Steam - having been Kickstarted by the creator of Syndicate Wars (a 1996 direct sequel to Syndicate).
Christian Donlan took a look at Satellite Reign in December. He liked it. "The really important bits are already there," he wrote. "With four goons at your disposal, it's hard not to take to these glittering midnight streets feeling like the single most dangerous element of this cold-hearted world. This was what Syndicate was always about, and it's exciting to see Satellite Reign get the basics in place before building outwards."