Blue Toad Murder Files
Smart casual.
Relentless seems to be tapping into a curious cultural phenomenon. No matter how much the British are pilloried and stereotyped as braying aristocrats or straw-munching yokels by other cultures, we'll always be better at it ourselves. Never a nation to shy away from a hearty laugh in the mirror, we're our harshest and most accurate critics, self-deprecating with a quietly scathing gentleness which endears us to ourselves. Blue Toad Murder Files is very much in this vein, an excellently observed take on rural Britain - heavy on stereotype without the inherent laziness which this so often implies - wrapped around a murder mystery board-game concept.
Still, when I sit down with a couple of other players to tackle the first chapter of this six-episode puzzler, due out in December, I'm not sure what to expect. Will it be competitive, like those games of Cluedo that end in actual bodily harm? Or more congenial, like watching Poirot with your Mum and Aunt Doris on the sofa at Christmas? Turns out it's a bit of both, with some of the competitive elements of the company's uber-series, Buzz, bubbling nicely alongside co-operative, team-sofa sleuthing activities.
Its Britishness is obvious from the off, as a sweeping vista of an idyllic rural settlement rolls across the screen, showcasing windmills, duck ponds and a cosy village pub. When the narrator kicks in, with the quietly bombastic measure of a disparaging history professor, the scene is set. It's not Stephen Fry, but it's an excellent approximation of everything he's come to represent in British culture. Incredibly, all of the top-class voice-over work is done by just one actor, Tom Dussek.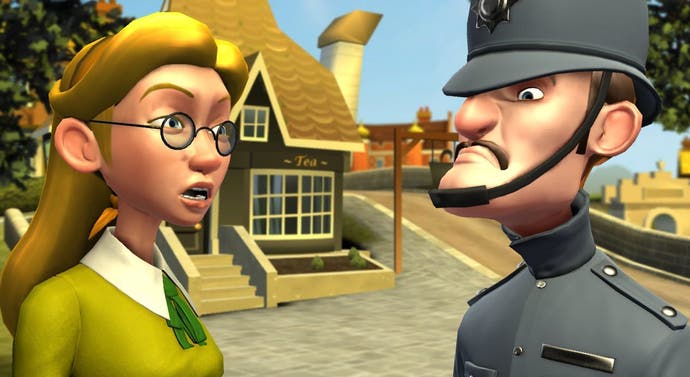 After a brief and engaging introduction to the village of Little Riddle, a steam train arrives bearing the four purposefully stereotypical avatars players get to control. These characters - the sharper-than-she-looks granny, the Enid Blyton plucky youth, the moustachioed and stentorian gent and the intrepid American girl - are the constituent members of the titular Blue Toad detective agency, sent away for a nice break in the country by the head of the organisation. Needless to say, it doesn't take long for people to start turning up dead, and it falls to the sleuths to pick apart the mystery - aided and obstructed in equal measure by village gossips, suspects and bobbies alike.
What this means is around an hour of gameplay, starting off with a short cut-scene that manages to convey just the right amount of character in a few lines of funny dialogue and subtle facial animation. This is followed by an individual puzzle taken on by the player with the pad. Once solved, you pass the pad to the player next to you for another segment of storyline and the next puzzle. Once everyone's had a go, there's a short round of comprehension questions on the scenes and dialogue that just played out, which make sure you've been paying attention. Once all the puzzles are solved, by moving around the various village locations on the map, it's time to name the murderer.