Bloodborne patch 1.04 adds co-op with anyone, regardless of level
More Blood Chunks and 600 Blood Vial storage.
Bloodborne's new 1.04 patch is now live and brings a host of changes with it: some very big, others quite small.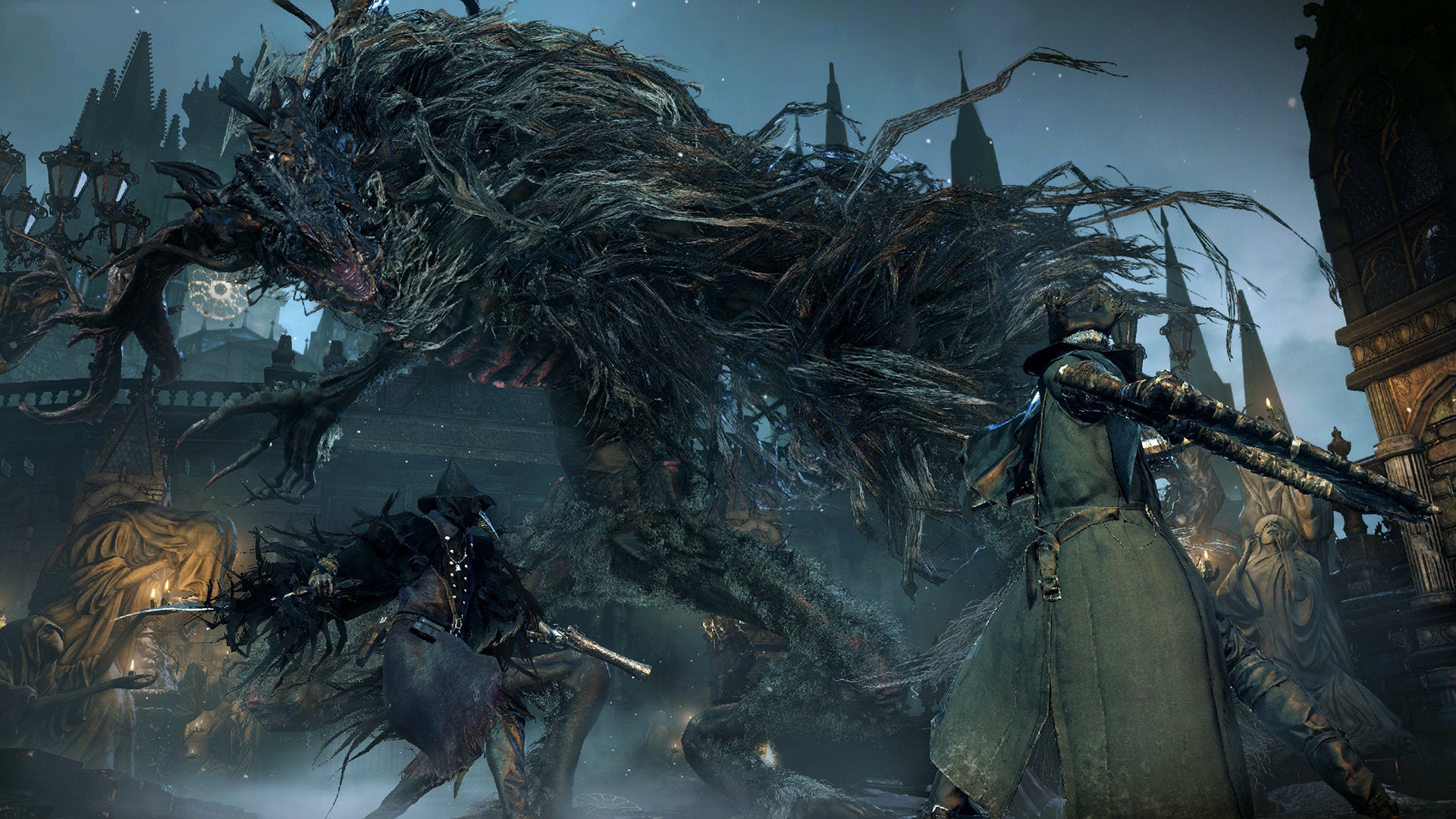 As detailed by DualShockers' translation of Sony's official Japanese patch notes, one of the biggest changes is that you can now play in co-op regardless of player level, so long as you use a password.
Previously, players had to be within 10 levels of one another, so you wouldn't end up summoning a vastly overpowered player who could slay a boss in a few hits. This is still the default status, but if you want to play with a veteran friend or help out your struggling newbie pal, that's now an option.
Equally exciting is the added abundance of Blood Chunks, i.e. the material used to upgrade your weapons to higher levels. Previously, players could only level up two or three weapons to near max status per playthrough, but that's changed. Blood Chunks can now be purchased from the Insight Dealer in the Hunter's Dream, provided they're willing to part with 30 Insight per chunk. According to several Redditers, this option only appears once you've defeated The One Reborn about two-thirds of the way through the game.
Blood Chunks will also now appear in level three, four and five Chalice Dungeons. Even the coveted Blood Rock, the item necessary to max out a weapon at +10, can now be found as a random drop in level five Chalice Dungeons.
The other major change, in my mind, is that players are now able to hold 600 Blood Vials and Quicksilver Bullets in storage. Previously you could only hold 99, so veteran players got very used to the irritating pop-up telling them they'd maxed out their supply. Now you can go crazy stocking up, then start healing and shooting worry-free.
The other changes aren't quite as drastic, but still pretty notable. The Insight Dealer now appears once you've gained a single Insight point at the beginning of the game. Drop down to zero and the shop will still be open, even if you're too poor to buy anything.
Some Arcane spells have reduced their casting cost too, as Old Hunter Bone, A Call Beyond, and Choir Bell have all reduced their Quicksilver Bullet cost by one.
Here's the full list of changes, as translated by DualShockers:
By using password matching, you can now be matched regardless of level difference, and even with a hostile oath.
Conditions for the appearance of the insight store changed: it will appear when the player has one or more insight instead of 10 (Once unlocked, it will now remain unlocked for the rest of the game, even if you have zero insight).
Added a "blood chunk" item to the insight store (it will appear after playing the game up to a point).It costs 30 Insight.
Up to 600 Blood vials and quicksilver bullets can now be stored in the storage.
Adjusted the strength of some enemies in some areas in new game plus.
Adjusted the resistance and vulnerability of some enemies to bolt and arcane attacks.
Changes made to how Beasthood accumulates. This increases duration and improves attack of beast mode.
Adjusted the effect of Beast Blood Pellet item.
Fixed a bug of the attack force of the Rifle Spear. In particular, it was fixed a problem with the use of Blood Gems.
Reduced the stamina use of the Kirkhammer.
Reduced the stamina use of the Logarius' Wheel.
Increased the duration of Old Hunter Bone and reduced the use of Quicksilver Bullets (reduced from five to four).
Increased the duration of the effect of Tiny Tonitrus. Increased attack force. Attack force with low arcane will be higher.
Increased the duration of the effect of Augur of Ebrietas. Attack force with low arcane will be higher.
Reduced the Quicksilver Bullet cost for use of A Call Beyond (reduced from eight to seven).
Reduced the Quicksilver Bullet cost for use of Choir Bell (reduced from eight to seven).
Added Short Ritual Root Chalice to the insight store after completing the Pthumeru Chalice dungeon. It costs 10 Insight.
It's possible to take advantage of the Short Ritual Root Chalice from an earlier stage of the game.
Added a random rewards when killing a Chalice dungeon boss. They will now drop a random Blood Gem in addition to weapon enhancement materials.
Different depths of Chalice Dungeons will now drop different Blood Stones
Depth 1: Blood Stone Shard
Depth 2: Twin Blood Stone Shard
Depth 3: Twin Blood Stone Shard and Blood Stone Chunk (Rare)
Depth 4: Blood Stone Chunk
Depth 5: Blood Stone Chunk and Blood Rock (Rare)
Increased the level of Blood Gems available in Depth 1-3 Dungeons.
Increased the amount of Blood Echoes dropped in Chalice Dungeons.
Co-op partners joining a cursed dungeon will only see their HP reduced by 50 per cent, and not by 65 per cent as it was before.
When starting co-op in a chalice dungeon, you will now spawn in the lantern room.
Weapons with special names like "uncanny" and so forth can now be purchased from the Bath Messengers once found.
Adjusted the brightness of the screen when finding a pool of Blood Echoes on the ground.
Corrected the bug that disconnect you from online mode when in stand-by.
Corrected a bug that caused enemies not to be displayed correctly for co-op guests when moving fast.
Further tweaks and bug fixes.