Black Desert Online, the MMORPG with the fancy character creator, is coming to PS4
And the mobile game's heading west too.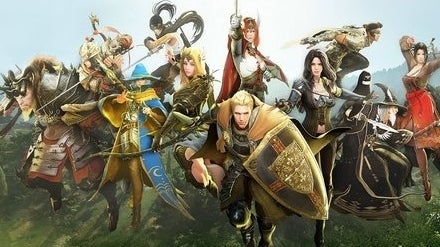 Black Desert Online, the Korean MMORPG perhaps best known for its impressively intricate character creator, will be making its way to PlayStation 4 this year, developer Pearl Abyss has announced.
Black Desert Online initially launched on Windows back in 2015, and made the jump to Xbox One earlier this year. It's a high fantasy affair, focussing its action on a war between two rival nations: the Republic of Calpheon and the Kingdom of Valencia.
The new PS4 version promises remastered graphics and audio, an optimised UI "created specifically for a fluid, responsive console experience", plus 4K support on PS4.
When Eurogamer contributor Richard Cobbett took at look at Black Desert Online at launch, he was largely positive about its blend of traditional MMO action and elements, such as reactive NPCs and real-time combat, that gave the experience the air of a single-player RPG. That was some time ago though, and, as you'd expect, a lot has changed since then. For starters, the game now boasts over 20 million registered users around the globe.
There's no release date for Black Desert Online's PS4 debut, but Pearl Abyss says that pre-orders will open on July 2nd. Those that pre-order will get early access to the full game, as well as special in-game rewards.
Alongside the PS4 release, Pearl Abyss has announced that its mobile game, Black Desert Mobile, will be launching globally on iOS and Android later this year.