BioWare announces Command & Conquer: Generals 2
UPDATE: Gameplay info, first screens.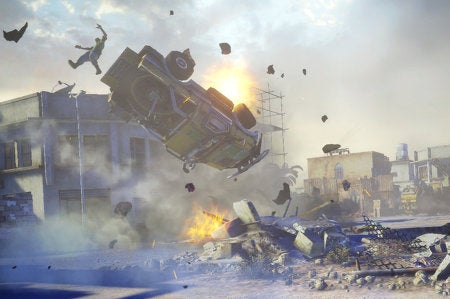 As rumoured last month, Command & Conquer: Generals 2 is currently in development, BioWare has announced. It's a PC exclusive.
A brief trailer was shown for the game at today's Spike VGA event in Los Angeles showing a skirmish in an unnamed city.
Terrorists have apparently blown up a peace conference killing most major world leaders, leaving military generals to scrap it out for supremacy.
The sequel to the 2003 PC real time strategy spin-off (which was developed by EA Los Angeles) is being built on the Frostbite 2 engine and is due for release some time in 2013.
According to the game's official site it's being developed by BioWare Victory - formally Victory Games - and you can expect the following gameplay features:
All-out War - Take control of three unique factions, competing for resources, building up your base of operation, and leading massive batteries of tanks, soldiers, and aircraft into battle.
Uncanny Sense of Realism - Frostbite 2 technology allows for visceral, visually stunning conflict at an epic scale. Incredibly detailed units and environments, dynamic physics, and exhilarating visual effects bring the battle to life in ways never before seen. This is the closest thing to real war without the consequences.
New Ways to Dominate or Ally with your Friends - Go beyond classic deathmatch with a selection of new multiplayer game modes, designed with both cooperative and competitive play in mind.
Thrilling Campaign - Command the war on terror in an electrifying single-player campaign. Experience the dramatic story from multiple perspectives-from heroic General to crazed terrorist-while engaging the enemy in pulse-pounding tactical combat.
Ever-evolving Experience - Enhance your game with an expanding array of downloadable content. From maps and units to factions, campaigns, and more, the fight against terrorism is deeper than ever.
"We're bringing BioWare's vision for emotionally engaging gameplay and great attention to quality to the strategy genre and the Command & Conquer franchise," commented BioWare boss Ray Muzyka.
"I am excited to welcome BioWare Victory to our label. They are a great addition and the team is working hard to make sure Generals 2 truly immerses and engages players into this intense, gritty, modern war experience."
We'll post the trailer as soon as it's made available, but take a look at the screens below for now.