Big Modern Warfare season two battle pass leak comes from official Call of Duty website
Ghost in the machine.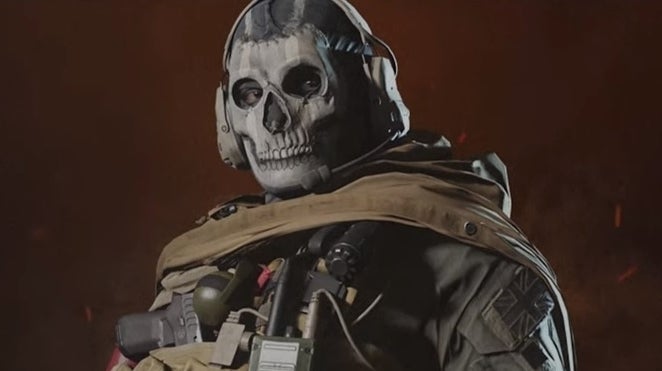 Modern Warfare season two Battle Pass information was leaked overnight from an official source: the Call of Duty website.
The website briefly showed images of popular Modern Warfare 2 character Ghost as a new operator, and confirmed details around pricing and new weapons.
The website even revealed a short teaser video for Modern Warfare season two, which stars Ghost, new operator skins and the new weapons in action.
The details were taken down shortly after they were pushed live, but of course the internet caught the whole thing. According to the leaked details, the two new guns coming to Modern Warfare as part of season two are the GRAU 5.56 assault rifle and the Striker 45 SMG. Here's a leaked image:

The GRAU 5.56 is described as "lightweight, maneuverable and full of potential". The Striker 45 official blurb reads: "hard-hitting and long-range SMG."
As for the season two Battle Pass, it looks similar to season one's in that there are 100 tiers of content. You can buy the Battle Pass for 1000 COD Points (although some of it is free), or spend 2400 COD Points to get the Battle Pass and 20 tier skips. The leaked image stresses that completing the Battle Pass earns you 1300 COD Points back, so if you intend to play through the whole thing, you'll earn enough to buy the next Battle Pass.

As expected, Ghost is added to the game as an operator with season two. The images show that he's available instantly by buying the Battle Pass.

Expect new weapon blueprints, such as this cool-looking Western skin.
Here are some new operator skins:

The leak reveals the Battle Pass includes over 80 additional items, too, although according to the image below, a lot of that is filler.

It looks like tier 100 could unlock a Ghost skin, though.
Meanwhile, Rust is confirmed as a new multiplayer map for Modern Warfare - as expected. CharlieIntel found an AR Card given last summer updated to reveal the return of the hugely popular Modern Warfare map.
Call of Duty: Modern Warfare season two launches on Tuesday, 11th February.