Beneath a Steel Sky 2 is officially happening
Despite falling short of Broken Sword's million dollars stretch goal.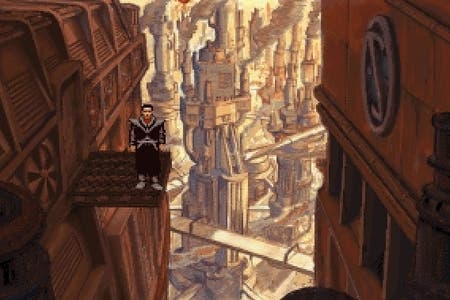 Beneath a Steel Sky developer Revolution Software has officially greenlit a sequel to the 1994 cult favourite cyberpunk point-and-click adventure.
The developer initially stated that it would make the sequel if its current project Broken Sword: The Serpent's Curse reached its Kickstarter stretch goal of one million dollars. It did not.
Instead, it came to $771,561, or about $820,000 including PayPal donations. Not too shabby if one considers that the original goal was only $400,000.
Yet Revolution decided to ago ahead anyway. Studio co-founder Tony Warriner said in an interview with Develop that production will begin upon completion of The Serpent's Curse.
"We're delighted by the recent level of interest in a sequel to Beneath a Steel Sky and are currently discussing design ideas for this project which we plan to go into development following the release of Broken Sword - The Serpent's Curse.
He added, "We're deeply touched that our Steel Sky fans are as enthusiastic today as they were when the original game released in 1994."
Beneath a Steel Sky 2 is being developed for iOS, Android, PC, Linux, and OSX with a console release being looked into.
The original Beneath a Steel Sky was known for its splendid artwork by Watchmen artist Dave Gibbons who recently confirmed that he was working on a new game with Revolution. It seems unlikely that this is Beneath a Steel Sky 2 though, as supposedly production on that hasn't even begun and The Serpent's Curse seems unlikely too as Gibbon's involvement would have been a major selling point for a crowdsourced project. Not exactly something you'd want to keep secret.