BattleTech returns with new Kickstarter
That meets its target in under an hour.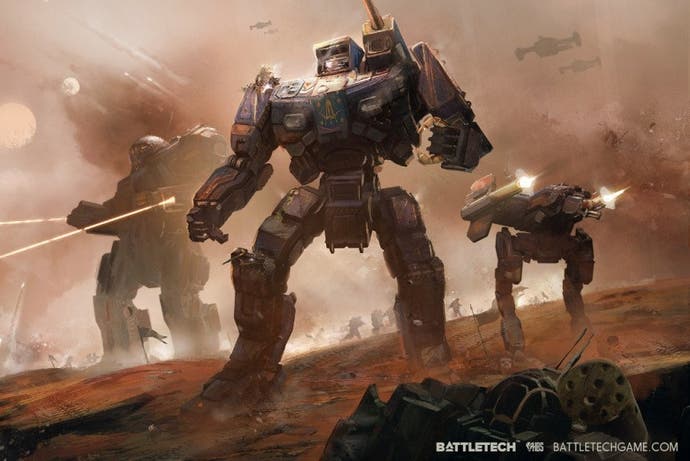 The people behind the Shadowrun games launched a Kickstarter for a new BattleTech game - and it met its target in just 53 minutes.
Harebrained Schemes, which has successfully crowd-funded a raft of Shadowrun games in recent years, took to Kickstarter again to ask for $250,000 for a new game in the long-running PC mech series. At the time of publication, the BattleTech Kickstarter is on $795,303, from 11,392 backers.
Harebrained's new BattleTech is the first game in the series on PC in over 20 years. As the studio did with Shadowrun: Hong Kong, it has self-funded a base game version of BattleTech, and is asking for more cash to fund further development.
BattleTech video games began in 1988 with BattleTech: The Crescent Hawk's Inception, but it wasn't until the 1995 release of MechWarrior 2: 31st Century Combat that the series broke out. Jordan Weisman, the creator of BattleTech and MechWarrior, is back to work on the new BattleTech game.
Here's the Kickstarter plan:
STAGE 1 (Already funded by Harebrained Schemes): A turn-based tactical skirmish game - command a Lance of 4 'Mechs & MechWarriors against AI opponents across a variety of battlefields.
STAGE 2 ($1,000,000): We add a full, single-player story campaign to the game.
STAGE 3 ($1,850,000): We add side-missions, procedurally-generated missions and the campaign becomes open-ended.
STAGE 4 ($2,500,000): Introduces PVP multiplayer combat in the famous arenas of Solaris VII.
It already looks like all four stages will be met. All being well, the new BattleTech will launch for PC, Mac and Linux in standard and DRM-free flavours on Steam, GoG and Humble stores in early 2017.