Batman Arkham City: Harley Quinn DLC details leak
Robin, Harley taking centre stage for new add-on.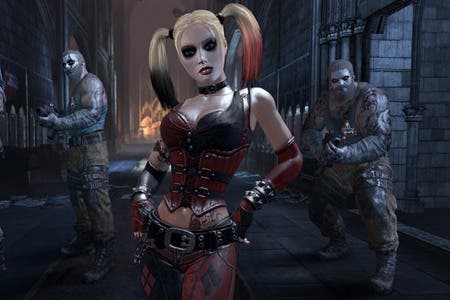 Batman Arkham City will be expanded in a fresh DLC pack featuring the characters of Harley Quinn and Robin.
PlayStation 3 Trophies for the add-on have leaked online (courtesy of PS3Trophies) and appear to reveal awards for a number of story-based missions.
Trophy details suggest side-kick Robin, who was a pre-order bonus and downloadable character for the main game, is playable in the new expansion.
The expansion would be the fourth major Arkham City add-on, following the Catwoman-focused day-one DLC free with new copies of the game, plus the Robin and Nightwing challenge mode packs. Another map pack and numerous character skins are also available.
Officially there's been no word of the new expansion and publisher Warner Bros declined to comment when asked.
The full list of Harley Quinn DLC Trophies lies below.
Lost Property [Bronze] - No crimefighter should be without this
Breaking and Entering [Bronze] - Find a way into the secret base
How's It Hanging? [Silver] - Clean up the Dry Docks
The Last Laugh [Silver] - The joke's on who?
Frequent Flyer [Bronze] - Zip Kick 3 different thugs
Battering Ram [Bronze] - Shield Bash 5 different thugs
Snap To It [Bronze] - Snap Flash an unarmed thug, an armed thug, an environmental object and a Titan
Bomb Squad [Bronze] - Defuse all bombs in 3 minutes or less
A Few New Tricks [Bronze] - Use 5 different Quickfire gadgets in one fight as Robin in Harley Quinn's Revenge
Party's Over [Silver] - Destroy all Harley Balloons