Baldur's Gate 1 & 2 Enhanced Edition team making new in-between game
But "nothing in the works" regarding BG3.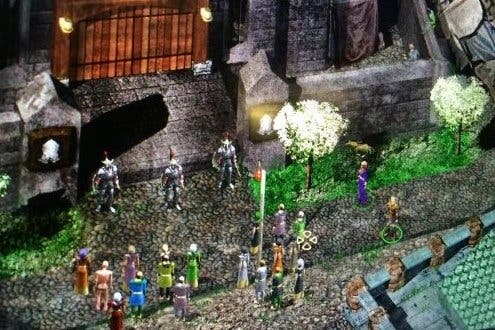 The team behind the Enhanced Edition re-releases of Baldur's Gate 1 and 2 is making a completely new game in the series - not Baldur's Gate 3 but a game codenamed Adventure Y that will bridge the gap between BG1 and BG2.
It will be made using the Infinity Engine to look and feel like the old Baldur's Gate games, and three small images of Adventure Y (below) were shared on the BG:EE forum. Other details such as a release date are being held back for "late spring", developer Beamdog wrote on its blog.
What happened to Baldur's Gate 3, a potential project Beamdog talked excitedly about in the past?
"We'd be lying if we said we never think about doing a Baldur's Gate 3 game, so we won't say that. But we will say there's nothing in the works yet regarding BG3 or a 5th Edition [Dungeons & Dragons] game," the developer wrote. "That doesn't mean the opportunity will never arise, though, so we're preparing by starting a tabletop 5th Edition Dungeons & Dragons game here in the office."
Beamdog also has plans for Adventure Z, a project it will talk about in the late summer after Adventure Y - the in-between Baldur's Gate game.
"Right now all we can say about [Adventure Z] is that it exists and it's a departure for us in terms of what we've done in the past. Also, the project might involve sharks... We're looking forward to giving you more details mid-year."
In addition to the Baldur's Gate games - available on PC, Mac, phones and tablets - Beamdog has also enhanced Icewind Dale.