Assassin's Creed Unity players review-bomb Steam page with positivity
"I finished Unity literally the night before Notre-Dame caught fire…"
Assassin's Creed Unity is currently getting the review-bomb treatment on Steam - but this time it's a little different.
This week Ubisoft gave Unity away for free for a limited time following the devastating fire at the Notre-Dame de Paris, and donated half a million euros to the restoration effort.
Unity is of course set in Paris, 1789 amid the French Revolution, and features a virtual reconstruction of the famous medieval Catholic cathedral.
"Ubisoft wants to give all gamers the chance to experience the majesty and beauty of the cathedral through Assassin's Creed Unity on PC," Ubisoft said.
"We encourage all of you who want to help with the restoration and reconstruction of the Cathedral to join Ubisoft in donating."
Now, Unity's Steam page, which sits on a "mixed" overall user review rating, has a "very positive" recent review rating after hundreds of positive reviews were left from 16th April.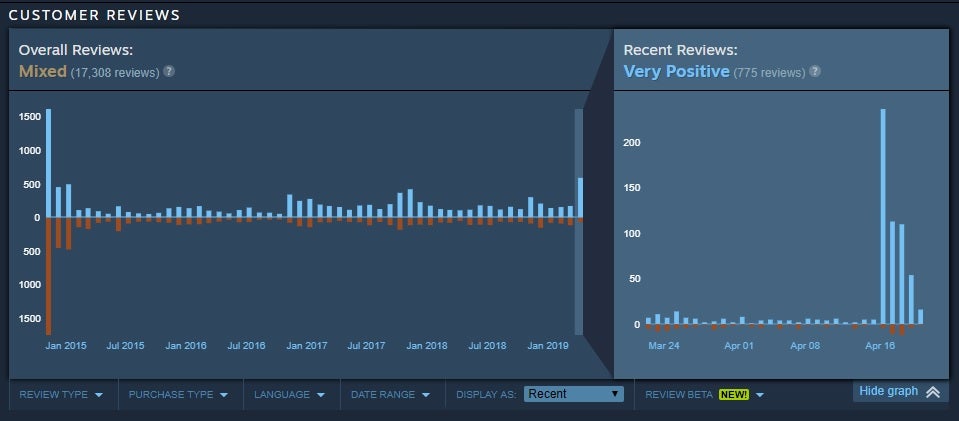 "Thanks Ubisoft & Assassin's Creed Unity for giving us an opportunity to appreciate what Notre Dame used to be," reads one review. "God bless France."
"I finished Unity literally the night before Notre Dame caught fire," reads another, by Steam user An Actual Cat.
"Besides being absolutely devastated for such a historic loss and even shedding a tear for it, I also kind of felt close to it because 'I was just there the night before'... I know, sounds silly!
"For many, many years to come, we will only be able to see Notre Dame in its true glory on pictures and live it in Unity."
At the time of publication, the recent positive reviews for Unity had not succumbed to Valve's anti-review-bombing system - the very system that filtered negative Borderlands reviews fuelled by Borderlands 3's Epic Games store exclusivity.
It could be argued these positive Unity reviews should trigger the anti-review-bomb tech as they're not entirely about the game itself, but according to Valve's definition of a review-bomb, perhaps a positive flood of reviews, even if considered off-topic, don't count:
"... a review bomb is where players post a large number of reviews in a short period of time, aimed at lowering the Review Score of a game. We define an off-topic review bomb as one where the focus of those reviews is on a topic that we consider unrelated to the likelihood that future purchasers will be happy if they buy the game, and hence not something that should be added to the Review Score."
Unity, as you'd expect following the free giveaway, is currently enjoying a resurgence. The once much-maligned Assassin's Creed game - the one that suffered such a terrible launch it caused Ubisoft to take a year off the franchise - is now considered to be an underrated entry in the series. Yesterday, Ubisoft took Unity's servers offline for an hour to perform maintenance to increase server capacity, suggesting there are quite a lot of players getting stuck in.