Assassin's Creed Unity is currently available to download for free on PC
And Ubisoft is donating €500,000 to Notre-Dame.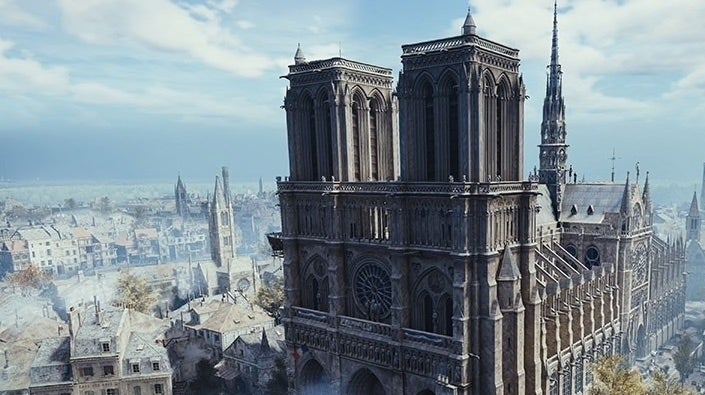 Ubisoft has announced that, following Monday's devastating fire which caused extensive damage to Notre-Dame cathedral, it will be donating €500,000 to Paris' reconstruction efforts. And as an additional gesture, Assassin's Creed Unity is currently free on PC.
"As the smoke clears on the events that unfolded on Monday at the Notre-Dame de Paris," Ubisoft wrote on its blog, "we stand in solidarité with our fellow Parisians and everyone around the world moved by the devastation the fire caused. Notre-Dame is an integral part of Paris, a city to which we are deeply connected. Seeing the monument in peril like this affected us all."
To that end, the publisher has pledged to donate €500,000 to help with the restoration and reconstruction of Paris' historic landmark, and has encouraged interested fans to donate too.
"When we created Assassin's Creed Unity, we developed an even closer connection with this incredible city and its landmarks," Ubisoft's post continued, "[and] one of the most notable elements of the game was the extraordinary recreation of Notre-Dame."
As such, Ubisoft says it's decided to give the game, which unfolds in Paris during the French Revolution, away for free on Uplay, so as to "provide everyone an opportunity to appreciate our virtual homage to this monumental piece of architecture" and to "give everyone the chance to experience the majesty and beauty of Notre-Dame the best way we know how".
Interested parties can add Assassin's Creed Unity to their Uplay library for free from now until April 25th. Once done, the game will be available to play permanently, says Ubisoft.