As Banjo-Kazooie turns 20, we remember Rare's answer to Super Mario 64
Shoot for the stars.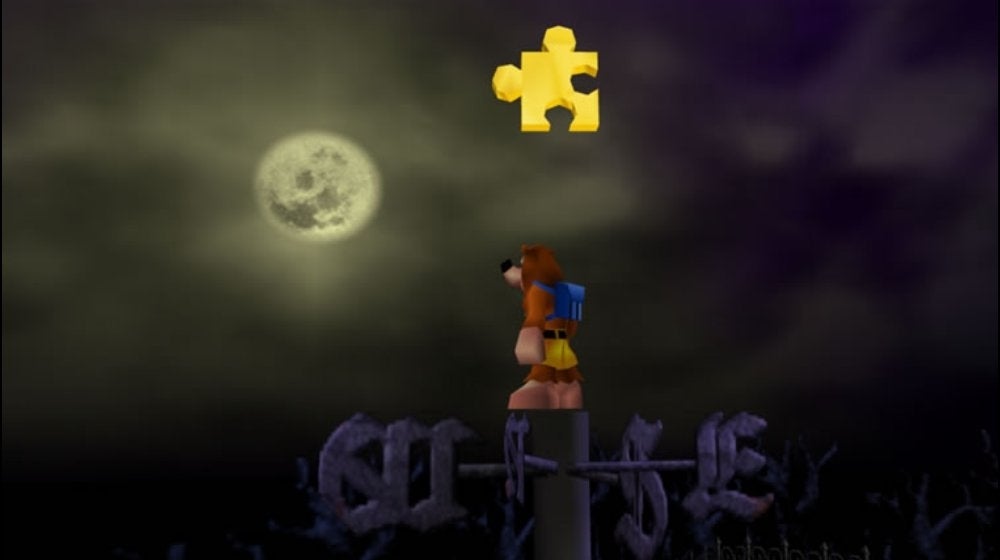 Banjo-Kazooie is 20 years old. Actually, video gaming's best bear and bird combo turned 20 two days ago (belated best wishes and all that!). But we thought it still okay to celebrate Rare's much-loved adventure and remember why people still ask for a new game in the series.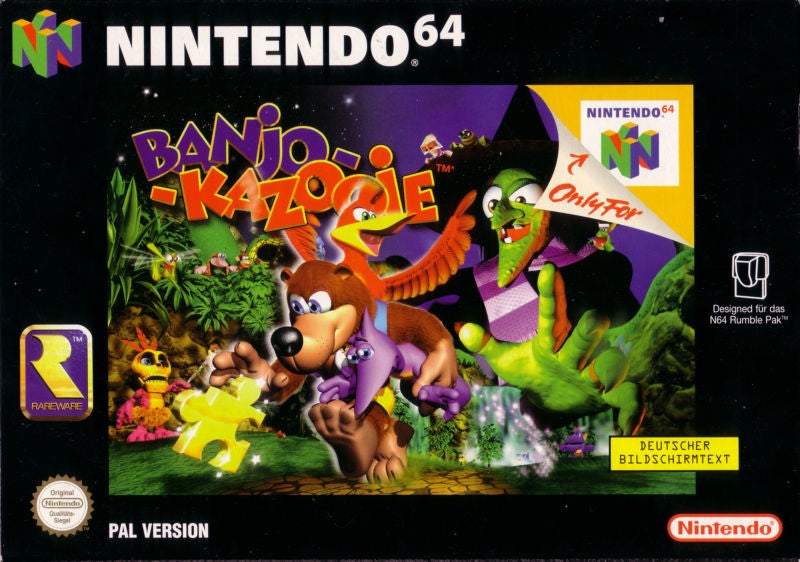 The series began life on 29th June 1998 with the North American release of Banjo-Kazooie on Nintendo 64. After the stonking success of GoldenEye, N64 owners were excited to see what Rare would come up with next. It turned out to be Britsoft's answer to Super Mario 64. Check out Eurogamer's analysis of the Xbox Live Arcade re-release of Banjo-Kazooie for more. Here's a snippet:
"Presented with characteristic flair, it's a chirpy rescue tale featuring Banjo the bear and an intolerant bird named Kazooie who rides on his back. Structured almost identically to Super Mario 64, you wander around a varied hub-like environment known as Spiral Mountain on the hunt for the evil witch Gruntilda, who has captured Banjo's sister Tooty for basically being pretty."
To celebrate Banjo-Kazooie's 20th birthday, Rare published a new interview with series designer Gregg Mayles". According to Mayles, work on what would eventually become Banjo-Kazooie started in 1995, when Rare developed an adventure game under the name Dream. The game was briefly a 2.5D side-scrolling platformer before it became the 3D platformer that launched in 1998.
"Banjo had a great team," Mayles said. "At its core was a group of people who had already been working together for a couple of projects, so we were able to use this familiarity to say exactly what we thought in order to push the quality bar as high as we could. We set Super Mario 64 as our target to beat and really went for it."
Rare followed up Banjo-Kazooie two years later with the launch of Banjo-Tooie, which was praised for its visuals and variety. We took a look at the Xbox Live Arcade re-release of Banjo-Tooie in 2009.
After Tooie, Banjo veered off into spin-off territory with the release of Banjo-Kazooie: Grunty's Revenge, a Game Boy Advance title published in 2003 by THQ. Critics weren't thrilled (we gave it 6/10 in our review).
But Banjo stuck with the Game Boy Advance for the release of Banjo-Pilot in 2005. This game was originally designed as a sequel to Diddy Kong Racing for the N64, but after Rare was bought by Microsoft the game was changed to focus on Banjo-Kazooie characters instead of those from the Nintendo-owned Donkey Kong. Reviews were mixed (we gave Banjo-Pilot 6/10).
And finally, we have Banjo-Kazooie: Nuts & Bolts, which launched in 2008 for the Xbox 360. This racing / construction / adventure game hybrid met with mixed reviews at launch (we gave it 7/10), but sentiment has improved over the years, with some now saying it's the best Banjo-Kazooie game.
Banjo and Kazooie have of course made cameo appearances in a raft of games over the years, including the aforementioned Diddy Kong Racing as well as the Xbox 360 version of Sonic & Sega All-Stars Racing.
But it's been 10 long years since we've had a new Banjo-Kazooie game, and with Rare focused squarely on the recently-released Sea of Thieves, it feels this situation won't change any time soon. Perhaps another developer could work with Rare to have a stab at it?