Apex Legends season one starts tomorrow with £8 battle pass
Octane is officially unveiled, at long last.
As predicted in leaks last week, the Apex Legends first season and battlepass is arriving this week. Tomorrow, in fact.
Named Wild Frontier, season one will start tomorrow at 5pm UK time (10am Pacific) and introduce leaked legend Octane: a metal-legged adrenaline junkie with a variety of high-risk abilities. According to a post on the PlayStation Blog, Octane can "trade health for speed", while he also has an "endless supply of Stim health regeneration" and a launch pad ultimate. If you want to know what that looks like, peek over here.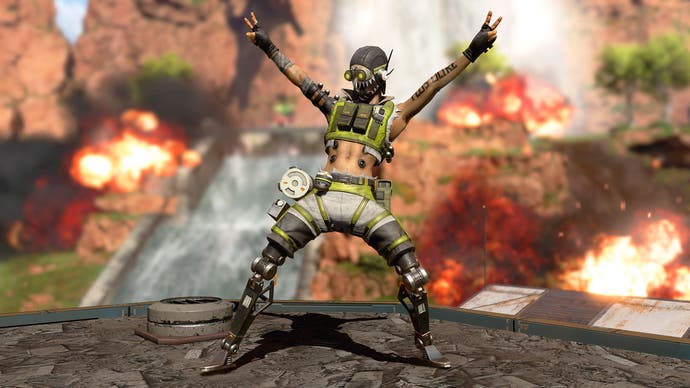 The battle pass, meanwhile, seems incredibly similar to Fortnite's model. Costing the same amount, with a base rate of 950 Apex Coins (about £8 if you buy the smallest coin pack), players can earn 100 unique rewards. Purchasing the battle pass will instantly get you three brand new skins: the Lifeline revolutionary skin, the Wraith survivor skin, and the Mirage outlaw skin.
If you want to splash the cash and purchase 2800 Apex Coins, you can also instantly unlock 25 levels of the pass. I know someone in the Eurogamer office who'll probably buy this and then claim they earned those levels.
Again, as with Fortnite, buying the pass later in the season will automatically unlock all the items you should have earned at your level. Judging by the different icons for the battle pass levels, it looks like battle pass tiers will be separate from your standard Apex Legends XP level. Again, like Fortnite.
The battle pass offers a variety of skins, banner cards Apex Coins and XP boosts. There aren't yet any definitive numbers on how much XP players can earn in each tier, although the Apex Legends community manager has stated the pass will earn players a total of 1000 Apex Coins - enough to buy the battle pass for next season.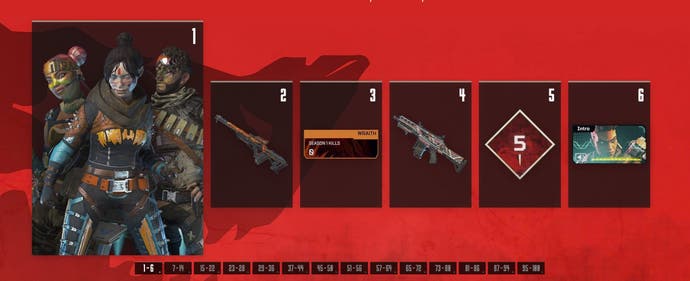 There are also a couple of free rewards for "everyone who plays Apex Legends season one", including one Wild Frontier legend skin, five Apex Packs and 18 Wild Frontier stat trackers. Nothing is truly free, however, and it looks like you'll still have to work to unlock that grimey-looking Octane skin at level 48.
Personally, I'm a little underwhelmed by the offering, as there seems to be a distinct lack of snazzy character skins - particularly at the higher levels. Perhaps it's still preferable to just directly buying loot boxes.
If you want a longer look at the, er, delightful Apex Legends season one battle pass rewards, make sure to check out our guide.