Amazon marks GTA5, FIFA 16, Minecraft and more as "exclusively for Prime members"
But you can still buy them through third-party sellers.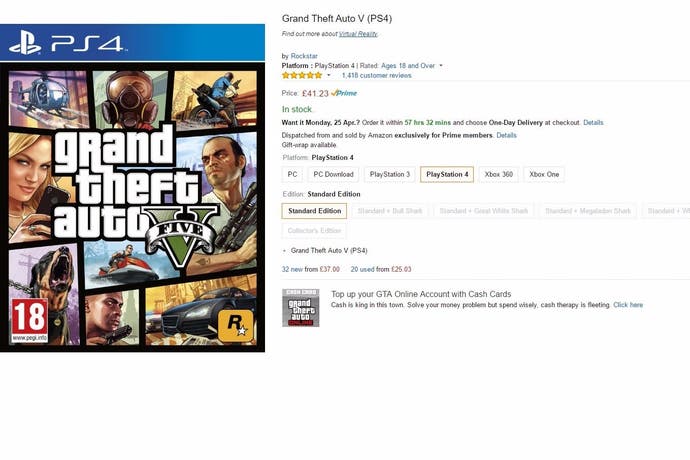 You now need a Prime subscription to buy games such as Grand Theft Auto 5, Rainbow Six: Siege or FIFA 16 direct from retail giant Amazon.
The bizarre change, spotted by Videogamer, appears to have quietly taken effect overnight.
But there's a big caveat to the above. All of these games are still available to buy via Amazon through third-party sellers, whether you have Prime or not.
To many customers, little will actually change.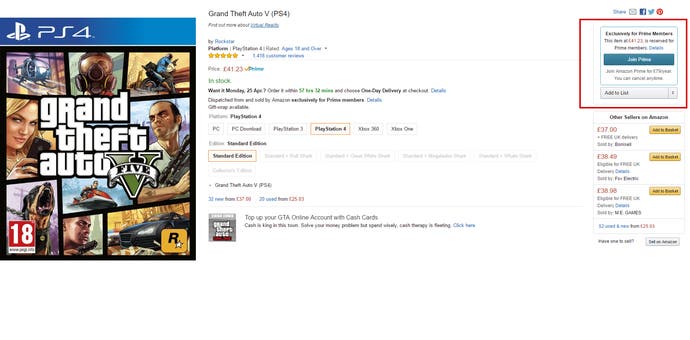 Amazon uses third-party sellers extensively itself, listing many as being the option it uses to fulfill orders. Again, these are still available to non-Prime subscribers.
Still, the change is notable for the worrying precedent it sets and because it appears to be targeting a very specific section of its customer base - those who play video games - at least initially. It's not hard to imagine a future where some games are locked behind Amazon Prime completely.
Other games affected by the change include Minecraft, Far Cry Primal, Dishonored: Definitive Edition, Middle-earth: Shadow of Mordor, Elder Scrolls Online, Assassin's Creed Syndicate, Metal Gear Solid: Ground Zeroes, Battlefield Hardline. Even Farming Simulator.
An Amazon Prime subscription currently costs £79 per year.