AIAS 2011 Awards winners revealed
Skyrim dominates the evening.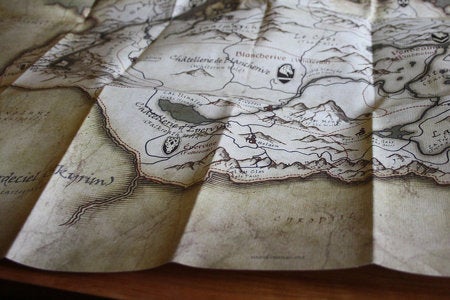 The Elder Scrolls 5: Skyrim was crowned Game of the Year at this year's video gaming Oscars, the AIAS Interactive Achievement Awards.
Skyrim won five awards in all, including those for story, RPG/MMO, game direction and gameplay engineering.
Beaten RPG/MMO competitor Star Wars: The Old Republic was recognised for its Outstanding Achievement in Online Gameplay.
Uncharted 3: Drake's Deception and Portal 2 both took home three awards. Uncharted 3 took the technical awards for best art direction, animation and visual engineering.
Portal 2 took the awards for connectivity, character performances and music. Portal 2 was crowned Eurogamer's Game of the Year 2011, if you're wondering.
Modern Warfare 3 won the Action Game of the Year category; Battlefield 3 won Outstanding Achievement in Sound Design.
Batman: Arkham City won best adventure game.
FIFA 12 won best sports game, Forza Motorsport 4 best racing game and Mortal Kombat 9 best fighting game.
LittleBigPlanet 2 won best family game, Infinity Blade 2 best mobile game and Super Mario 3D Land best handheld game.
Downloadable game Orcs Must Die! won best strategy game, and downloadable game Orcs Must Die! won best strategy game.
Downloadable Title of the Year, meanwhile, went to the terrific Bastion.
Fruit Ninja won best casual game, and The Sims Social won best social networking game.
Finally, Skylanders won Best Innovation in Gaming.
Bastion - Downloadable Title of the Year
Batman: Arkham City - Adventure Game of the Year
Battlefield 3 - Outstanding Achievement in Sound Design
Call of Duty: Modern Warfare 3 - Action Game of the Year
FIFA 12 - Sports Game of the Year
Forza Motorsport 4 - Racing Game of the Year
Fruit Ninja Kinect - Casual Game of the Year
Infinity Blade II - Mobile Game of the Year
LittleBigPlanet 2 - Family Game of the Year
Mortal Kombat - Fighting Game of the Year
Orcs Must Die! - Strategy/Simulation Game of the Year
Portal 2 (3) - Outstanding Achievement in Original Music Composition, Outstanding Character Performance (Wheatley), Outstanding Achievement in Connectivity
Skylanders Spyro's Adventure - Outstanding Innovation in Gaming
Star Wars: The Old Republic - Outstanding Achievement in Online Gameplay
Super Mario 3D Land - Handheld Game of the Year
The Elder Scrolls 5: Skyrim (5) - Game of the Year, Outstanding Achievement in Story, Role-Playing/Massively Multiplayer Online Game of the Year, Outstanding Achievement in Gameplay Engineering, Outstanding Achievement in Game Direction
The Sims Social - Social Networking Game of the Year
Uncharted 3: Drake's Deception (3) - Outstanding Achievement in Animation, Outstanding Achievement in Art Direction, Outstanding Achievement in Visual Engineering