After five years in development, sci-fi colony sim RimWorld is on the "final stretch" to release
Last major content update adds swamps, meteors, "corpse obsession".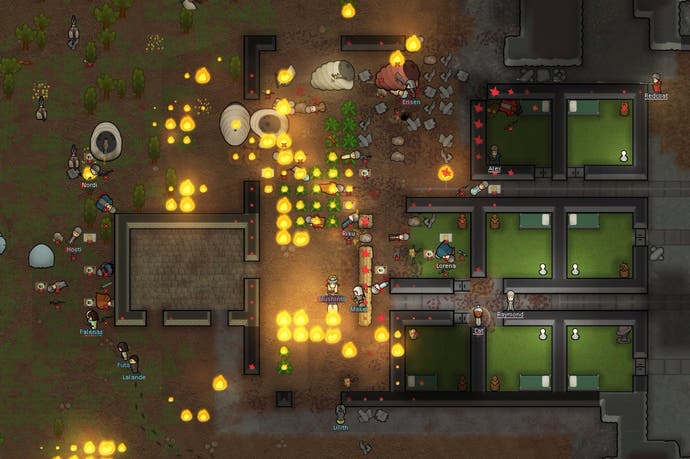 After five years in development, superb Wild-West-flavoured sci-fi colony sim RimWorld has launched its first beta update, putting it on the "final stretch before the 1.0 release", according to developer Tynan Sylvester.
RimWorld's newest build, known as A World of Story, is the 18th major update for the game, and marks the 1,722nd day of development since work began in February 2012. "It's come a very long way since the first public look in September 2013," Sylvester said in his latest blog post celebrating the update's arrival, "It's time to start bringing it to a close, which is why version 0.18 is Beta 18 instead of Alpha 18."
As such, A World of Story will be RimWorld's last major content update before version 1.0, and all sorts of stuff is included. The traversable world map, for instance, now features procedurally generated place names to add a bit of extra colour to your miserable survivalist adventures, and there's a new swamp biome, improved melee combat, and new events to bring still more variety to RimWorld's already absurdly rich story generator.
Now, while you attempt to expand your colony and stave off bandit raids, sickness, madness, angry squirrels, sudden bouts of cannibalism, and the occasional colonist strop (and that's just for starters), you'll have to worry about meteors, tornados, mood altering auroras, and a bunch of new quest possibilities, ranging from prisoner rescues to peace talks.
Elsewhere, there are a number of new mental breaks for your colonists; if colony life finally gets too much for them, expect insult sprees, destructive tantrums, destructive bedroom tantrums, the chance that pawns might turn completely ferral (and need to be tamed to rein them back in), and "corpse obsession". There's a lot more information in the full patch notes, and Sylvester offers a handy overview in the video above.
"We will almost certainly add more content, before the 1.0 release or after", Sylvester's post concluded, "RimWorld has become an exceptionally complex game, and it takes a long time and a huge amount of play to understand how to improve it. So it'll keep evolving for a while."